Putin Needs Prigozhin's 'Charisma' So He Won't Jail Wagner Chief: Retired US General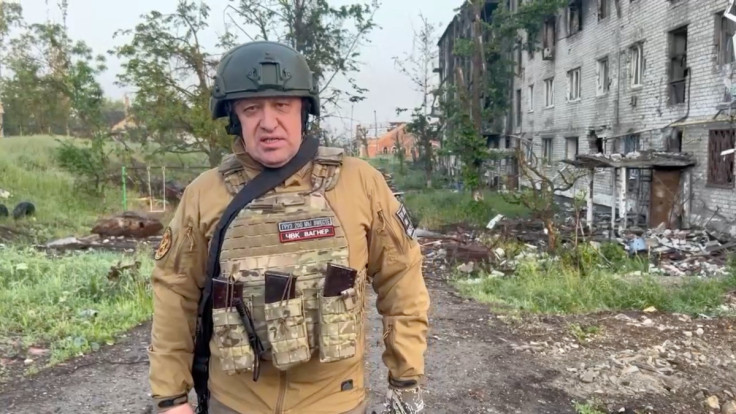 KEY POINTS
Putin "can't afford to lose this guy," retired Gen. Hertling said
Wagner Group operates in various countries, and Putin needs this global reach, the former general said
However, another retired U.S. general is of the belief that Prigozhin is likely dead
A retired U.S. general is of the opinion that Wagner Group chief Yevgeny Prigozhin is too precious to Russia at this time to be locked up by President Vladimir Putin.
The remarks came as questions remain about Prigozhin's whereabouts. Considering the "worldwide, global" reach of Prigozhin's mercenary group, Putin just can't afford to lose the Wagner chief even if he could've gone to jail for his short-lived insurrection on June 24, retired Lt. Gen. Mark Hertling told CNN on Monday, Business Insider reported.
"They [Wagner troops] are in several continents, attacking in several countries: Syria, the Middle East, in Africa. So Mr. Putin can't afford to lose this guy," the retired general said.
Prigozhin has "such charisma and such sway over a large percent of forces that's helping the Russian government in various countries," Hertling added.
Russian state-owned news agency TASS reported Monday that Putin held a nearly three-hour meeting with Prigozhin late last month.
"The president did hold such a meeting," Kremlin spokesman Dmitry Peskov reportedly said.
Peskov reportedly added that Putin invited Prigozhin and all the Wagner squad commanders on June 29 to discuss the group's actions on June 24.
"The commanders themselves shared their version of what happened; they emphasized that they are staunch supporters and soldiers of the head of state and the supreme commander-in-chief, and also said that they are ready to continue fighting for the Fatherland," Peskov was quoted to have said.
Hertling said that the meeting was likely "an attempt to get [Prigozhin] back on board."
However, another retired U.S. general said he believes Prigozhin was likely dead following the failed mutiny.
Retired U.S. Army Gen. Robert Abrams told ABC News Live Monday that he thinks the supposed Putin-Prigozhin meeting was "highly staged," adding he'd be surprised if there was any "proof of life" that the meeting took place.
"My personal assessment is that I doubt we'll see Prigozhin ever again publicly. I think he'll either be put in hiding or sent to prison or dealt with some other way," Abrams argued.
The U.S. generals' comments came days after Belarus President Alexander Lukashenko backtracked on Prigozhin's supposed arrival in the country for exile, saying the Wagner Group was not in his country. "If you're looking for them, you won't find them here," he reportedly said.
Lukashenko previously boasted about brokering a deal between Putin and Prigozhin to drop charges against the latter and allow him to live in exile in Belarus. The Kremlin did not deny or reject Lukashenko's claims, and Putin publicly thanked Lukashenko for his efforts, which some experts said was a humiliating experience for the Russian leader.
Late last month, Lukashenko said Prigozhin had arrived in Belarus for his exile. However, about a week later, the Belarusian leader said Prigozhin was back in Russia, raising more confusion about the whereabouts of the Wagner boss.
Early last week, Prigozhin resurfaced through a voice message posted on Telegram, saying he was sure Wagner supporters "will see our next victories at the front" in the near future.
Prigozhin staged a "March of Justice" to Moscow on June 24 after first seizing a key Russian airbase and military command center in Rostov-on-Don. Putin called the Wagner Group's actions a "betrayal," and vowed "inevitable punishment, before the law and before our people." Less than 24 hours into the rebellion, Prigozhin and his thousands of fighters aborted the march.
Weeks after the failed revolt, it is unclear where Prigozhin and his mercenary fighters are, but an expert of international relations said anything, "even the absurd" is possible in Russia these days, referring to Prigozhin's re-emergence.
What's clear is that the failed mutiny weakened the Kremlin leader and proved that Putin was not invulnerable as the world was made to believe.
© Copyright IBTimes 2023. All rights reserved.