Prigozhin Seemingly Resurfaces, Says Wagner Will Make Belarus Army 'Second Greatest In The World'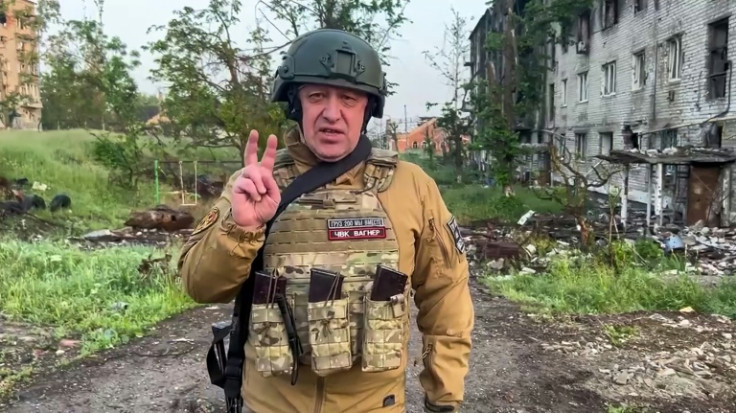 KEY POINTS
The footage reportedly showed Wagner commander Dmitry Utkin, who was last seen in public in 2016
This would be Prigozhin's first public appearance since he led an armed rebellion in Russia last month
Prigozhin earlier released an audio message wherein he thanked Wagner supporters
Wagner chief Yevgeny Prigozhin appears to have resurfaced and is seen addressing his troops in a new video shared on the Russian mercenary leader's social media page. His exact whereabouts are unknown and there have been speculations about whether he is in Belarus or not.
In the dark and grainy video shared on the Wagner leader's Telegram page, the silhouette of a man looking like Prigozhin can be seen in an unknown location, greeting Wagner fighters in Belarus, CNN reported. "Welcome guys! I am happy to greet you all. Welcome to the Belarusian land! We fought with dignity! We have done a lot for Russia," the man, "resembling and sounding like Prigozhin," said in the video.
A fighter seemingly addressed Prigozhin as "Yevgeny Viktorovich," which is Prigozhin's first name and patronymic. While it was not clear when the video was filmed and whether Prigozhin was indeed the man in the video, it appears the footage was filmed at dusk on July 18, CNN reported.
The man who sounds like Prigozhin told his fighters "to really pay attention to the fact that Belarusians welcomed us not only as heroes, but also as brothers." He said what was happening on the frontlines of the war in Ukraine was "a disgrace in which we do not need to participate," adding "a decision was taken for us to station here in Belarus for some time."
"I am sure that during this time we will make the Belarusian army second greatest in the world. And if needed, we will defend them if it comes to it," he added.
Aside from Prigozhin, Wagner commander Dmitry Utkin was also reportedly seen in the video, marking the first time he appeared in public since 2016, Washington, D.C.-based war think tank the Institute for the Study of War (ISW) wrote in an assessment report Wednesday. "This is only the beginning of the biggest job that will be carried out soon," Utkin was reportedly heard saying in the video.
The think tank said the video was likely filmed on July 18 at the new Wagner base near Asipovichy in Belarus.
CNN's Nick Paton Walsh believes Prigozhin's re-emergence, if true, could mean the Wagner boss is abiding by the deal brokered by Belarusian President Alexander Lukashenko between Prigozhin and Russian President Vladimir Putin. According to the deal, Prigozhin will be exiled to Belarus and the charges against him for leading an armed rebellion against Russia last month will be dropped.
Prigozhin's exact whereabouts remain unknown, especially after Lukashenko claimed earlier this month that Wagner troops were not in Belarus. "If you're looking for them, you won't find them here," he said at the time.
Richard Moore, chief of the British secret intelligence service MI6, said at an event hosted by Politico that Prigozhin was "floating around" the country and the deal with Putin was "holding as far as we can tell."
About the failed Wagner coup on June 24, Moore said, "I don't think it needs all the resources of MI6 to conclude that there are deep fractures within the Russian elite around Putin. If you have an invading army coming up the road at you, that indicates there has been a falling out."
Retired U.S. general Mark Hertling said last week that Putin won't put Prigozhin in jail over his failed mutiny as he needs the latter's "charisma" to deal with military forces helping Russia in various countries. "They [Wagner troops] are in several continents, attacking in several countries: Syria, the Middle East, in Africa. So Mr. Putin can't afford to lose this guy," he added.
Earlier this month, Prigozhin released an audio message on Telegram and thanked Wagner supporters, while vowing that the mercenary group will return to the frontline "in the near future."
© Copyright IBTimes 2023. All rights reserved.