Prince Charles Places Hand On Princess Diana's Shoulder In Rare Throwback Photo
Prince Charles once showed his affection towards Princess Diana in a rare throwback photo featuring the former couple and their two sons.
In the snap, which was uploaded online via a royal fan's Instagram account, Prince Charles and his family are posing outside the grounds of the palace. They are wearing color-coordinated attire, which is a combination of grey, black, white, and blue.
Princess Diana is sitting on a metallic bench with a huge smile on her face. Sitting in front of her is Prince William who looks uncomfortable possibly due to the strong rays of the sun. Prince William is sitting on a cloth which is placed on the grass.
Prince Harry is standing behind his older brother and mom. He is directly beside Prince Charles and is wearing matching clothes with that of Prince William. Prince Harry is also holding on to his horse.
Prince Charles is wearing his grey trench coat. And even though his smile doesn't look too big, he showed his affection for Prince Harry and Princess Diana by placing one of his hands on their shoulder.
By the looks of it, the royal family's photo was taken when Prince William was around 11 years old and Prince Harry is just around 9 years old. This means that Prince Charles and Princess Diana were just a few years away from divorcing.
The couple, who tied the knot in 1981, separated in 1992. In 1996, they finalized their divorce following Queen Elizabeth II's suggestion. The monarch reportedly became upset with Princess Diana for saying that Prince Charles is not suited to become King.
After their divorce, Princess Diana passed away in a fatal car crash in Paris on Aug. 31, 1997. Prince Charles and his former mistress, Camilla Parker Bowles, tied the knot in a civil ceremony in 2005. The couple is still together today.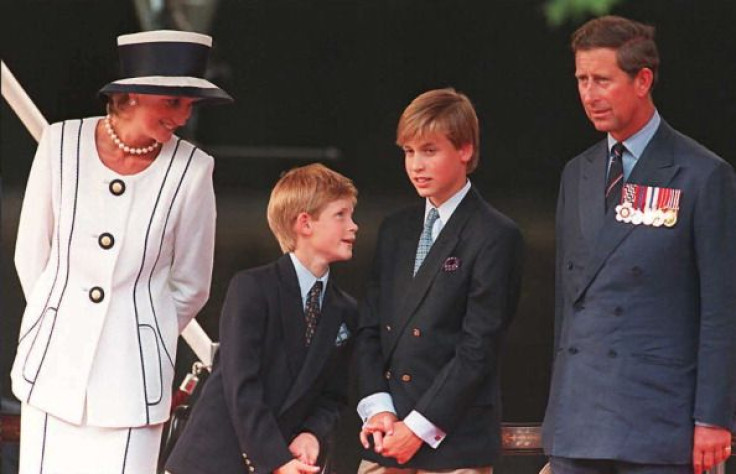 © Copyright IBTimes 2023. All rights reserved.