Prince Harry Desperate To Please Meghan Markle Who 'Always Wants More': Royal Biographer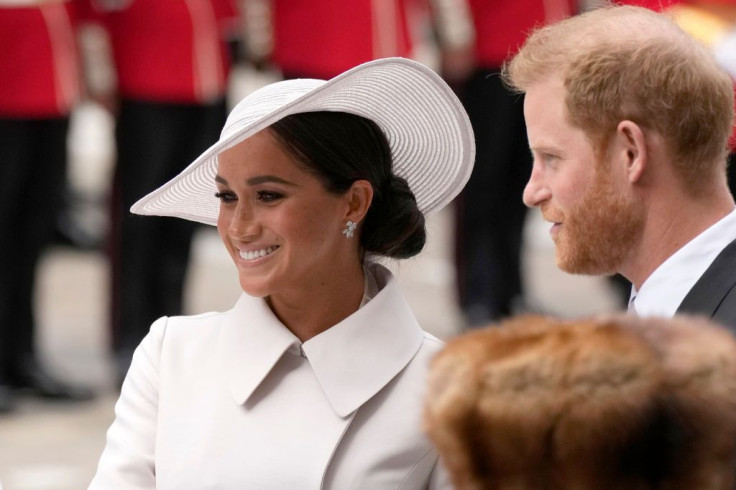 KEY POINTS
Prince Harry is reportedly desperate to please Meghan Markle, but he doesn't know what to do
Angela Levin claimed that she gets angry with Prince Harry on and off but feels sorry for him too
Levin claimed there's not much left for Prince Harry and Markle unless they become nasty to the royals again
Meghan Markle never gets enough of what she has, a royal expert has claimed.
British journalist and royal commentator Angela Levin joined Dan Wootton in a recent episode of "GB News." The pair talked about the Duke and Duchess of Sussex after they lost their multi-million, multi-year deal with Spotify. Levin alleged that the duchess doesn't get satisfied with what she has.
"She never has enough money, she never has the smartest clothes, she never has enough jewels that's why Harry is into drinking because he doesn't know what to do. He's desperate to please her, poor boy," Levin claimed.
Wootton asked Prince Harry's biographer if she feels sorry for her. Levin admitted she does "on and off."
"On and off I do," the "Harry: Biography of a Prince" author shared. "I get very angry but also very sorry."
Wootton noted that it was probably because Levin spent time with the royal prince when she worked on his biography. Levin agreed and pointed out how the royal prince was desperate to please his wife.
"He wants to please her, and it's impossible to please somebody like that because they always want more," Levin said of Prince Harry and Markle. "They're never happy enough with what they've got. We heard that they were going to move to a much larger house, in a much better area, [but] that never comes off."
The "Camilla: From Outcast to Queen Consort" scribe also alleged that the Sussexes "throw things at you" by giving positive press about themselves. She believes the news about Markle's alleged Dior deal was among it.
"I think maybe Dior was one of those things where they were throwing that to show how much she was wanted. But actually, in reality, there's not very much left unless, as you said at the beginning of our chats, that it's actually being nasty about the royal family," Levin claimed.
International Business Times could not independently verify the claims.
Markle's rep confirmed to The Telegraph Monday that the news about her closing a deal with Dior was not true. An unnamed Dior insider also told the outlet that the team in Paris was "nonplussed as to how the story came about."
In the same interview, Levin claimed that Markle would release her memoir. However, she also said that people have grown tired of listening to the Sussexes' complaints about the royal family.
"And also, people in America have told me that they don't want to listen to it. They believe in families, a lot of us do," Levin added. "And you don't go on and on and on. Okay, you had a terrible time, you say something, that's the end. Draw a line on it and move on. But they go on and on and on and finding any little tiny details, and I think that won't wash anymore. I'm sure it won't."
Meanwhile, ESPN pundit Stephen A. Smith claimed that no one wants to listen to the Duke and Duchess of Sussex unless they are "complaining about the royal family."
"I'm not trying to dog (Meghan Markle) like she doesn't have any talent or anything like that. She did damn good on [the show 'Suits']... I love 'Suits,'" he said on "The Stephen A. Smith Show", "Matter of fact, I'm gonna watch it again. I love that show. But what I'm saying is, you don't really care what they have to say unless they're insulting their family."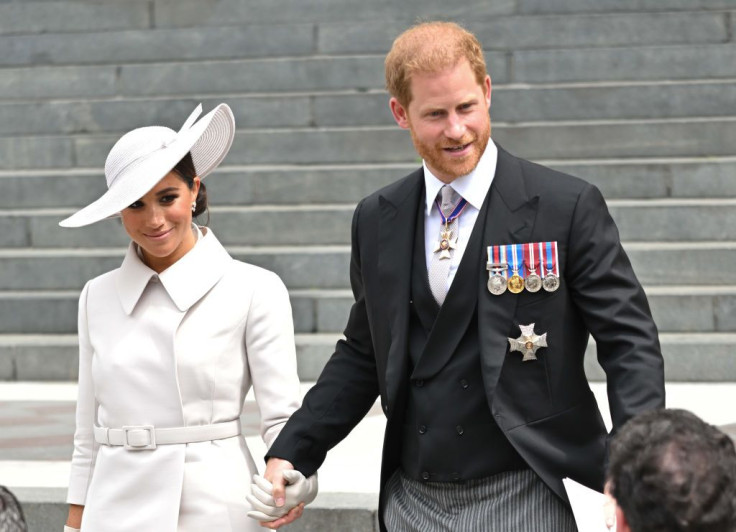 © Copyright IBTimes 2023. All rights reserved.