Prince William Photographed Chatting With Ivanka Trump At Jordan Royal Wedding; Twitter Reacts
KEY POINTS
Prince William and Kate Middleton attended Crown Prince Hussein and Rajwa Alseif's wedding in Jordan Thursday
The Prince of Wales was spotted chatting with Ivanka Trump during the wedding banquet
Twitter users have mixed responses about Prince William's interaction with Trump
Prince William and Ivanka Trump were photographed having a conversation during the royal wedding celebration in Jordan last week.
The Prince of Wales and the 41-year-old daughter of former President Donald Trump crossed paths at Crown Prince Hussein of Jordan and Rajwa Alseif's nuptials in Amman Thursday, People reported.
In photos from the royal wedding banquet obtained by the outlet and reposted by Twitter users, Prince William's wife Kate Middleton walked ahead with other dignitaries, while the heir to the British throne stood behind his wife, seemingly engrossed in conversation with the former first daughter.
Trump, who attended the royal wedding with her husband Jared Kushner, wore a floor-length light blue long-sleeve gown, while Prince William donned a classic tuxedo. Middleton looked radiant in a gorgeous pink maxi gown with long sleeves by Elie Saab and Princess Diana's Lover's Knot tiara.
Trump first met Prince William and Princess Kate in 2019 when she joined her father for an official visit to England, the outlet noted.
Prince William and Trump's interaction at the royal wedding garnered mixed reactions on Twitter. Some appeared to disapprove of the Prince of Wales talking to the businesswoman and suggested that he wasn't happy during their brief chat.
"This almost looks like it's fake. Super weird," one person commented.
"Prince William is not happy judging by the look on his face. But he is being polite," another speculated.
The only positive thing I have to say about this photo is Catherine looks perfectly elegant as usual," a third user wrote.
Others said seeing the two having a conversation at the wedding did not come as a surprise.
"Nothing to see here. They met back in 2019 when Ivanka joined her dad at a state banquet with [Her Majesty the Queen]. She has personally met Queen Elizabeth and hasn't seen Prince William since, so I guess she's giving him her condolences for his grandmother, and any [conversation] about [Queen Elizabeth] makes him a bit [smiling face with tear emoji]," one person tweeted.
"He's a diplomat, that's what he's supposed to do," a second Twitter user wrote.
"Wow! Guests at a wedding talking to each other!" another sarcastically commented.
Another added, "HRH William, the Prince of Wales and heir to the British throne, is THE most important diplomat of Great Britain under his father. He is the second under King Charles as being the soft power of his country. He was supposed to speak with the many guests at the [royal wedding in Jordan], and Ivanka Trump was just one of many. No big deal."
Some poked fun at the photo of the pair chatting, with one person joking that Prince William was "probably trying to negotiate the return of Prince Harry and Meghan to the United Kingdom."
The Prince of Wales' younger brother Prince Harry and sister-in-law Meghan Markle moved from the U.K. to California after stepping back from their roles as working royals in 2020.
Crown Prince Hussein, 29, and Alseif, 29, wed at Zahran Palace Thursday. Dr. Ahmed Al Khalaileh, imam of the Royal Hashemite Court, presided over the ceremony.
In addition to the Prince and Princess of Wales, the wedding had several other royals in attendance, including Crown Prince Frederik and Crown Princess Mary of Denmark, Crown Princess Victoria and Prince Daniel of Sweden, Princess Hisako of Japan and Princess Tsuguko, Crown Prince Haakon of Norway, King Philippe and Princess Elisabeth of Belgium, and King Willem-Alexander and Queen Máxima of the Netherlands, to name a few.
Prince William and Princess Kate were not the only British royals present at the event. They were joined by his cousin Princess Beatrice and her husband, Edoardo Mapelli Mozzi.
Princess Beatrice had her second-ever tiara moment during the banquet when she wore the York tiara.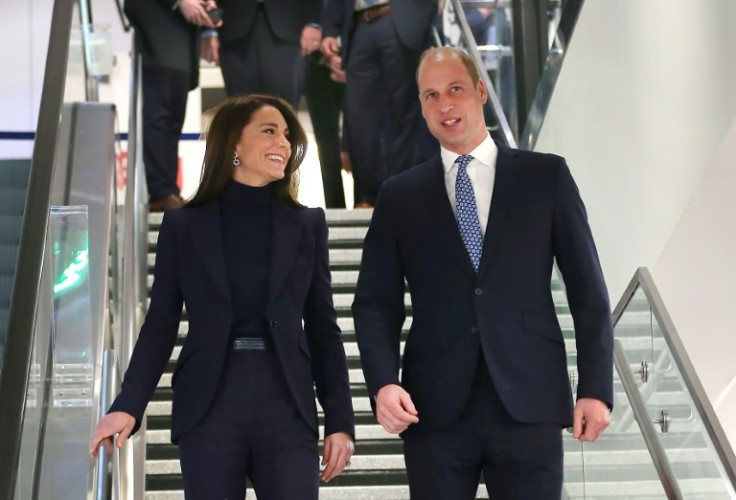 © Copyright IBTimes 2023. All rights reserved.