Princes Harry, William, Meghan And Kate's Next Reunion Is At This Event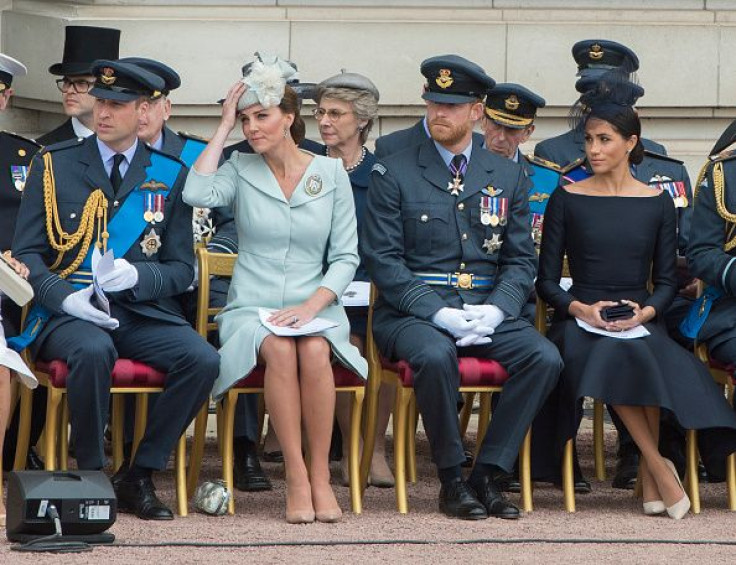 Prince William, Kate Middleton, Prince Harry and Meghan Markle will be together on the Duchess of Sussex's birthday but for a different occasion.
The former "Suits" actress will be celebrating her first birthday as an official royal by attending Charlie van Straubenzee and Daisy Jenk's wedding. Prince Harry will serve as the groom's best man. The same event will also be the fab four's reunion as the Duke and Duchess of Cambridge's are also invited.
According to People, Van Straubenzee is also "buddies with Prince William" and the second-in-line to the throne will be there with Middleton. The publication noted that Van Straubenzee's older brother, Thomas Van Straubenzee is one of Princess Charlotte's give godparents.
Royal photographer Tim Rooke was the first person to announce Prince Harry and Markle's attendance at his best friend's wedding. According to Rooke, who is also known as "Rookie," the Duke of Sussex will be the best man.
"Unfortunately I will be missing the wedding of Charlie Van Straubenzee and Daisy Jenks where Prince Harry will be best man on August 4th in Churt Surrey as I will be on the beach," Rooke said on Twitter. "Can't do everything!"
Last year, when Prince Harry and Markle were still dating, the couple flew to Africa to celebrate the "Horrible Bosses" star's 36th birthday. The pair was seen wearing matching baseball caps with their arms around each other while at the airport tarmac.
The Duke and Duchess of Sussex were all smiles as they carried their bags. Markle was seen carrying a framed photo wrapped in a bubble wrap. At that time, there were rumors that Prince Harry would propose to the actress.
"Harry has been planning this holiday for a long time," a source said. "He's made the trip incredibly romantic. They'll go on boats across the lake, walk in the bush at dawn and camp under the stars."
The royals celebrate their birthdays differently. Usually, they will take a leave and spend it privately with their family. Middleton had a "quiet celebration at home" with Prince William, Prince George and Princess Charlotte in January for her 36th birthday.
Meanwhile, in June, Prince William spent his special day away from his family as he had a royal engagement to attend to. The Duke of Cambridge celebrated his birthday by opening the world-class rehab facility for Armed Forces personnel who have suffered a major trauma or injury.
© Copyright IBTimes 2023. All rights reserved.