Raiders News: Could Oakland Make A Surprise First Round Pick In 2015 NFL Draft?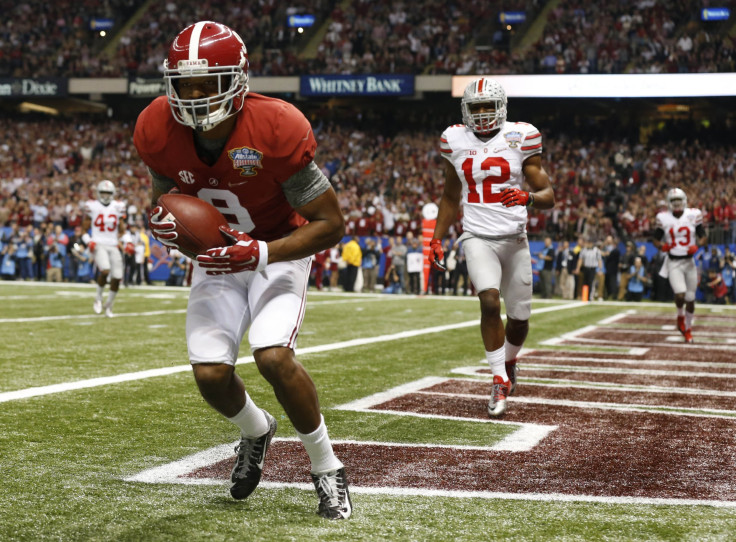 Throughout their history, the Oakland Raiders have long been one of the more unpredictable teams when they're on the clock in the first round of the NFL Draft. As recently as 2013, the Raiders shook up many teams' draft boards when they picked defensive back D.J. Hayden at No. 12 overall despite defensive tackles Sheldon Richardson and Star Lotulelei just itching to help out a run defense that was No. 18 in the league the previous year.
There was also wide receiver Darrius Heyward-Bey at No. 7 overall in 2009, and nine years prior the selection of place kicker Sebastian Janikowski at No. 17 overall.
Before owner Mark Davis took the reins from his late father Al, Oakland's draft day strategy often involved taking who they perceived was the best player available rather than strictly adhering to needs. However, last year Davis and general manager Reggie McKenzie changed course and went with proven linebacker and pass rusher Khalil Mack at No. 5 overall. In 2013, the Raiders totaled 38 sacks, which was good enough for No. 18 in the NFL, but opposing quarterbacks averaged a league-worst 105.1 passer rating against the Raiders, because they weren't generating enough pressure in and around the pocket.
Now the question is whether the Raiders will stick to their new strategy and build through the draft based on need, or dip into Al Davis's old bag of tricks and surprise everyone when they're on the clock for the No. 4 overall selection on Thursday April 30.
The consensus around the league and among draft experts pegs Oakland to go with a wide receiver in the first round, with the decision coming down to either Alabama's Amari Cooper or West Virginia's Kevin White.
Both are decorated and electric playmakers, equally capable of hauling in a difficult catch for a third down in the slot, or streaking downfield for a bomb from second-year quarterback Derek Carr's big arm.
Based off the recent changes to the coaching personnel, adding another skill player to the offense also makes a ton of sense. New offensive coordinator Bill Musgrave will need significant weapons to help Carr develop in his critical second year, and no Raiders receiver gained more than 700 yards last season.
Yet the unpredictable nature of the draft and the Raiders makes selecting White or Cooper seem too simple. The biggest assumption in this year's draft is that the Tampa Bay Buccaneers will select Florida State quarterback Jameis Winston with the top overall pick, but from there on there's little consensus.
Oregon quarterback Marcus Mariota has been predicted to go No. 2 overall to the Tennessee Titans or slipping as low as No. 7 to the Chicago Bears. USC defensive tackle Leonard Williams, Florida defensive end Dante Fowler, and Missouri linebacker Shane Ray have also seen their perceived stocks slide up and down the top five picks for months now.
But this is the smokescreen nature of the draft fans have come to expect.
Thus, Oakland could find itself in a very unique and interesting position when it's on the clock. If Mariota does go No. 2, then Jacksonville could decide whether to go with Fowler or Ray, two excellent pass rushers who could further bolster a Jaguars unit that was No. 6 in the league with 45 sacks last season. But another option, perhaps the right one, is Williams.
Long considered the best defensive player of this class who can make an immediate impact, Williams would go a long way to helping the Jaguars improve a rushing defense that ranked No. 27 in the league last year and let up 15 touchdowns. Jacksonville pulled off maybe the biggest surprise of last year's first round when it went with quarterback Blake Bortles at No. 3 overall, so there is precedent of a shake up when the Jags are involved.
In this scenario, assuming wide receiver isn't the top priority, the Raiders would be in the enviable position of taking whoever Jacksonville doesn't. Choosing between Williams, Fowler or Ray is a spot several teams behind the Raiders would like to be in. Fowler or Ray might make more sense than Williams, given Oakland's mere 22 sacks in 2014. Williams could be disappointed since he stated publicly how much he'd enjoy playing for Oakland.
However, it's also possible the original projection of Oakland taking a top skill player was only half correct. No running back has been selected in the first round since 2012, but the Raiders could buck that trend by taking Georgia's Todd Gurley.
Before he tore his ACL in his final season with the Bulldogs, Gurley was widely considered the best running back in this year's class. Before he was hurt, Gurley compiled 911 yards and nine touchdowns in only six games last season. Now Gurley's knee appears to be just fine, with the NFL's medical team checking him out in Indianapolis last weekend and estimating he could be ready when training camp starts.
Opting for a rusher might seem shortsighted, but this year's class is far richer in receivers than running backs. After White and Cooper, Oklahoma's Dorial Green-Beckham and USC's Nelson Agholor have been projected as high as late first to mid-second round picks. After Gurley and Wisconsin's Melvin Gordon, no other running back is expected to go earlier than the second round or third round.
Attaining a versatile running back like Gurley gives the Raiders, Musgrave and Carr just as many, if not more, options on offense than White or Cooper. For one, the Raiders will need to establish the run to keep defenses honest and slow the game down, if needed. Secondly, Gurley has the hands and rushing skills to be a dual threat, catching 65 passes for 615 yards and six touchdowns during his college career. Third, its possible receivers Andre Holmes and James Jones, as well as tight end Mychal Rivera, could benefit greatly from a back as talented as Gurley.
While it's impossible to completely nail down who Oakland picks at No. 4, there's no denying the squad has plenty of options and figures to make the right decision no matter who they take next week.
© Copyright IBTimes 2023. All rights reserved.
FOLLOW MORE IBT NEWS ON THE BELOW CHANNELS