Ray Kelly Booed At Brown University: Liberals Claim Victory, Conservatives Cry Intolerance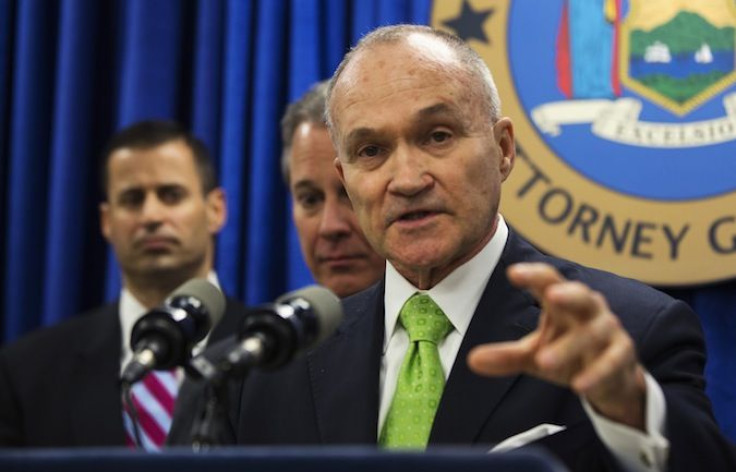 New York City Police Commissioner Raymond Kelly was scheduled to host a public lecture and Q&A session at Brown University on Tuesday, but opponents of the NYPD's controversial stop-and-frisk policy made sure that didn't happen.
As Kelly took the stage at the Ivy League university in Rhode Island, dozens of protesters hollered and screamed in opposition to the NYPD's crime-fighting tactic, which allows police officers to search people on the street without probable cause. The longstanding practice was recently ruled unconstitutional by a U.S. district judge, although Mayor Michael Bloomberg has vowed to appeal. The protesters at Kelly's lecture became so rowdy that organizers chose to abruptly cancel the event rather than endure the taunts of critics.
Christina Paxson, the university's president, condemned the incident in an open letter, saying the mob-like scene violated Brown's commitment to a "free exchange of ideas."
"This is a sad day for the Brown community," she wrote. "I appreciate that some members of our community objected to the views of our invited speaker. However, our university is – above all else – about the free exchange of ideas. Nothing is more antithetical to that value than preventing someone from speaking and other members of the community from hearing that speech and challenging it vigorously in a robust yet civil manner."
The disruption appears to have been part of a concerted effort to keep Kelly from speaking at the school. Some students had tried, unsuccessfully, to convince university officials to cancel the lecture beforehand. Amid protests taking place outside the lecture hall, stop-and-frisk opponents chanted, "No justice, no peace. No racist police." One protester carried a sign saying "This Is Murder." In a video published by the media team at Brown Political Review, a student says she was branded a "white supremacist" when she tried to enter the venue to watch the speech. Inside the lecture hall, students can be seen rising in unison, throwing their fists in the air and voicing their opposition to Kelly. After one of the organizers announced the lecture was being canceled, the audience broke out in a round of raucous applause. Kelly exited the building soon afterward, escorted by police.
Supercharged by a standard liberal-conservative divide, media commentators and social media spectators are framing the incident as an issue of free expression versus civil disobedience. On the Daily Beast, Peter Beinart suggested that the students' rowdy conduct is part of a broader wave of intolerance on college campuses across the country, where voices that don't conform to a progressive agenda are summarily drowned out. Paxson took a similar stance, suggesting that the behavior is ultimately detrimental to healthy discourse. "Not only was Commissioner Kelly denied the right to speak, members of our community were denied their right to challenge him," she wrote. "That is unfair to everyone involved and disrespectful to the rights we all embrace and should be vigilant in upholding as members of an academic community."
Not so, says Elizabeth A. Castelli, from Brown University's Class of 1979. On Facebook, Castelli countered Paxson's denunciation of the protesters' behavior with an open letter of her own. In her estimation, Brown inviting Kelly to lecture on crime-fighting strategies is tantamount to endorsing those strategies. "[T]he lecture itself was advertised as a self-serving public relations-style event, not a critical or intellectually honest presentation as one should expect in a university context," she wrote.
Paxson promised to reach out to Kelly and express her regret over the incident. Kelly's office has not yet commented on the issue. The debate continues, meanwhile, on Twitter, where both sides had plenty to say, and neither seems to be in the listening mood.
Watch the full video produced by the Brown Political Review below.
Got a news tip? Email me. Follow me on Twitter @christopherzara
© Copyright IBTimes 2022. All rights reserved.
FOLLOW MORE IBT NEWS ON THE BELOW CHANNELS