Real Life Horror: Mind-Altering Drug Made From Head-ache Tablets Eats Junkies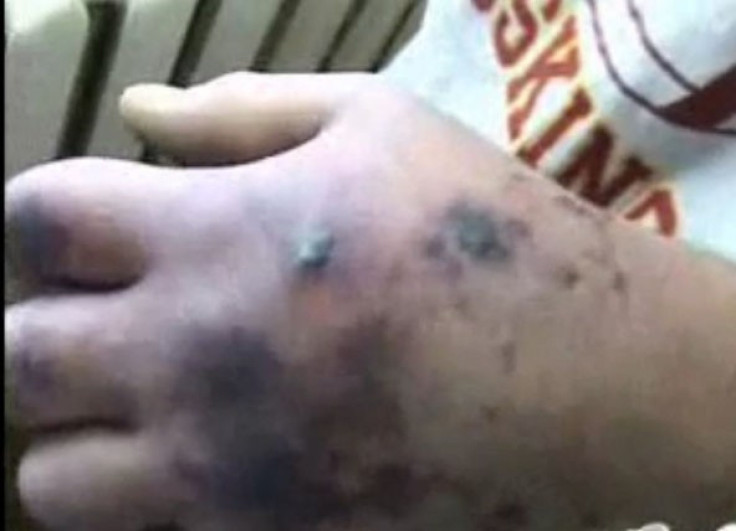 Krokodil or Crocodile in Russian is a homemade substitute of heroin, which is casting deathly shadows over the lives of thousands of Russia's drug addicts. It has a reptilian name because the users' skin starts developing crocodile-like unpleasant scales, over repeated use. And that is arguably the least this deadly drug can do to your body. The scales would give way to decaying sores and gray skin. The flesh would soon start to degenerate and would peel away leaving bones exposed. The users literally rot to death. (See images)
One among the deadliest, Krokodil or Crocodile is the new drug that is causing head ache to the Russian government, the Independent reported. This comparatively newer drug has been around for four years, ever since heroin addicts of Russia mastered the art of cooking Krokodil from head ache pills. As odd as it may sound, the raw material used in the preparation of Krokodil is the very common, codeine based head ache tablets, sold without prescription.
All that a junky needs to get high on Krokodil are some codeine tablets, iodine, lighter fluid, industrial cleaning oil, and an array of vials, syringes, cooking implements, and a place to cook. What you get at the end of long cooking process is desomorphine, a synthetic opiate many times more powerful than heroin. The complex chain chemical reactions, which the users memorize for each cooking, results in an extremely addictive caramel colored toxin, which is then injected into vein.
According to users, injecting the drug outside a vein will cause an abscess straight away.
Over the past five years, sales of codeine-based tablets have grown by dozens of times, Viktor Ivanov, the head of Russia's Drug Control Agency was quoted by Independent. It's pretty obvious that it's not because everyone has suddenly developed headaches.
According to official estimates the number of deaths from heroin addiction in Russia is around 30,000 per year. According to an Independent report, Ivanov said, Two years ago almost all their drug users used heroin. Now, more than half of them are on desomorphine.
According to doctors, desomorphine causes the strongest levels of addiction, and is the hardest to cure. Heroin's physical withdrawal symptoms generally last for 5-10 days while the pain caused by Krokodil can last up to a month, and is reportedly unbearable. Doctors inject desomorphine addicts with extremely strong tranquilizers just to keep their pain humanly endurable.
Dr Yegorov, as reported by Independent, says Krokodil users can be identified instantly because of their smell. It's that smell of iodine that infuses all their clothes, he says. There's no way to wash it out, all you can do is burn the clothes. Any flat that has been used as a Krokodil cooking house is best forgotten about as a place to live. You'll never get that smell out of the flat.
The Russian government hasn't been able to do much to control the spreading epidemic. Though president Dmitry Medvedev has called for a shutdown of websites which detail Krokodil-cooking procedure, codeine based tablets are still freely available over the counter. Since the tablets have been selling freely for long, placing sudden restrictions on codeine based pills is reported to be tricky.
According to official estimates, around 100,000 people in Russia are Krokodil addicts. The ready availability of raw materials and almost negligible costs involved in the production of drug add to its allure. While a drug user has to spend about $30-$100 per heroin dose, codeine tablets are available for $3. The other equipments involved are almost universal in the production of any kind of drug.
While heroin hit can last for several hours, Krokodil high lasts only between 90 minutes and two hours, which means being a Krokodil addict is a full time job; a drug user was quoted by the Independent.
FOR FREE to continue reading
✔️ Unlock the full content of International Business Times UK for free
offer available for a limited time only
✔️ Easily manage your Newsletters subscriptions and save your favourite articles
✔️ No payment method required
Already have an account? Log in
© Copyright IBTimes 2023. All rights reserved.