Rey Mysterio Suspended By WWE For Violating Talent Wellness Program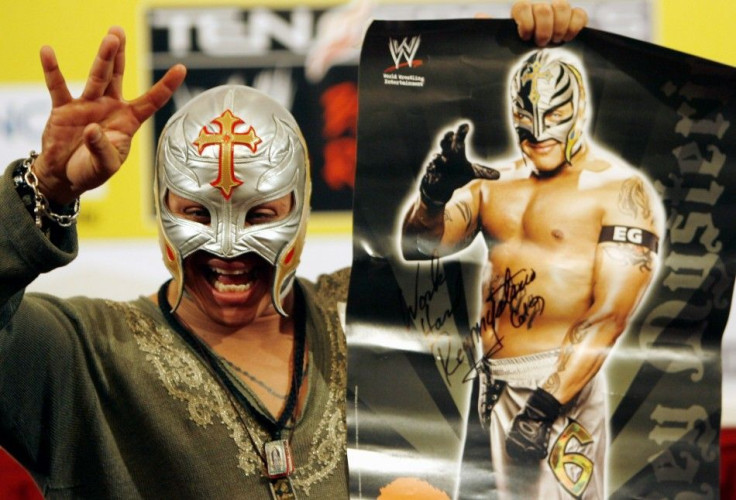 Oscar Gutierrez, better known has the high-flying wrestler for World Wrestling Entertainment Rey Mysterio, has been suspended from the company for 60 days for violating the franchise's Talent Wellness Program for the second time.
On the official website for the WWE, they listed a one sentence statement regarding the incident, without going into any detail.
In accordance with its Talent Wellness Program, WWE has suspended Oscar Gutierrez (Rey Mysterio) for 60 days effective Thursday, April 26 for his second violation of the company's policy, wrote the company.
This is not the first time Mysterio has allegedly violated the Wellness Program of the WWE. In the summer of 2009, WWE officials believed he broke the rules for ingesting certain drugs without a prescription. He was subsequently suspended.
He contended that charge, claiming he was prescribed the drugs from his doctor while he was recording from injuries to his knee and arm, reported Camel Clutch.
Mysterio was also listed as one of 11 professional wrestlers accused of taking illegal, anabolic steroids in a 2007 article by Sports Illustrated. It was alleged that an Arizona doctor, David Wilbert, gave Mysterio prescriptions for nandrolone and stanozolol.
I'm not even practicing medicine now, so... I don't remember doing half the stuff you're talking about, said Wilbirt in 2007.
As news of Mysterio's suspension broke, his name began trending on Twitter.
Rey Mysterio has not only proved that short guys can wrestle, but that short guys can take steroids too! See ya in 60 days!, wrote Twitter user Official Hype Girl.
I love how WWE just released a video featuring Rey Mysterio on YouTube, & then announce that he is suspended for 60 days...bad timing!, wrote Twitter user Okay Fabe.
Rey Mysterio got suspended? He should really take care and not fly too high..., wrote Twitter user Norhane Samy.
Rey Mysterio suspended for wellness violation whilst he's out injured, sorta like Craig from Friday getting fired on his day off..., wrote Twitter user Mike Marden.
Mysterio has been with the WWE for about a decade. During his career in WWe, he has become WWE Champion, World Heavyweight Champion, 2006 Royal Rumble Match Winner, Cruiser-weight Champion and WWE Tag Team Champion.
© Copyright IBTimes 2023. All rights reserved.