Rivalry, Friendship On And Off Course Make Ryder Cup So Special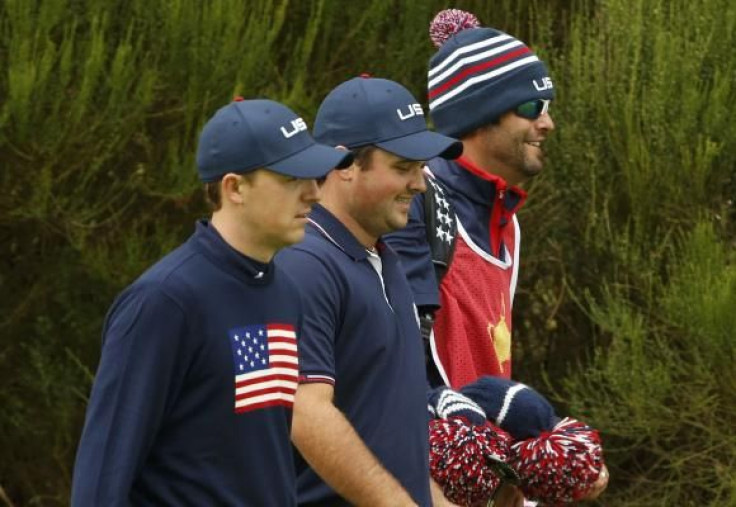 "So who are you rooting for?"
It is a question Rich Hendrickon, of Seattle, Wash., gets asked frequently as he roams the grounds of Gleneagles at the Ryder Cup.
The question is a joke as even a passing glance at Hendrickson will suggest. He is dressed head-to-toe in an American flag outfit, signaling his loyalties about as subtly as a sign on Times Square.
Other Americans are here in garb that seems deliberately sacrilegious: American-flag kilts. Not to be outdone, dozens of Europeans are sporting neck-to-ankle outfits in their colors, deep blue and gold.
For Americans, like me, it is not easy to enjoy the biennial Ryder Cup showdown between the United States and Europe. America have won only once in this century, in 2008, and have not prevailed on European soil for more than 20 years.
But no matter. The Ryder Cup is my favorite international sporting event, hands down, partly because it is okay for adults to act like kids again and be ostentatiously silly. Garish garb is only part of the picture.
A group of British former university chums, calling themselves Guardians of the Ryder Cup, greeted each European player at Friday's first tee with a personalized serenade -- "Bjorn v the USA" for Dane Thomas Bjorn, and a simple foot-stomping chant of "Rory, Rory," for Northern Ireland's world number one Rory McIlroy.
Twelve visiting fans from the Minneapolis area are doing their best to redress the balance. Dressed in Minnesota Vikings NFL jerseys with viking helmets complete with golden pony tails, they have serenaded the U.S. team with their own customized songs.
At the 2012 Ryder Cup in Chicago, America suffered a humiliating meltdown on the last day. But that did not squelch the signature American cheer for Bubba Watson: "Give me a B. Give me an 'ubba.' What does it spell? "Bubba!"
Watson, hugely popular with both sets of fans, summed up the spirit of the competition, on and off the course, when asked on Saturday if his relatively poor record stemmed from having too good a time with his opponents.
"I don't want to play golf if I have to be mean to anybody" he said.
"These are good friends of mine. If they beat me, they beat me – and you are watching great golf."
This year's soccer World Cup in Brazil also featured creative cheering and silly costumes. But there were also darker moments, including the occasional street riot and the incident when Uruguay's Luis Suarez bit an opponent. At the Ryder Cup, "bite" means an approach shot staying on the green, not Rory munching on Bubba.
UNUSUAL COMBINATION
The Ryder Cup storyline also involves an unusual combination of plots and subplots -- national, team and personal. Does something in the American character impair its performance in team golf? Will England's Ian Poulter, the hero of Europe's 2012 miracle comeback, rise to the Ryder Cup despite having a lousy 2014 season? How will the absence of the injured Tiger Woods affect the American team?
How about Scotland's unlikely love for American team captain Tom Watson, who won four Open championships on Scottish courses? And will the youngest Ryder Cup pairing in history, 21-year old American Jordan Spieth and his playing partner Patrick Reed, 24, stand up against battle-savvy opponents? (They did well the first two days, winning two matches and halving one.)
Finally, the Ryder Cup packs plenty of ebb-and-flow drama into a compact three days -- less time than baseball's World Series or the Olympic Games. The momentum usually shifts back and forth, often dramatically, in individual matches and on the team level and the competition is littered with tales of stirring comebacks.
America posted a strong start on Friday morning, only to falter in the later matches. Then the U.S. hinted at a potential comeback on Saturday but were routed in the afternoon.
Entering Sunday's singles matches, Europe lead 10-6, the same commanding advantage the Americans had two years ago before their final-round collapse.
There are, to be sure, off-putting aspects to the Ryder Cup. Sometimes the cheering brushes the boundary between ardent and xenophobic. Mega-money commercialism is rampant (even though the players don't get paid), as in other big-time sports events. And viewing conditions for many of the 45,000 fans trying to follow only four matches at a time can also be difficult.
But this year's Ryder Cup seems a much-needed tonic for golf-crazed Scotland, barely a week after the divisive referendum in which it voted to remain in the United Kingdom.
And there is another, more personal reason, why it is my favorite sporting event.
I am attending this year, as in 2012, with my son Charlie, a young attorney from Chicago. Between the two of us, father and son, we have survived five separate bouts of cancer -- the odds against which were enormous. If we can beat those odds, maybe there's hope for America yet.
By Paul Ingrassia
© Copyright IBTimes 2023. All rights reserved.