Running Of The Bulls: Economic Crisis + Activist Movement = A Dying Sport?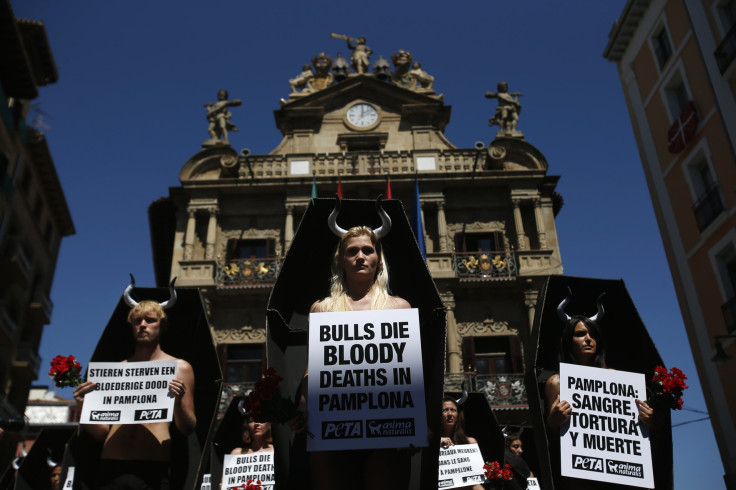 Four dozen volunteers from People for the Ethical Treatment of Animals and Spain's AnimaNaturalis gathered in Pamplona's main square Friday to represent the 48 animals who will be killed during the 2013 San Fermin festival. Dressed in little more than bullhorns, they marched in coffins to protest the start of the annual running of the bulls and the subsequent bullfights in which the animals will meet their deaths at the hands of a matador. In Pamplona, these activists are the minority, but around the world, their message has become far less marginal, and increasingly, the voice of the majority.
PETA said the protesters should remind crowds gathered for the event that the same bulls who run down Pamplona's cobbled streets will end up in the town's bullring, where "they will each be speared, stabbed and weakened until, finally, a matador attempts to sever the exhausted animal's spine with a dagger."
Thousands of participants take to the street each morning of the nine-day festival, which kicked off Saturday afternoon, to run from a pack of five charging bulls led by a guiding steer. The bulls -- which can weigh up to 600 kilograms (1,320 pounds) -- chase the red and white-clothed participants through a winding 849-meter (928-yard) course to the city bullring. The whole ordeal lasts three minutes and, at 8 a.m., is the culmination of a full night of alcohol-infused revelry.
The celebration traces its roots back to medieval times and now attracts about a half-million visitors to the northern Spanish city of 200,000, according to Pamplona City Hall, including thousands of tourists from the U.S., Australia and Britain. Every year, between 200 and 300 of them are injured, around 3 percent seriously, mostly from being trampled on or gored by the bulls.
PETA argues that it's these unwitting tourists who keep the sport alive in the 21st century, despite overall declines in bullfighting over the years. "In these times, it is unfortunate that animals are still being tormented and killed in front of a shouting crowd," lamented campaign coordinator Kirsty Henderson. "PETA joins compassionate people around the world in condemning this bloody and cruel practice, and to encourage tourists to stay away from bullfighting."
Though it once captured the imagination of Ernest Hemingway (and, consequently, the world), bullfighting has lost some of its earlier allure at the hands of animal rights activists. The activity was even banned last year in the autonomous region of Catalonia, where antibullfighting sentiment has traditionally been the strongest. But bullfighting has also struggled nationwide amid Spain's financial crisis.
Higher fees imposed by a new sales tax on cultural events have priced many Spaniards -- who are already suffering from an unemployment rate of about 1 in 4 -- out of arenas. Thus, the number of major bullfighting events has declined by more than 50 percent since 2007 to 1,014, according to figures from the Culture Ministry, while attendance has dropped by about 40 percent.
A recent Washington Post article suggests that more fighting bull breeders are dispatching their stocks to the butcher rather than the ring, while organizers are engaged in highly public disputes with celebrity matadors and creditors over wages and overdue payments. Some popular matadors have even left Spain altogether to compete in Latin America.
"Everyone involved in our great national pastime is being impacted," Carlos Núñez, head of Spain's Bull Breeders Association, told the newspaper. "When we sell a bull to the butcher, we're getting" $750 a head. By comparison, each bull typically fetches $1,350 to $20,000 for fights.
Those who fear the sport's days are numbered have one important supporter in their ring: Prime Minister Mariano Rajoy. His center-right government intends to declare bullfighting part of Spain's "national patrimony." Rajoy has indicated that the government may reverse the burdensome sales tax increase and channel more money into the sport's promotion.
Some of that money, however, may come from the European Union. CAS International, the largest organization dedicated exclusively to the abolition of bullfighting, claims that each citizen of the European Union contributes to the maintenance of this tradition, because the bullfighting industries in Spain, Portugal and France receive EU grant money, mainly for the breeding of fighting bulls. It further argues that if the Spanish Parliament declares bullfighting part of Spain's cultural heritage, it will be entitled to even more grant money.
"So many people are fiercely opposed to bullfighting that it actually is absurd that their government wants to declare bullfighting as cultural heritage," CAS International director Marius Kolff said. "Just a small minority goes to see bullfights and such a declaration, if promulgated, will lead to more subsidies."
Recent opinion polls have shown a rising opposition to bullfighting throughout Spain, particularly among the younger generation. An Ipsos MORI poll in April, for instance, showed that only 29 percent of the Spanish population supports bullfighting, while 76 percent oppose the use of public funds for the industry.
Yet, the sport remains an integral part of many local festivals and religious holidays. Whether Spain will follow in the footsteps of Argentina, Canada, Cuba, Denmark, Italy and the UK in banning bullfighting altogether remains to be seen, but the pendulum appears to be swinging in a new direction.
FOR FREE to continue reading
✔️ Unlock the full content of International Business Times UK for free
offer available for a limited time only
✔️ Easily manage your Newsletters subscriptions and save your favourite articles
✔️ No payment method required
Already have an account?
Log in
© Copyright IBTimes 2023. All rights reserved.