Ryan Marquiss Is World's First to Survive Being Born With Heart Outside of Body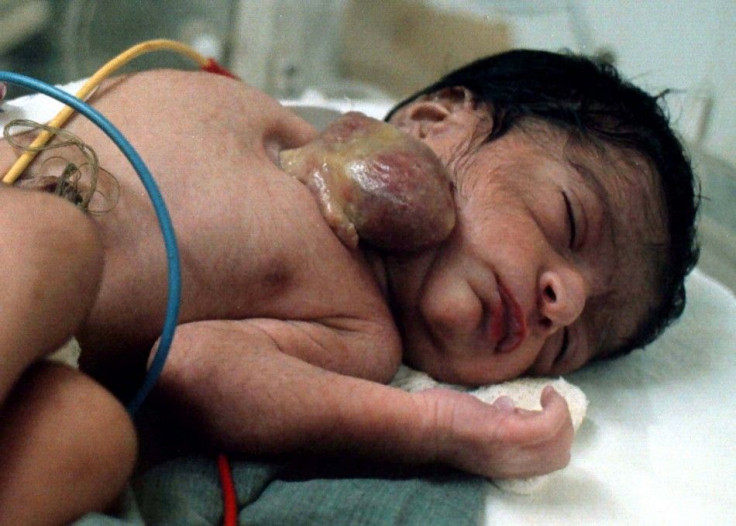 Ryan Marquiss, 3, is the first child to survive being born with his heart outside of his body, a condition known as ectopia cordis. The Pennsylvania boy was born with half his heart protruding out of his chest cavity and has survived against all odds.
In addition to ectopia cordis, Ryan also suffers from hypoplastic right heart syndrome, a condition that limits the development of his heart. Only the left side of his heart has properly developed.
During the first 12 weeks of pregnancy, doctors warned parents Leighann and Henry Marquiss that their son's chance of survival was slim and they urged them to terminate the pregnancy.
There have only been 29 reported cases of ectopia cordis and the rare condition affects approximately one in every 8 million births. Normally, infants affected with the condition are either stillborn or die within days of birth. Despite the unlikely odds, the Marquiss family decided to continue with the pregnancy.
After undergoing more than a dozen surgeries to save his life, Marquiss is now three years old.
He has done amazingly well. He has been so brave throughout it, and his sisters have kept him going too. They have been to see him in hospital and made recordings of themselves at home, so Ryan could hear them, Ryan's mother Leighann Marquiss told the Daily Mail. He just kept on fighting. He refused to die, and he kept on proving everyone wrong.
Doctors believe he is the only child to survive the deadly combination of heart problems. Marquiss offers hope for the survival of other infants who suffer rare and serious heart defects.
Related Article: Two-Headed Baby Born in Brazil and 7 Other Strange Birth Defects [PHOTOS]
© Copyright IBTimes 2023. All rights reserved.