San Antonio Spurs Vs. OKC Thunder Game 5: Live Stream And TV Info, Start Time, Prediction, Betting Odds And Preview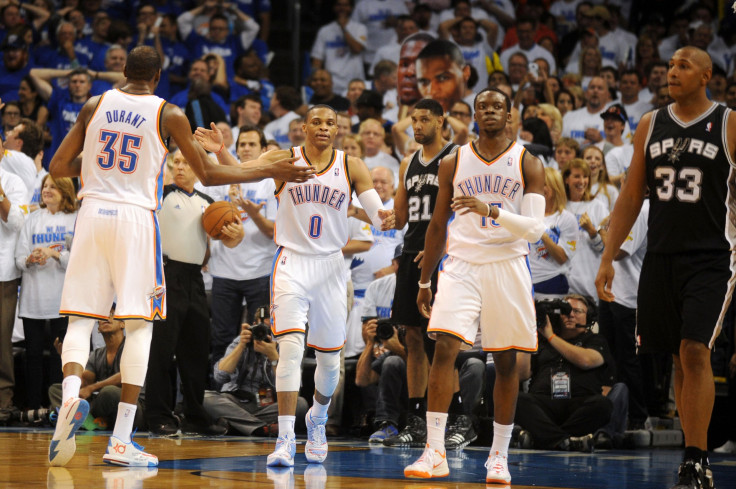 The Oklahoma City Thunder have climbed back into the Western Conference Finals with two straight explosive victories, and have likely given the San Antonio Spurs flashbacks from their collapse in 2012.
San Antonio won the first two games two years ago, only to see the Thunder storm back with four consecutive victories for a ticket to the Finals against Miami.
At this point it's difficult to tell if the Spurs have started to fade, or if the Thunder re-discovered their form after losing the first two games of the series by an average of 26 points, including the headshaking 35-point blowout in Game Two.
Now the series is knotted 2-2, and Game Five on Thursday night at the AT&T Center could be the turning point for the West's last two representatives in the Finals.
The Thunder were of course aided, both mentally and in the post, by the unexpected return of power forward/center Serge Ibaka in Game Three despite a left calf strain that was supposed to end his postseason. Registering 12 points and 7.5 rebounds, Ibaka's been most active blocking and altering San Antonio's drives to the basket with seven swats in his two games.
But it's the spectacular play of point guard Russell Westbrook that's rocked San Antonio and their top guard Tony Parker. The 25-year-old UCLA product poured in 40 points along with 10 assists and five steals in Game Four. Westbrook and reserve guards Reggie Jackson and Jeremy Lamb have also limited Parker's offense, holding him to nine points on 4-for-13 shooting in Game Three. In the two previous rounds Parker was averaging better than 19 points a game, but he's been limited to 14.8 in four games this round.
Oklahoma City has also hit the glass hard while hustling on defense to force more turnovers. The Thunder outrebounded San Antonio 52-36, including 15 offensive boards, in Game Three, and in Game Four generated 12 steals and 13 Spurs turnovers for 21 points.
Before the momentum swings any more in Oklahoma City's favor, the Spurs will need more from Parker, and Tim Duncan and Manu Ginobili as well. After notching 27 points in Game One and a double-double in Game Two, Duncan has shot 10-for-25 from the field in the last two contests and he hasn't been very effective on the boards.
Ginobili's issue could have been a one game flier. In Game Four he went 2-for-8 from the floor for five points. From behind the arc and better playmaking is where Ginobili likely gets back on track. In the first three games he went 10-for-15 from three-point range and averaged nearly four assists.
Start Time: Thursday, 9 p.m. EST
TV Channel: TNT
Live Online Stream Info: A live online stream is available at TNT Overtime here
Betting Odds: San Antonio -4.5
Over/Under: 206 points
Prediction: San Antonio over OKC 104-95
© Copyright IBTimes 2023. All rights reserved.