SantaCon 2011: Thousands of Santas Descend on New York City [PHOTOS]
SantaCon 2011 attracted thousands of revelers dressed as Santa and other holiday-themed characters to celebrate the most wonderful time of the year in New York City.
Thousands dressed in everything from full-Santa garb to reindeer antlers to Christmas tree costumes descended on New York City on Saturday to revel in the boozy holiday celebration that included a city-wide bar crawl.
The non-denominational, non-commercial, non-political and non-sensical celebration took place in cities around the world, including London and San Francisco. The event started in California in 1994 and has since spread to 225 cities in 32 countries, reports the New York Daily News.
Seriously -- what's greater than running through Times Square with thousands of Santas? Chris Arnold told the NY Daily News.
My friend told me about it and I thought this is not to be missed, Dania Bdeir, 22, told DNAinfo.com. Bdeir was a first-time SantaCon attendee, who spoke while partying in Battery Park City.
Fifty thousand Santas walking around New York!
The streets were filled with thousands of red suits, as partiers made their way from Stone Street in Downtown Manhattan to Times Square. The pub crawl kicked off at the North Cove Marina in Battery Park City at 10 a.m., with another starting location at Brooklyn Bridge Park in Brooklyn.
SantaCon was not just about drunk revelry. It was for a good cause, too. Participants were asked to bring non-perishable food items to donate to charities. The bars that participated in the event donated to Toys for Tots.
Check out some of the photos from SantaCon 2011 in New York City.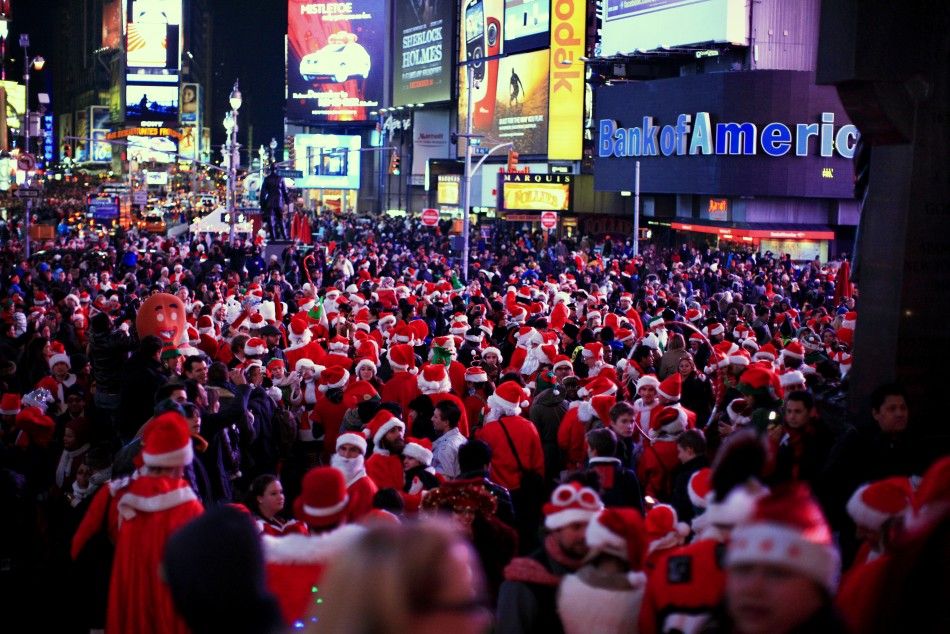 © Copyright IBTimes 2023. All rights reserved.