Second Stimulus Check Update: McConnell Asks Congress To Pass 'Major' Aid
KEY POINTS
McConnell wants Congress to pass a coronavirus relief bill
Congress has returned to session after the Thanksgiving break
Congressional leaders have yet to hold formal negotiations
Senate Majority Leader Mitch McConnell on Tuesday called on Congress to pass "major" aid this year after months of delay.
In a Twitter post, the Republican lawmaker slammed House Speaker Nancy Pelosi and Minority Leader Chuck Schumer for their "all-or-nothing obstruction" and urged Congress to deliver more coronavirus relief to millions of Americans.
"The American people need more help now. Congress should deliver more COVID relief this year," McConnell wrote. "Even House and Senate Democrats are publicly saying that Speaker Pelosi's and Leader Schumer's all-or-nothing obstruction needs to stop."
McConnell appeared on the Senate floor Monday, where he said Congress has "no reason" not to approve an economic relief bill, The Sun reported.
"There is no reason - none - why we should not deliver another major pandemic relief package," he said.
McConnell's statements come as Congress returns to Washington after its Thanksgiving break. Lawmakers would need to decide whether to approve another coronavirus relief bill as coronavirus cases continue to surge across the country.
House Democrats have continued to push for a $2.2 trillion aid package that includes provisions for more money for Americans, including a second round of $1,200 stimulus checks, the revival of weekly federal unemployment benefits, and funding for local and state governments, according to the CNBC.
Senate Republicans have repeatedly opposed an economic relief bill with a large price tag. Instead, they push for a $500 billion bill that includes another round of federal aid for small businesses through the Paycheck Protection Program. However, the GOP-led package would not have more direct payments for Americans.
While congressional leaders have yet to hold formal talks on a stimulus package since the 2020 presidential election, a small group of Democratic and Republican senators have held informal discussions on possible compromises, NBC News reported.
The lawmakers included Democratic senators Mark Warner, Joe Machin, Dick Durbin, Chris Coons and Michael Bennet, and Republican senators Susan Collines, Mitt Romney, Rob Portman and Lisa Murkowski.
The bipartisan groups of senators agreed that the next stimulus package should include federal aid for small businesses, unemployment benefits and funds for vaccine distribution. However, they also faced the same sticking points, such as funding for state and local governments and liability protection for businesses.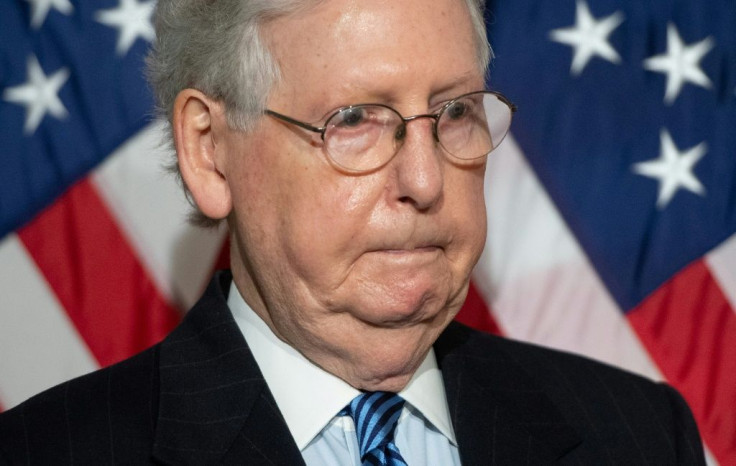 © Copyright IBTimes 2023. All rights reserved.