Second Stimulus Check Update: Pelosi Pushing Trump's Call For $2,000 Payments
House Speaker Nancy Pelosi said Democrats were ready to bring a proposal for larger stimulus payments to the floor after the president called the latest package "a disgrace."
Both the House and Senate passed a massive 5,593-page package with veto-proof majorities Tuesday before President Donald Trump took to Twitter to demand significantly larger stimulus checks.
The stimulus part of the measure directs $600 payments to individual taxpayers and temporarily supplements weekly state unemployment insurance with another $300. Those figures are only half the amounts that were in the $2.2 trillion CARES Act passed in March.
On Twitter, Pelosi, a Democrat representing California, said amended legislation was ready to go.
"At last, the President has agreed to $2,000 - Democrats are ready to bring this to the Floor this week by unanimous consent," she said late Tuesday. "Let's do it!"
Her comments followed a video posted on Twitter by the president calling for bigger checks for American taxpayers.
"It really is a disgrace," Trump said. "I am asking Congress to amend this bill and increase the ridiculously low $600 to $2,000, or $4,000 for a couple."
Pelosi was joined by Rep. Alexandria Ocasio-Cortez, D-N.Y., who said her and Rep. Rashida Tlaib, D-Mich., have already drafted an amendment to raise the direct payments to $2,000.
"Glad to see the president is willing to support our legislation," she said on Twitter. "We can pass $2k checks this week if the Senate GOP agrees to stand down."
That in turn drew a response from Senate Minority Leader Chuck Schumer, D-N.Y., who responded "I'm in."
Pointing to the billions of dollars set aside for foreign aid and a bloated wish-list that included support for Washington D.C.-area museums and art centers, Trump himself said the measure was not the relief bill he envisioned.
"It's called the COVID relief bill but it has almost nothing to do with COVID," he said.
For Republicans, Sen. Josh Hawley, R-Mo., who made strange bedfellows with ultra-liberal Sen. Bernie Sanders, I-Vt., in calling for larger direct stimulus payments, said he too was in for amending the legislation.
"Workers deserve much more than $600, as I have repeatedly said & fought for," he said late Tuesday. "And there's absolutely plenty of $$ to do it – look at what Congress threw away on corporate giveaways & foreign buyouts. Let's get it done."
Hawley added that Pelosi had repeatedly asked Treasury Secretary Steven Mnuchin about the president's position, but her requests fell on deaf ears. Trump, he added, told him on several occasions that he wanted larger payments for American taxpayers.
Because the package passed with a veto-proof majority, Trump alone is powerless to amend the legislation. A senior aid to Democrats told CNBC that House leaders would try to pass a unique bill by Thursday that included the $2,000 payments to individual taxpayers. That bill would face an uncertain future in the Republican-controlled Senate.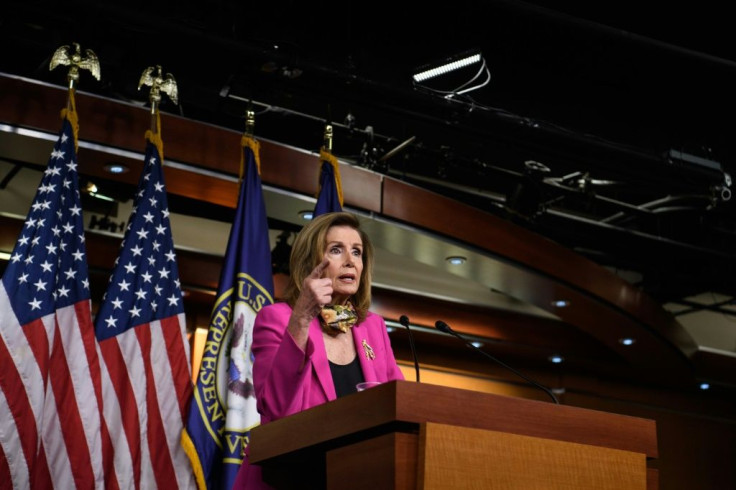 © Copyright IBTimes 2023. All rights reserved.
FOLLOW MORE IBT NEWS ON THE BELOW CHANNELS