Sikh Temple Shooting, Garrett Reid Death Praised By Westboro Baptist Church After Congress Passes Law Limiting Funeral Protests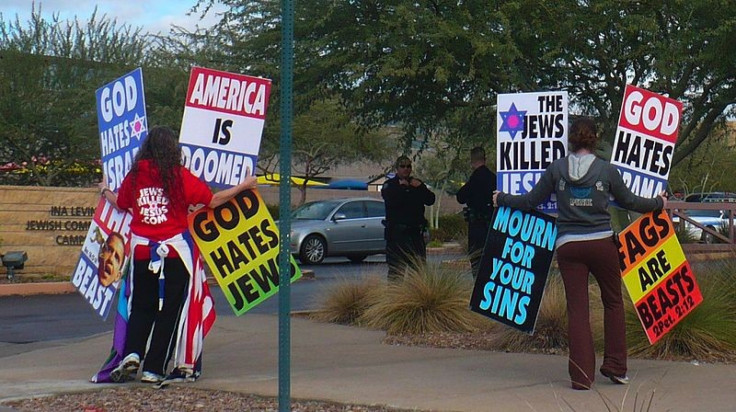 The controversial Westboro Baptist Church of Topeka, Kan., wasted no time Sunday in reacting to the tragic death of Philadelphia Eagles head coach Andy Reid's son, Garrett Reid, and the tragic shootings at the Sikh Temple of Wisconsin.
Margie Phelps, daughter of church leader Fred Phelps, took to Twitter to cite God's wrath in both incidents. Her Twitter rant comes after the U.S. Congress recently approved a measure restricting funeral protests, which is the way Westboro gained notoriety. President Barack Obama may sign the bill into law as soon as Monday.
Twitter is the avenue of choice for many Westboro Baptist Church members, who use the social-media site to announce planned protests at military funerals and to attack negative press.
Just hours after the news broke that Garrett Reid had died, Margie Phelps tweeted: "Andy Reid worships a false god like @Mitt Romney. Now God has gotten his attention killing his son. Will he mourn, repent, & obey?" Both Andy Reid and Mitt Romney are Mormons.
In response to a tweet that read -- "Heartbroken by Sikh Temple shooting. When will violence stop?" -- Margie Phelps wrote: "When you put away proud sin & obey God. #Sikhismisfalsereligion,"
Last week, Congress passed a sweeping bill called "The Honoring America's Veterans and Caring for Camp Lejeune Families Act of 2012." Among its provisions, it prohibits demonstrators from picketing any military funeral two hours before or after the service, while requiring those protesters to be at least 300 feet away from the grieving families, according to Stars and Stripes.
"That's really not going to change our plans at all," Westboro Baptist Church representative Steve Draun told CNN. "We're going to continue to do that. We're also going to continue to obey all laws."
Following coverage of the veterans bill by the Huffington Post and Los Angeles Times, Margie Phelps and other members used their Twitter accounts, frequently full of hateful, vile language, to attack the websites.
"Smile, let's see where God takes this, k? #FagsStillDoomNations," Margie Phelps wrote in one case.
© Copyright IBTimes 2023. All rights reserved.