Snakes On A Plane: Real-Life Scare For Australian Pilot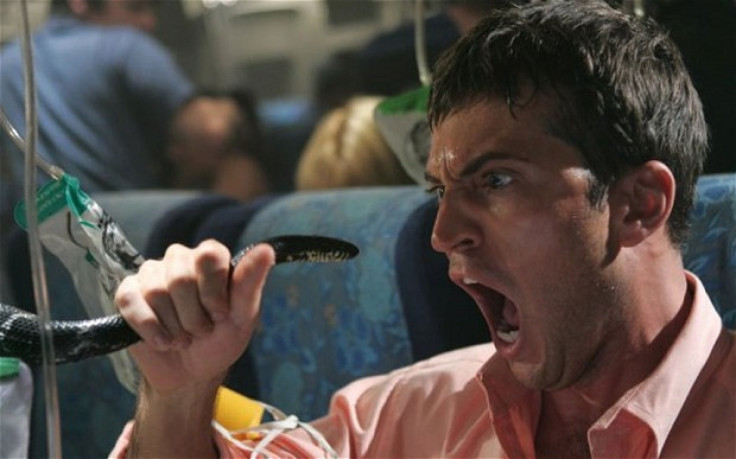 Samuel L. Jackson was nowhere to be found when an Australian pilot found himself with Snakes on a Plane Tuesday.
Air Frontier pilot Braden Blennerhassett was just 20 minutes into a flight from Darwin to the remote Northern Territory community of Peppimenarti to drop off cargo when a snake suddenly appeared in the cockpit.
Look, you're not going to believe this, he told air traffic controllers, I've got snakes on a plane.
Blennerhassett was forced to make an emergency landing after the unusual mayday call.
Sure enough, out of the corner of my eye, I see a little bit of movement there, he told Australia's ABC.
Lo and behold, in between the instrument panel and the dashboard, a stowaway came on board and it took me a while to register that it was actually a snake. I turned [the plane] around and got it headed back towards Darwin.
The 26-year-old pilot said his blood pressure and heart rate were elevated by the alarming sight.
As the plane was landing, the snake was crawling down my leg, which was frightening, he told 9News.
Blennerhassett said that the air company's staff was skeptical at first when he requested a snake handler back at the airfield.
Though the snake disappeared before a Parks and Wildlife ranger arrived, a fireman at the airport inspected the plane and found both a snake and a green tree frog.
Ranger Sally Heaton told 9News that the snake, believed to be a golden tree snake, may have been enticed onto the aircraft by the frog. Golden tree snakes are only mildly venomous and considered harmless because their toxicity is not dangerous to humans. However they do grow to an imposing five feet long.
The newspaper reports that traps were set and the plane remains grounded for maintenance until the snake is found.
With a snake on the loose, Air Frontier director Geoffrey Hunt said it's simply not good for business.
Hunt clearly has not seen the 2006 surprise Hollywood hit Snakes on a Plane.
I've heard of crocodiles being loose in planes, he told ABC, but not snakes.
Though it is believed to be the first time a snake has appeared in a plane during a flight in Australia, other wildlife have surfaced midair including a young chicken and a juvenile crocodile that appeared under a pilot's rudder pedal.
© Copyright IBTimes 2023. All rights reserved.