SOPA, PIPA Blackout: How to Use Wikipedia Jan. 18 Plus 6 Other Things to Know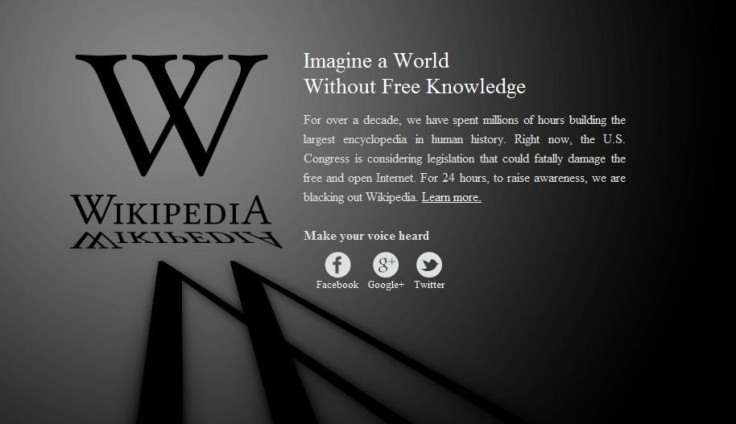 Wikipedia initiated a blackout Wednesday, Jan. 18, in protest of the anti-piracy bills SOPA and PIPA. SOPA and PIPA are two Congressional bills meant to halt the illegal copying and sharing of movies and music on the Internet, among other aims. However, major Internet organizations -- such as Wikipedia, Reddit and Boing Boing -- claim the bills will hinder their operations.
Wikipedia, Reddit, Boing Boing, Wordpress and Anonymous have gone dark in condemnation of SOPA and PIPA. This is going to be wow, Jimmy Wales, founder of Wikipedia, said on Twitter. I hope Wikipedia will melt phone systems in Washington on Wednesday. Tell everyone you know!
PIPA, the Protect IP Act, and SOPA, the Stop Online Piracy Act, however, have received support from the music and film industries. More than 2.2 million hard-working, middle-class people in all 50 states depend on the entertainment industry for their jobs and many millions more work in other industries that rely on intellectual property, said Michael O'Leary, of the Motion Picture Association of America, in a statement.
For all these workers and their families, online content and counterfeiting by these foreign sites mean declining incomes, lost jobs and reduced health and retirement benefits.
Art Brodsky, communications director of PublicKnowledge.org, thinks therein lies the problem. The way the story has been written up until now has been Silicon Valley versus Hollywood, Google versus Rupert, Brodsky told International Business Times. There are people all over the country fighting for this, tens of thousands of people. Brodsky noted that between 7,000 and 10,000 sites have committed to a blackout Wednesday, in a sign of solidarity against the legislation.
It's little companies, it's start-ups. That's what your whole New York protest is about [Wednesday]. This is really a grassroots movement, he said. In New York City, protesters organized by NY Tech Meetup will assemble outside the offices of New York's Democratic Sen. Chuck Schumer and Kirsten Gillibrand to protest SOPA/PIPA.
Brodsky said one particular problem is how the music and movie industries cite job and revenue losses in their defense of anti-piracy acts, but there has been no concrete evidence. I was reading a study last week that said the people who download the most stuff, buy the most stuff. They're fans. People who download are more likely to go out and buy CDs and movies, he told IBTimes.
How to Use Wikipedia Jan. 18 Although Wikipedia will be dark, users can still access the system with a simple maneuver. CNN's Early Start revealed the key Wednesday.
Go to www.wikipedia.org as usual. But while the page is loading click the escape key [ESC]. The Wikipedia page will load normally. Continuing to click this key multiple times will keep the page loaded. Then you will be free to peruse.
Wikipedia Will go Dark for 24 Hours
Wikipedia will go dark for 24 hours. The Web site shut down its English-language site at 05:00 UTC Wednesday. Read the official statement from Wikipedia here.
Wikipedia is a hugely popular site, particularly with students. On Tuesday, Wikipedia's Wales highlighted this.
Freedom is never voluntarily given by the oppressor, it must be demanded by the oppressed, MLK on Wednesday, Wikipedia demands, Wales said via Twitter Monday, on Martin Luther King Day. He told students: Student warning! Do your homework early. Wikipedia protesting bad law on Wednesday! #sopa.
The official statement notes the impact the bill could have on the Internet as a free entity.
Today Wikipedians from around the world have spoken about their opposition to this destructive legislation, said Wales in an official statement. This is an extraordinary action for our community to take - and while we regret having to prevent the world from having access to Wikipedia for even a second, we simply cannot ignore the fact that SOPA and PIPA endanger free speech both in the United States and abroad, and set a frightening precedent of Internet censorship for the world.
Reddit Will go Dark for 12 Hours
Reddit, the a crowd-curated information sharing forum, went dark for 12 hours on Wednesday, from 8 a.m. to 8 p.m. EST (1300-0100 UTC).
We've seen some amazing activism organized by redditors at /r/sopa and across the reddit community at large. You have made a difference in this fight; and as we near the next stage, and after much thought, talking with experts, and hearing the overwhelming voices from the reddit community, we have decided that we will be blacking out reddit, reads the official statement.
Instead of publishing its typical content, Reddit will circulate anti-PIPA/SOPA information on how the legislation will hinder sites like Reddit, provide links to resources to learn more and suggest how citizens can take action.
Other, possibly lesser-known sites have also joined the anti-PIPA/SOPA coalition and will also went dark Wednesday. Users on Reddit compiled a list of sites that will enact a blackout, including: all Cheezeburger sites, Explosm, Red 5 Studios, CryptoCat, FreakOutNation, Major League Gaming, RageMaker, SkyTemple and more. Click here to view the thread.
Protest of SOPA/PIPA in NYC with NY Tech Meetup
Those looking to protest the legislation Wednesday in New York City will join the NY Tech Meetup group that will a demonstrate front of the offices of Schumer and Gillibrand. The protest will begin at 12:30 p.m. EST and will last until 2:00 p.m. Organizers will meet at 780 Third Avenue, New York, NY.
Make sure you're informed – read up on SOPA and PIPA before you head out. The most important thing you can say if you are asked is that these bills are "BAD FOR THE NEW YORK TECHNOLOGY COMMUNITY" because they will dampen investment, innovation, and free speech and won't actually stop the piracy they are intended for, reads the official invite on nytm.org.
Make a sign. Grab some poster board and get creative. Stop PIPA, Don't Break the Internet, Protect NY Tech, etc Whatever slogan most resonates with you. NOTE: Signs must be handheld only. No sticks, pipes or pieces of PVC can be used to hold up signs.
Tumblr Encourages Calling House Representatives, Offers Talking Points
Tumblr, a microblogging platform and social media networking site, has been encouraging activism since November. That month, the Web site facilitated 87,834 individuals to call their representatives with a total of 1,293 hours of talking time in protest of the PIPA/SOPA bills.
Tumblr still offers a form that will connect you to your House Representative and offer talking points on how to dispute the legislation. Click here to access this.
Blackout Has Support from Internet Titans
Internet titans have also voiced opposition.
There isn't one technology company or venture capitalist who supports these bills, Markham Erickson, the executive director of NetCoalition, a trade group representing Google, eBay and others, told ABC News. On Wednesday, Google no longer had its usual Google lettering on the homepage or a Google doodle. Instead, The Google lettering was covered with a black box, typically used to censor foul words, brand names, et cetera on publicly distributed items. This was an apparent sign of solidarity.
An 'Internet blackout' would obviously be both drastic and unprecedented, NetCoalition said in a statement. We hope that the Senate will cancel its scheduled vote on PIPA so that we can get back to working with members on how to address the concerns raised by the MPAA [Motion Picture Association of America] and others without threatening our nation's security or future innovation and jobs.
SOPA Could be Shelved
On Monday, Rep. Darrell Issa (R-Calif.) , an opponent of SOPA, stated that he had been told by House majority leader Rep. Eric Cantor (R-Va.), that no vote on SOPA will transpire unless there is consensus on the bill, shelving the legislation until further notice. This move effectively scuppers SOPA, noted the Guardian. Issa, along with Sen Ron Wyden (D-Ore.), are co-sponsors of the less stringent Online Enforcement and Protection of Digital Trade Act (OPEN). Last week, both legislators told the IBTimes they were mildly optimistic their bill would pass.
PIPA, derogatorily known as the e-Parasite bill, comes to vote on Jan. 24. While I remain concerned about Senate action on the Protect IP Act, I am confident that flawed legislation will not be taken up by this House, said Issa.
© Copyright IBTimes 2023. All rights reserved.
FOLLOW MORE IBT NEWS ON THE BELOW CHANNELS