South Sudan Conflict: As US Moves To Defend Embassy And Evacuate Its Citizens, Long Relationship With South Sudan Is On The Line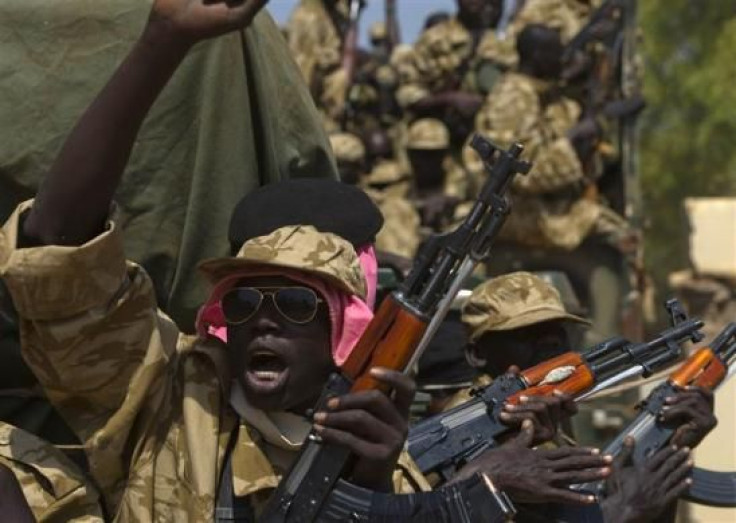 ADDIS ABABA, Ethiopia -- After two weeks of violence in South Sudan, humanitarian crises all across the country are only getting worse. Tens of thousands of South Sudanese have left their homes seeking shelter elsewhere. Thousands of residents have been killed in the crossfire and skirmishes. Looting is rampant, and vigilantes roam the cities and rural zones.
Last weekend, the American military found itself on the wrong end of the conflict. A mission to evacuate U.S. citizens from the city of Bor was aborted when three American aircraft faced gunfire and four injured troops had to be airlifted to a hospital in Kenya.
But U.S. involvement in this 3-year-old Horn of Africa country is far from over, especially as the situation grows increasingly dire for South Sudan's 11 million people. American troops' immediate priority is to get U.S. citizens out. But for years, starting well before South Sudan's independence, Washington has been inserting itself into the politics of the emerging country by backing the one-time rebels who now hold power in one of Africa's biggest oil producers. And as the latest conflict threatens South Sudan's future, the strong relationship between world's youngest country and the world's biggest superpower will be tested like never before.
What It's About
The conflict began as a political one. When clashes erupted in the capital city of Juba on Dec. 15, South Sudanese President Salva Kiir blamed his political rival Riek Machar, who was fired from the vice presidency this July. But the violence has since escalated into a countrywide conflict between South Sudan's two largest ethnic groups; the Dinka largely support President Kiir, while many Nuer people back Machar. These allegiances aren't cut-and-dried -- there is overlap in both directions -- but the ethnic divisions have deep roots that have gravely compounded the crisis.
Regional leaders are currently involved in negotiations to broker a cease-fire; Ethiopia-led delegations representing the Intergovernmental Authority on Development, a Horn of Africa organization, and the African Union have twice traveled to Juba in an attempt to encourage dialog.
"We are deeply concerned by what's going on; it has far-reaching consequences for South Sudan, for the people of South Sudan and for the region as a whole," said AU Peace and Security Director El-Ghassim Wane. "South Sudan became independent about three years ago with great hopes and expectations, and unfortunately the country has descended rapidly into strife."
U.S. President Barack Obama has authorized the deployment of extra troops to support evacuation missions and defend the American embassy, and more are waiting in the wings at regional bases. "A group of about 45 people from the East Africa Response Force has deployed to the embassy in Juba to help provide security and support evacuations," said Benjamin Benson, a spokesperson for the United States Africa Command. "Separate from that is a movement of about 150 Marines from Moron, Spain, to Djibouti, where they are poised as needed due to the circumstance, and we have moved a small element of that team up to Entebbe, Uganda."
Baby Steps
The United States was a key player in South Sudan's bid for independence from Sudan. A small coterie of American government officials, think-tank workers and NGO staffers, some of whom had formed associations with John Garang, leader of the Sudanese People's Liberation Army (SPLA) beginning in the late 1970s, worked with the rebel fighter until his death in a helicopter crash in 2005. The group then worked with Garang's successor, future President Kiir, with help from American evangelicals (South Sudan is majority Christian, while Sudan is majority Muslim) and human rights organizations. The rebels' most active U.S. advocates included John Prendergrast, who co-founded the advocacy group Enough Project in 2007; Ted Dagne, an Ethiopian-American who worked for the Congressional Research Service and the United Nations; and, at times, current U.S. National Security Adviser Susan Rice. They lobbied for a tough stance on Khartoum and eased the path to South Sudan's independence referendum in Jan. 2011.
"There was definitely something about the liberation struggle that captured people's imaginations," said Akshaya Kumar, a South Sudan analyst with Prendergast's Enough Project. "John and a number of others, whether they were church groups or other parts of the American public, were galvanized around the two-decades-long civil war that was destroying southern Sudan. It was the people suffering and their struggle that really brought John to that issue, and he stayed committed to it for two decades."
Immediately following the referendum, the U.S. assumed a lead role in South Sudan's development, pledging hundreds of million of dollars in aid and sending military advisers to help the country resist combatants from the Uganda-based Lord's Resistance Army. In January 2012, the Obama administration made South Sudan eligible to buy weapons and receive defense assistance from the U.S., just as the SPLA was being criticized for its lackluster response to a bloody conflict between two ethnic groups in Jonglei State. Benson says the relationship between South Sudan's military and U.S. forces is "still in the early stages," adding that "the assistance we have been providing has been in demining, health, engineering and information sharing." According to the latest data from USAID, American assistance to South Sudan has totaled more than $264 million in 2013 alone.
But now the very administration the United States has supported stands accused of involvement in mass atrocities, with Dinka militants loyal to President Kiir targeting Nuers, and vice-versa, in an escalating pattern of tit-for-tat murder, rape and pillaging.
"American involvement is important because the U.S. does have a special history with South Sudan; it's been a strong supporter of South Sudan's right to self-determination," said Jon Temin, a South Sudan expert at the U.S. Institute for Peace. "But recent statements from President Obama suggest that some U.S. assistance is on the line, and I think the entire community is looking for points of leverage right now in order to affect the outcome of this conflict."
Highly Combustible
Humanitarian concerns are front and center as the conflict unfolds, but the economic implications of South Sudan's descent into chaos are another major issue. South Sudan is home to sub-Saharan Africa's third-largest store of proven oil reserves, and the continent's total output is already sputtering due to theft in Nigeria and continuing conflict in Libya.
U.S. companies are not a major player in South Sudan's oil sector, although Chevron (NYSE:CVX) was the first company to pursue large-scale oil exploration in the area. Its efforts began with a concession in 1974, but the company pulled out of the territory by 1985 due to conflicts and safety concerns. The sector is now dominated by Asian companies; the top three shareholders in the Greater Nile Petroleum Company, which operates in South Sudan's most productive fields, are the China National Petroleum Corporation, Malaysia's Petronas and India's Oil and Natural Gas Corporation.
Before the conflict, South Sudan was pumping between 200,000 and 250,000 barrels per day, down from the 350,000 barrels produced daily before January 2012, when a 14-month shutdown was sparked by disagreements with Sudan, which retains the pipelines necessary to get South Sudan's crude to market. The shutdown was devastating for both countries, which rely on oil for the vast majority of revenues.
Violence in South Sudan now threatens those revenues once again, endangering long-term development in a country where about half the population lives below the poverty line. Clashes have erupted in the capital cities of Unity, Upper Nile and Jonglei states, where most of the country's crude is pumped, and production slowed over the past week as oil companies moved to evacuate workers.
The very infrastructure necessary for South Sudan's oil sector in the long term is also at risk, and not only from violence. Shutting down the main pipeline must be done according to precise protocol; an abrupt cessation would cause significant damage, Temin noted. "South Sudan is so dependent on oil for its revenue, so if that's not there, there are going to be some large questions about the economic viability of the country even if the violence ends," he added.
Help Wanted
More foreign intervention may be necessary to stem the tide of violence that has already killed thousands of people and displaced tens of thousands.
The 6,800-strong United Nations peacekeeping force stationed in South Sudan before the crisis has proven unable to do the job on its own, and two of its members from an Indian battalion were killed in an attack on the U.N. base in Jonglei State last week. The U.N. approved the mobilization of more units from other African countries on Tuesday, which should bring the number of peacekeepers up to 12,500.
Leaders in the international community have urged both sides to lay down their weapons and begin negotiations, something Kiir said he is willing to do though Machar has insisted on the release of 11 of his imprisoned supporters as a precondition.
But some argue that U.S. involvement will be key, especially if the superpower uses its history of aid and support to help bring about a diplomatic solution. "Given the U.S.' long history and the deep personal involvement of President Obama in helping to secure South Sudan's independence, it's going to be really problematic if the West turns away where there's a real risk of mass atrocities," said Kumar. "But I see reason to be hopeful. South Sudan's leaders know the value and the power of dialogue and negotiated political settlements; it's how they gained independence two years ago."
FOR FREE to continue reading
✔️ Unlock the full content of International Business Times UK for free
offer available for a limited time only
✔️ Easily manage your Newsletters subscriptions and save your favourite articles
✔️ No payment method required
Already have an account?
Log in
© Copyright IBTimes 2023. All rights reserved.