Steve Jobs Honored with New Virgin America Jet: Sir Richard Branson Still Admires Apple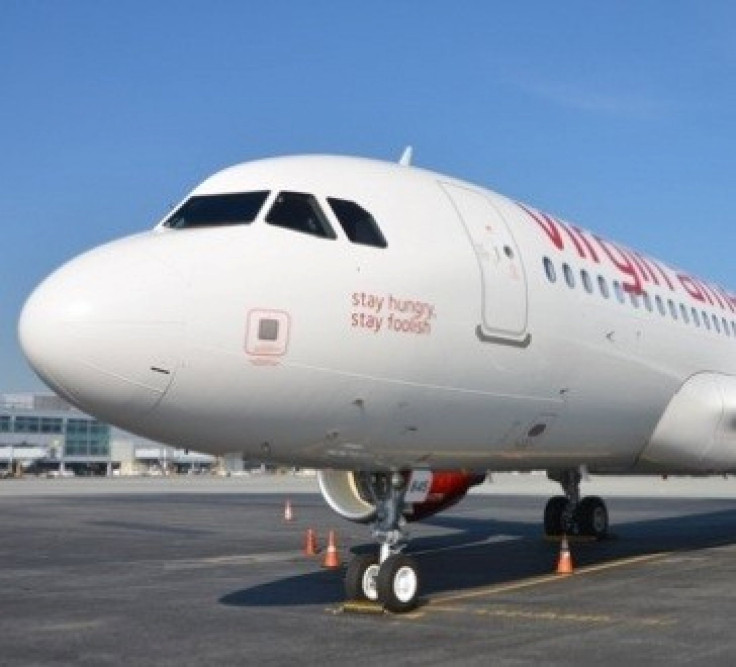 Virgin America has honored Apple's late founder and CEO Steve Jobs by naming its new jet, Stay Hungry, Stay Foolish. The quote, which still reflects the heart, soul, and direction of Apple, was originally taken from Jobs' 2005 commencement address at Stanford University. In his speech, Jobs explains that he himself lifted the quote from a publication called The Whole Earth Catalog, which offered creative, useful and educational guides on technological tools.
On the back cover of [The Whole Earth Catalog's] final issue was a photograph of an early morning country road, the kind you might find yourself hitchhiking on if you were so adventurous, Jobs said. Beneath it were the words: 'Stay Hungry. Stay Foolish.' It was their farewell message as they signed off. Stay Hungry. Stay Foolish. And I have always wished that for myself. And now, as you graduate to begin anew, I wish that for you.
The motto that Jobs made infamous is currently emblazoned on Virgin America's new Airbus A320 jet plane.
The 'Stay Hungry, Stay Foolish' aircraft name was actually submitted as a tribute to Mr. Jobs by one of our employees in an internal plane naming competition we ran for our company teammates here in the fall of 2011, said a Virgin America spokesperson.
It's no surprise that Virgin America, which is still the only airline based in Silicon Valley, Calif., has shown tribute to the visionary Jobs. In several interviews with Virgin's billionaire founder Sir Richard Branson, he has repeatedly named Apple as his favorite brand and Jobs as his favorite entrepreneur.
[Jobs] is the greatest comeback artist as well, Branson said. He's twice been down and out and fought his way back and created a brilliant global company.
Even towards the end of Jobs' life, as he withdrew from Apple due to pancreatic cancer and spent more time with family, Branson spoke glowingly about his entrepreneurial talent and his supreme products.
Everything he does is real class, and if he wants to rename his company Virgin Apple, I'd be happy to merge! Branson said. It's a great brand and a great company and may he get well soon... He really has done incredible things; he's got a great legacy.
Branson has even enjoyed some success because of Apple. In 2010, he beat Rupert Murdoch's foray into e-publishing, called The Daily, with an iPad-exclusive digital magazine called Project.
Beyond Branson's new Apple-influenced jet, others have created tributes to Steve Jobs since his death on Oct. 5, 2011. In December, Forbes announced it would release a graphic novel called The Zen of Steve Jobs, which would explore the Apple founder's friendship with Zen priest Kobun Chino Otogawa in a comic that blended fiction with reality.
The book really looks at that period of life and how that study of Zen influenced both his coming back to Apple and the huge success the company had, said Bruce Upbin, Forbes' managing editor. A lot of those ideas of simplicity, sophistication, beauty, control, we think came out of that Zen period.
Also in December, Jobs was immortalized as a bronze statue in Budapest, Hungary, which was created Graphisoft Park, a Hungarian software company. Jobs was also briefly made into an eerily realistic action figure by Chinese toy maker In Icons, but once Apple threatened with a lawsuit, the company decided to back off and canned its production of the figurines. Walter Isaacson's Steve Jobs biography is still a multi-national bestseller, while various documentaries and TV specials that highlight his life and work have recently aired. There are also rumors that a Steve Jobs biopic will eventually make its way to the big screen, with actors Noah Wyle and George Clooney in the running to play the title role.
© Copyright IBTimes 2022. All rights reserved.
FOLLOW MORE IBT NEWS ON THE BELOW CHANNELS