'Suits' Cast Wraps Up Filming For Season 6! Sarah Rafferty Shares Photos From Final Day Of Shoot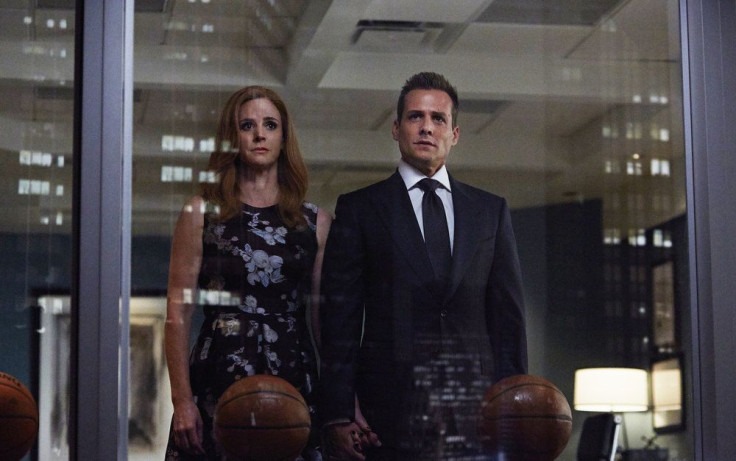 The cast of "Suits" has just finished filming Season 6, and based on a couple of photos shared by series actress Sarah Rafferty on Instagram, it seems that the final day of shoot was a blast.
In one of the photos she uploaded, Rafferty — who plays Donna Paulsen on the USA Network series — happily poses with her co-star Rick Hoffman (Louis Litt), director Roger Kumble and producer Gene Klein.
In the other picture, Rafferty smiles at the camera while sitting next to Patrick J. Adams and Gabriel Macht, who portray Mike Ross and Harvey Specter, respectively, on the legal drama.
Kumble also took to Instagram to share a number of photos taken during the final day of filming. In the caption of one of the snapshots he uploaded, he revealed that shooting wrapped just after 5 a.m. on Sunday, Nov. 20.
A few hours after filming wrapped, Meghan Markle — who plays Rachel Zane on the show — took to Instagram to thank the whole cast and crew for an "amazing season."
Earlier this week, Macht also expressed his gratitude for all the directors that came in for Season 6.
"Suits" creator Aaron Korsh was also present on set during the final week of shooting. In an Instagram photo shared by Adams three days ago, Korsh is seen getting comfy on the lounge chair in Harvey's office.
USA network announced earlier this month that "Suits" Season 6B (Season 6, episode 11) will premiere on Wednesday, Jan. 25, at 10 p.m. EST.
As for what fans can expect from the remaining six episodes of the season: Korsh previously told Deadline: "I think this back six, it's almost like a transitional phase in the show. … All of our characters are going through a lot of changes in their lives, and they have to figure out what they're going to do next, and I think by the end of these next six episodes, they should land on what they're really going to do, it will leave them to a little bit more stability next season."
Are you excited for "Suits" Season 6B? Sound off in the comments below!
© Copyright IBTimes 2023. All rights reserved.