Super Bowl 2014 Pictures, Video: Seattle Seahawks Players, Fans Celebrate NFL Championship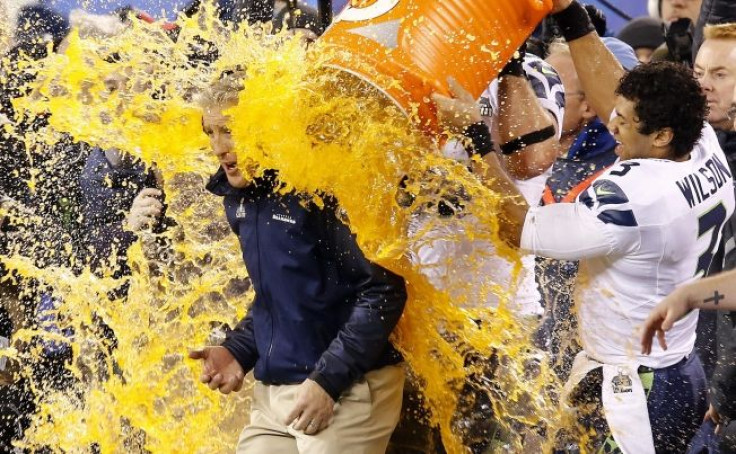 For the first time in 35 years, the city of Seattle had a reason to celebrate a professional sports championship. On Sunday night, the Seattle Seahawks defeated the Denver Broncos, 43-8, in Super Bowl XLVIII.
The official celebration didn't begin until the contest ended around 10 p.m. ET. But it might as well have begun halfway through the game. The Seahawks were dominant throughout all 60 minutes, and they secured the victory as early as the start of the third quarter. Seattle led Denver 22-0 at halftime, and Percy Harvin began the second half by returning the kickoff 87 yards for a touchdown. That essentially sealed the deal for the eventual champions, who scored 36 points before the Broncos got on the board.
A parade for the champs won't be held until Wednesday, but Seahawks fans didn't wait to enjoy their first ever title. Thousands filled the streets of Seattle, reveling in the victory. Police were out in force to prevent any riots, though there have not been reports of the celebration getting out of hand. The sound of horns and fireworks could be heard throughout the city as traffic was stalled during the merriment.
At MetLife Stadium, the Seattle faithful also showed their support. The Seahawks fans base is considered to be one of the best in the NFL, giving the team possibly the best home-field advantage in all of football. Even in New Jersey, the crowd was so loud on the Broncos' first play that the Denver offensive line had trouble hearing the snap count, leading to a bad snap and a safety. After the game, head coach Pete Carroll and multiple players thanked the "12th Man" for helping them win the Vince Lombardi Trophy.
Before the clock ran out, the Seahawks players doused Carroll in Gatorade for winning his first Super Bowl as a head coach. The players were covered in confetti at the end of the game as all of them enjoyed their first NFL championship.
© Copyright IBTimes 2023. All rights reserved.