Super Bowl 2015: 3 Players To Watch For From The Seahawks And Patriots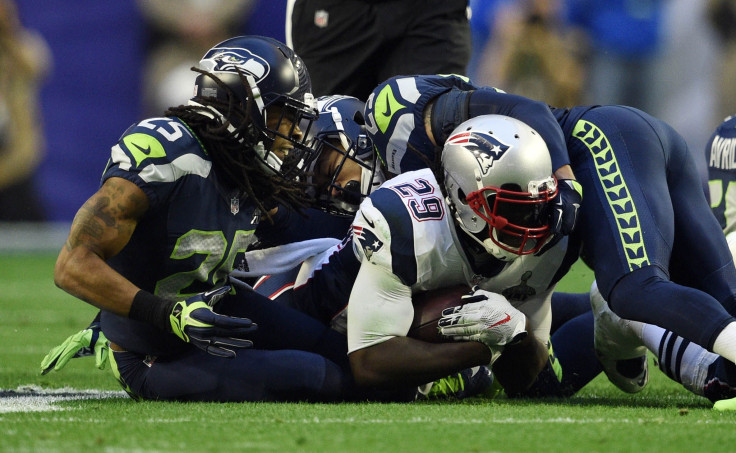 The 2015 Super Bowl between the Seattle Seahawks and the New England Patriots includes several key players to focus on in the course of the game.
One player will be immortalized as the Super Bowl MVP. In 2014, Seahawks linebacker Malcolm Smith surprised many with his exceptional performance that won him the MVP.
With the big game approaching, here are three players to know for each team:
Seattle Seahawks
Marshawn Lynch -- The Seahawks dominant running back is a powerful runner who already rumbled for 216 yards and a touchdown in the playoffs. He rushed for 1,306 yards and an NFL-best 13 touchdowns in the regular season. The Patriots run defense finished ninth in the NFL and could have its hands full.
Richard Sherman -- The brash cornerback intercepted four passes this season and has picked off 20 passes in the last three years. Sherman has often been called the best corner in the league and quarterbacks usually shy away from throwing near him. He hurt his elbow in the NFC Championship and may be a bit hobbled for the Super Bowl.
Kam Chancellor -- The strong safety is a hard hitter who finished with 78 tackles and was a big part of Seattle's "Legion of Boom" secondary. He patrols the middle of the field and will likely help deal with Patriots star tight end Rob Gronkowski.
New England Patriots
Rob Gronkowski -- "Gronk" is perhaps the best tight end in the league and among the Patriots' most dangerous weapon. The tall and athletic Gronkowski is especially dangerous near the end zone. He caught 82 passes for 12 touchdowns in the regular season. The 25 year old caught 10 passes for 136 yards and two touchdowns in the playoffs.
Julian Edelman -- The Pats wide receiver is shifty and gets open often for Patriots quarterback Tom Brady. Edelman caught 92 passes for 972 yards and four touchdowns in the regular season. Brady has found Edelman frequently in the playoffs. He caught 17 passes for 172 yards.
Vince Wilfork -- The Seahawks run the ball well and the Patriots will likely rely on defensive tackle Wilfork to plug up the middle. The big run-stopper made 47 tackles this season and will play a large part in the efforts to slow down Marshawn Lynch.
© Copyright IBTimes 2023. All rights reserved.