Super Bowl 2015: Live Stream, TV Channel Info And Predictions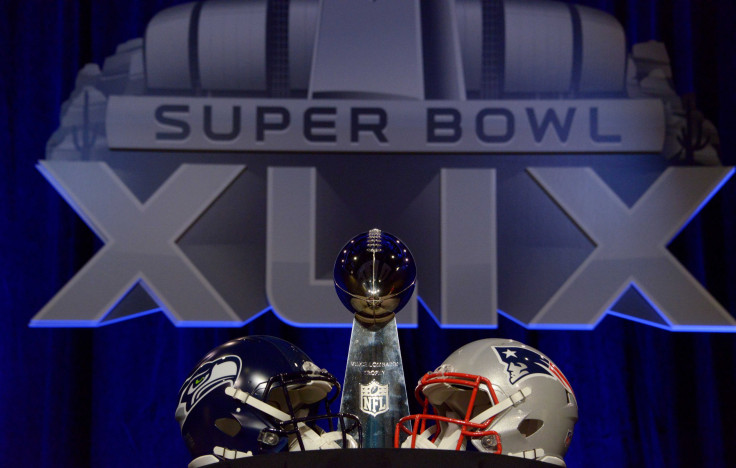 A 17-week regular season, three more weeks of postseason action, and another two weeks of hoopla will finally come down to Super Bowl XLIX as the New England Patriots stare down the defending champion Seattle Seahawks Sunday night at University of Phoenix Stadium in Glendale, Arizona.
Powered by the highly successful duo of quarterback Tom Brady and head coach Bill Belichick, the Patriots make their eighth all-time appearance in the NFL's marquee game, seek their fourth title in franchise history, and first victory since 2004.
Having dominated the Denver Broncos in last year's game, 43-8, Seattle hopes to be the first team to claim back-to-back titles since New England completed the feat in 2003 and 2004. It will also be the third overall appearance for the Seahawks in the Super Bowl.
Both teams finished the regular season with 12-4 records and as the No. 1 seeds in their respective conferences.
After dropping the Baltimore Ravens and Indianapolis Colts in the first two rounds of the postseason, Brady and the Patriots enter the matchup as narrow one-point favorites with Seattle's punishing and historically astounding defense powered by stellar but injured defensive backs Richard Sherman, Earl Thomas and Kam Chancellor.
Completing 66 percent of his passes for 593 yards and six touchdowns to two interceptions in the first two rounds, Brady is having the best postseason of his career since he last took the Patriots to the Super Bowl in 2011.
He's joined by tight end Rob Gronkowski, receivers Julian Edelman and Brandon LaFell, and a deep cast of running backs. Healthy for a full season for the first time in three years, Gronkowski scorched opposing defenses for 82 receptions for 1,124 yards and a team-best 12 touchdowns in the regular season. He continued that trend in the playoffs with seven catches for 108 yards and a touchdown in the opening round against Baltimore.
Edelman and LaFell combined for 1,925 yards and 11 touchdowns in the regular season, and stand as Brady's No. 2 and 3 options after Gronkowski. Edelman also showed some range in the passing game, launching a 51-yard touchdown bomb to receiver Danny Amendola in AFC Divisional round.
At running back the Patriots got a huge boost from late-season addition LeGarrette Blount. A member of last year's squad, Blount joined up with Pittsburgh, only to be released after Week 11, and returned to New England. He tallied 281 yards and three touchdowns in five games with the Patriots, and blasted Indianapolis for 148 yards and three scores in the AFC title game.
After Blount, the Patriots have rookie rusher and regular season-leader Jonas Gray, as well as pass-catching back Shane Vereen, and the powerful Brandon Bolden to take some snaps.
It's wide-range of weapons at Brady's disposal, but the Seahawks have taken down highly-charged offenses in big games before. They completely dismantled Denver's record-setting offense in last year's Super Bowl, forcing four turnovers, with one sack and four quarterback hits, while allowing only 306 total offensive yards.
With head coach Pete Carroll and defensive coordinator Dan Quinn's schemes, the Seahawks kept that awesome group of Sherman, Thomas and Chancellor humming for a second run.
But there are plenty of unsung heroes from last year and this year's squads. Sherman once again led Seattle with four interceptions, and was second with eight passes defended. But cornerback Byron Maxwell was first with 12 passes defended and two interceptions.
Seattle's pass rush slipped during the regular season, ranking 20 th with 37 sacks compared to eighth with 44 last year, but late in the season such sack artists like defensive end Michael Bennett and linebacker Bruce Irvin came back to form. The Seahawks recorded 24 of their 37 sacks in the last six games of the regular season.
On offense, Seattle will roll out third-year superstar quarterback Russell Wilson and barreling running back Marshawn Lynch. The duo led the NFL's best rushing attack, with Wilson tallying a career-best 849 yards and six touchdowns and Lynch 1,306 yards and tying the league-lead with 13 scores.
Wilson also threw for 3,475 yards and 20 touchdowns to seven interceptions, with receivers Doug Baldwin and Jermaine Kearse, and Lynch the beneficiaries. Baldwin and Kearse together totaled 1,362 yards and four touchdowns, but Lynch again led the team with four receiving touchdowns of his own.
However it was Kearse that came up with arguably the biggest catch in the Seahawks history. Down by 16 points to Green Bay in the NFC title game two weeks ago, Wilson overcame four interceptions to lead Seattle back and hit Kearse for a 35-yard touchdown strike in overtime to clinch the win.
The Patriots defense certainly faces a difficult task against Seattle's run-centric offense, but they have several established and budding stars to counter. For one, New England was ninth in the league against the run this season, and have let up only six rushing touchdowns all year. And in their last 10 games have given up only three rushing scores.
Veteran cornerback Darrelle Revis leads the Patriots secondary, and he gets a huge boost from second-year linebacker Jamie Collins. Making his first appearance in a Super Bowl, Revis led New England with 14 passes defended in the regular season, while Collins notched a team-best 116 total tackles.
Similar to Seattle, New England does have defensive players capable of making a difference in the secondary. Revis and Collins, along with safety Devin McCourty and cornerback Logan Ryan, each picked off two passes this season.
Start Time: 6:30 P.M. ET
TV Channel: NBC
Live Stream Info: A live stream is available at NBC Live Extra here
Predictions
Bobby Ilich, IB Times: Seattle 24-20
Anthony Riccobono, IB Times: Seattle 23-17
Greg Price, IB Times: New England, 24-17
Tim Marcin, IB Times: New England, 24-20
MVP Prediction: Patriots, CB, Darrelle Revis
© Copyright IBTimes 2023. All rights reserved.