Super Typhoon Sanba Continues To Intensity, Threatening Okinawa And South Korea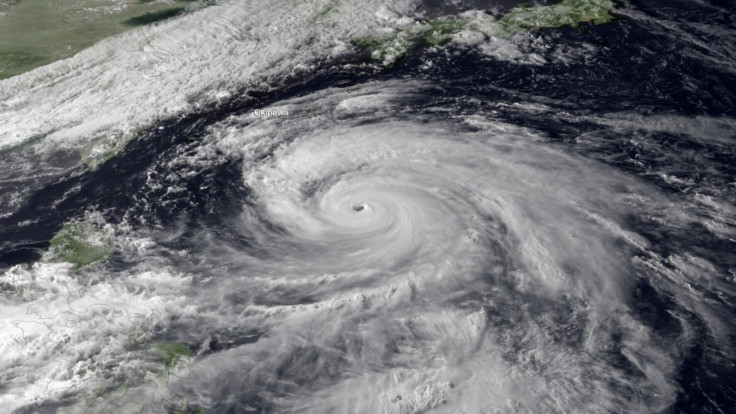 Super Typhoon Sanba continues to pose grave danger to the Japanese island of Okinawa and the South Korean mainland. Sanba, with peak winds as high as 178 mph, is currently moving north toward Okinawa at 13 mph.
Super Typhoon Sanba has grown massively during the past 48 hours. According to the Washington Post, its peak wind speed more than tripled, from 50 mph to 178 mph. This effectively raised the super typhoon from the wind-speed level of a tropical storm to that of a Category 5 hurricane.
Current projections show it hitting the Japanese island of Okinawa before moving on to strike the South Korean mainland.
Okinawa is home to the U.S. Kadena Air Base. In the area are 80,000 U.S. citizens, 30,000 of whom are military personnel.
The Stars and Stripes Pacific Storm Tracker has been providing updates for Okinawa residents on the status of Super Typhoon Sanba from Kadena Air Base. The storm tracker has compared this year's Super Typhoon Sanba to 1999's Super Typhoon Bart, which killed two people on Okinawa and caused $5 million in damage to the island's air base.
Pacific Storm Tracker writer Dave Ornauner wrote he had "never, in all [his] years of following tropical cyclones, seen a storm this intense here in the Pacific."
The Pacific Storm Tracker sent the following warning out to American citizens in the vicinity: "Assuming the worst and Okinawa gets pummeled by Sanba's worst winds, we could be in for a very lengthy recovery period, several hours at least. At those wind speeds, thousands on and off base could be without power, some without water -- whole trees, power lines, power poles, and stoplights could be down.
"Time to get your commissary, PX, ATM, and gasoline stand on. Enough water, nonperishable food, pet food for your furry friends, diapers and sanitizer for the little ones, and cash to last three days, at least, and fill the tank with gasoline.
"Sanba is no joke. This could be the next Bart; ask island longtimers what that was like. Prepare, prepare, prepare, and prepare, in no particular order. "
© Copyright IBTimes 2023. All rights reserved.