Tanorexic Mom Patricia Krentcil Banned From Local New Jersey Tanning Salons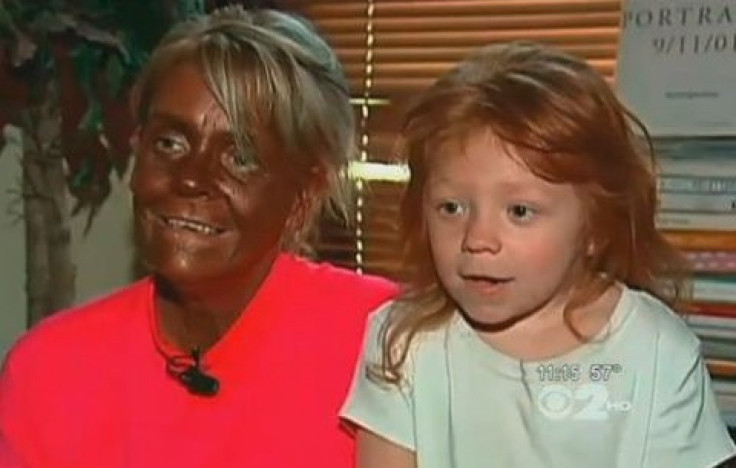 Tanorexic mom Patricia Kretcil is out of luck if she wants to keep up her bronzed glow.
Planet Sun Tanning Salon, which runs eight tanning locations near Krentcil's hometown of Nutley, N.J., have reportedly posted photos of Krentcil behind its counters to help workers recognize the notoriously tan mom and prevent her from using their establishments, TMZ reported on Tuesday.
Employees have supposedly been ordered to ask Patricia Krentcil to leave immediately if she walks into one of the Planet Sun Tanning Salon venues.
TMZ also reported that other tanning salons in Nutley - including Body Works Salon, Bodies in Heat and Sunset Tans -- have introduced similar policies banning Krentcil.
Patricia Krentcil came under fire after she was arrested on charges of second-degree child endangerment after it was revealed she brought her five-year-old, redheaded daughter into a tanning booth with her. The child, Anna, developed a rash and told a school nurse that it was from tanning with her tanorexic mother. The nurse then reported the incident to authorities.
New Jersey law states that no one under the age of 14 is allowed to use a tanning bed. Teenagers over 14 but under 18 may use such facilities, but only with parental approval.
A representative for the New Jersey Department of Health told TMZ that the department will team up with the local Nutley Health Department to investigate the tanning salon, called City Tropics Tanning, where Krentcil allegedly brought her five-year-old daughter.
Patricia Krentcil has been headline fodder ever since her case hit the media. From her overly-tanned skin (which has been compared to the old lady in the 1998 comedy There's Something About Mary) to her erratic behavior (calling critics of her look jealous, fat and ugly), Krentcil has given the media a plethora of bait.
Saturday Night Live veteran Kristen Wiig mocked the tanorexic 44-year-old in a Weekend Update skit with Seth Meyers.
Wiig portrayed Krentcil in the SNL skit, complete with toasted brown skin, white lips, bleached blonde hair and a leather jacket. She rolled onto the Weekend Update set, with smoke trailing out from behind her overly-tanned body.
Hello Seth. Sorry about all the smoke. I just came from the tanning salon, said the actress. When asked about the allegations against her, Wiig as Patricia Krentcil joked, I would never bring a five-year-old into a tanning bed. Tanning beds should only be used by adults. Because, you may not know this Seth, some people over-tan.
The tanorexic New Jersey mom has become so popular that she has been made into a doll. Herobuilders.com has created a $29.95 miniature version of Patricia Krentcil for your toy box. She comes complete with platinum blonde hair and a burnt-orange face.
Emil Vicale, founder of Hero Builders, told NBC, Yes of course she inspired it. Why would I make something as hideous as this?
This is our first ugly doll, Vicale continued to NBC. Maybe this is a new genre for us!
© Copyright IBTimes 2023. All rights reserved.
FOLLOW MORE IBT NEWS ON THE BELOW CHANNELS