Texas Crash On Highway 59 Leaves 14 Dead, Passengers Of Mini Truck Allegedly Illegal Immigrants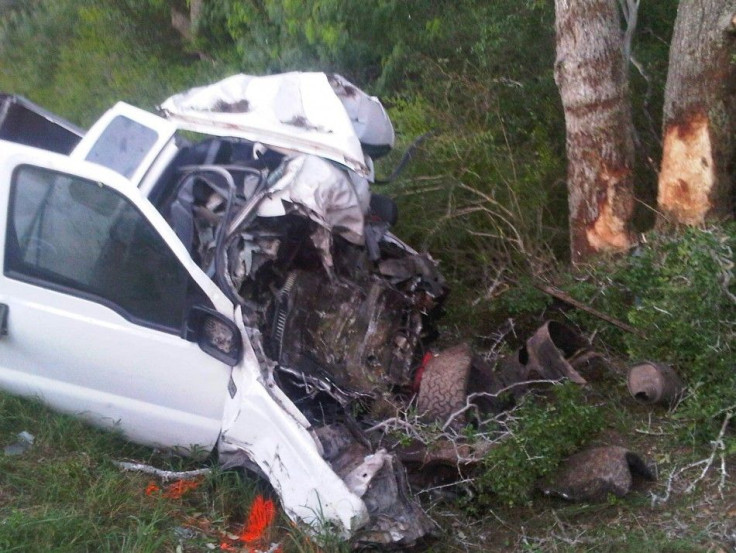 Fourteen people died in a truck that veered off a South Texas Highway after hitting a tree on Sunday evening. The truck was carrying 23 people, alleged illegal immigrants, 11 of whom died on the stop and three died later in the area hospital. The remaining 9 were injured. Two children were among the dead.
This accident took place on South Texas' highway 59 which is on the South of San Antonio near the gulf of Mexico coastline. According to Reuters, this one-vehicle crash is believed to be the second fatal accident in the past three months in this same region.
According to federal officials the 23 passengers in the truck were believed to be illegally immigrating into America from Mexico, Guatemala and Honduras. This was confirmed by Lieutenant Glen Garrett of the Texas Department of Public Safety's statement to told Reuters- We suspect at this time it is going to be illegal immigrants that were in the vehicle, based on the way they were traveling.
While recounting the accident scene, Trooper Gerald Bryant, a Texas Department Public Safety Spokesperson, told Reuters that the driver lost control, crashed into a tree, was pinned in the vehicle and died. He said that he was surprised to see so many people travelling in one vehicle. The injured were rushed to hospitals in Texas cities of Victoria, Corpus Christi and San Antonio.
The authorities are now trying to identify the suspected illegal immigrants. According to a report in AP, the authorities recovered tooth brushes, toothpastes, changes of socks and underwear but no forms of identification. For now, they are using information like photographs and fingerprints to not only identify the dead, but also investigate more into human smuggling.
© Copyright IBTimes 2023. All rights reserved.