Thousands Flee Los Alamos as Fire Rages Near Nuke Lab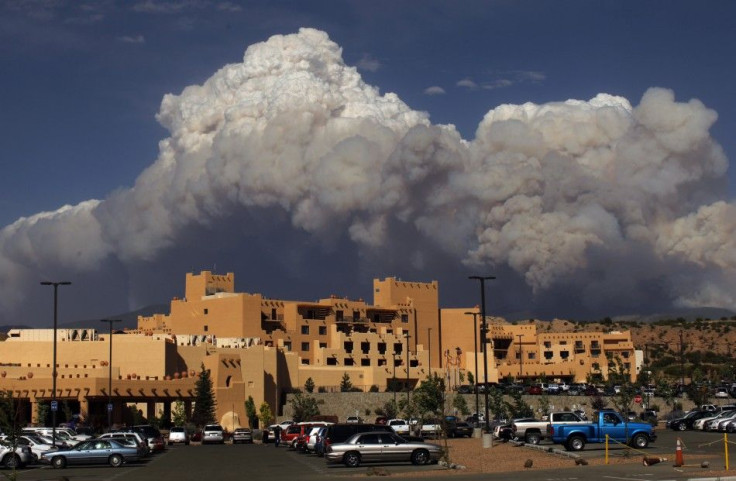 Thousands of people are being evacuated from Los Alamos town in New Mexico as Las Conchas fire has been threatening the town since Sunday.
Active fire behavior has been observed with running and spotting on both sides of NM 4, according to US Forest Service.
The city of Los Alamos is under mandatory evacuation and White Rock remains under voluntary evacuation. Cochiti Mesa, Las Conchas, Bandelier National Monument, and campgrounds near the fire were evacuated yesterday.
About 100 residents were evacuated from Cochiti Mesa and Las Conchas, and no evacuees reported to the evacuation center at La Cueva Fire Station.
The fire is approximately 1 mile southwest of the boundary of Los Alamos National Laboratory, which will remain closed on June 28.
Fire crews have contained a spot fire that started in a remote area of Los Alamos National Laboratory (LANL), which was founded during World War II to develop the first nuclear weapons.
Emergency officials say the Las Conchas fire, which had spread to the southern edge of New Mexico State Route 4 at the Lab's southwest boundary, crossed the road to the north early this afternoon.
Air crews dumped water at the site within the Lab's Technical Area 49 and brought the blaze under control. The area had been thinned of ground fuels in recent years. About one acre burned and the Lab has detected no off-site releases of contamination.
No other fires are currently burning on Lab property, no facilities face immediate threat, and all nuclear and hazardous materials are accounted for and protected. Environmental sites are being monitored and air quality experts are coordinating with the U.S. Environmental Protection Agency.
The Las Conchas fire has burned an estimated 49,000 acres in forests, canyons, and mesas south and west of the Lab.
Seven Hotshot crews (Type 1 crews), 12 Type 2 Crews, 31 engines, 3 water tenders, 5 dozers and 20 aircraft (12 air tankers and 8 helicopters) have been fighting the fire and more are expected to arrive.
Las Conchas wildfire was sparked on June 26 on a private land near Jemez Ranger District in the Santa Fe National Forest.
A smoke plume emitting black and grey smoke was visible yesterday from Jemez Springs, Albuquerque, Bernalillo, Los Alamos, Cuba, Gallina, Santa Fe, NM 4 and I-25. Recently, winds from the west pushed the smoke east and north toward White Rock, Los Alamos, Santa Fe, Tesuque, Nambe, and other surrounding areas. Other areas further to the east and north may also experience smoke impacts.
Meanwhile, New Mexico Governor Susana Martinez has ordered the New Mexico National Guard to Los Alamos to provide support for the ongoing efforts to protect lives, property and critical infrastructure threatened by the Las Conchas fire.
My administration will make every effort to provide support for the local emergency response crews. With evacuations in place and the fire burning quickly, it is important that residents in the surrounding communities remain attentive to the local emergency operations' alerts and orders, Martinez said.
© Copyright IBTimes 2023. All rights reserved.