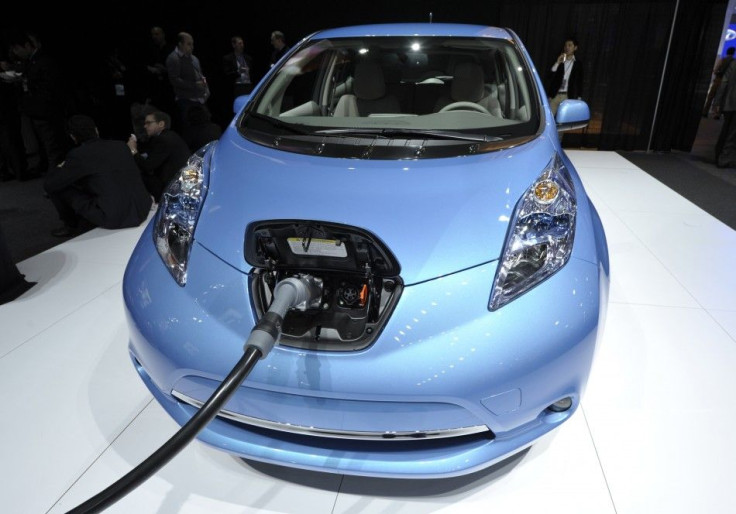 International tensions are spiking the price of oil -- crude pushed $105 per barrel on Monday -- and with it, gasoline at the pump is going up.
On Monday, wholesale regular unleaded gasoline was trading at $3.21 per gallon. At the retail gas station, however, prices are higher and run the risk of increasing if warmongering results in armed conflict in the Middle East. Analysts say the price of regular unleaded could easily exceed $4 per gallon nationwide this summer.
For those purchasing a new car and looking to save on gasoline prices, here is a list of the top 15 fuel efficient cars on the market, according to ConsumerReports.org.
The Top Electrics and Hybrids
Not surprisingly, electric and hybrid cars top this list, with the top four spots based on fuel efficiency. With a combined fuel economy of 196 miles per gallon in the city, Nissan's Leaf SL, Chevrolet's Volt, and Toyota's Prius Four and V Three outperformed combustion engines in overall, city, highway and on a 150-mile trip.
Nissan Leaf SL - 86 mpg
Chevy Volt - 45 mpg
Toyota Prius Four - 32 mpg
Toyota Prius v Three - 33 mpg
Other Contenders
Following close behind the top four are other hybrids whose mileage falls short of their rivals. Coming in at a combined 152 mpg in the city, the Lexus CT 200h Premium, Honda's Civic Hybrid, Smart's ForTwo Passion and Toyota's Camery Hybrid XLE. Although not technically a hybrid or an electric car, Smart's two-seater does offer mileage above that of its rival combustion-driven cars.
Lexus CT 200h Premium - 31 mpg
Honda Civic Hybrid - 28 mpg
Smart ForTwo Passion - 30 mpg
Toyota Camery Hybrid XLE - 32 mpg
Combustion Engine
The next seven on our list are predictably combustion engine cars. With a combined 133 mpg in the city, the Honda Insight EX, VW's Golf TDI, Passat TDI and Jetta SportWagen and Honda's CR-Z EX take spots nine through 12 place.
Honda Insight EX - 29 mpg
Volkswagen Golf TDI, Passat and Jetta - 27, 26 and 25 mpg
Honda CR- Z EX - 26 mpg.
The Rear
In a tie for last place, each getting 25 mpg in city driving, are the Fiat 500 Pop and the Ford Fusion Hybrid.
--
© Copyright IBTimes 2023. All rights reserved.