Tracking Hurricane Irene to the East Coast, Landfall in the Carolinas at 8 a.m. [LATEST MAPS &PHOTOS]
Hurricane Irene slightly lost some of its power on Saturday, but the destructive storm continues to move toward North Carolina's coast reportedly knocking out power and threatening to batter much of the East Coast.
As of 3 a.m. Saturday, Irene was located 60 miles south of Lookout, North Carolina with maximum sustained winds of 90 miles per hour. The destructive storm is currently moving north-northeast at 14 mph, according to the National Weather Service.
Irene, which has downgraded to a Category 1 hurricane, is expected to make landfall at 8 a.m., but the Carolinas are already experiencing rain and winds of at least 50 mph, which has snapped power lines and flooded streets.
The storm could also hit New York hard and Mayor Michael Bloomberg has declared the city's first ever mass mandatory evacuation on some areas.
Bloomberg said residents in Zone A need to be out by Saturday at 5 p.m.
But Zone A residents may need to get moving by Saturday morning because the coming winds may make traveling difficult by the afternoon and New York's entire mass transit system will shut down by noon.
Hurricane Irene is expected to impact New York on Saturday, with the worst conditions...likely late Saturday night into Sunday afternoon, according to the National Hurricane Center.
- You can find New York's official hurricane guide with resources and tips here.
- The evacuation zone finder, which tells residents by address whether or not they need to evacuate, is here (however, this Web page is often slow or down due to high traffic).
- For general info on Hurricane Irene's impact on New York, visit here or call 311.
- The map for evacuation zones and a list of public shelters is here.
- Zone A is colored orange. Zone B and Zone C, the two next most dangerous zones, are colored yellow and green, respectively.
Take a look at the National Weather Service's latest track of Hurricane Irene and evacuation zones for New York below.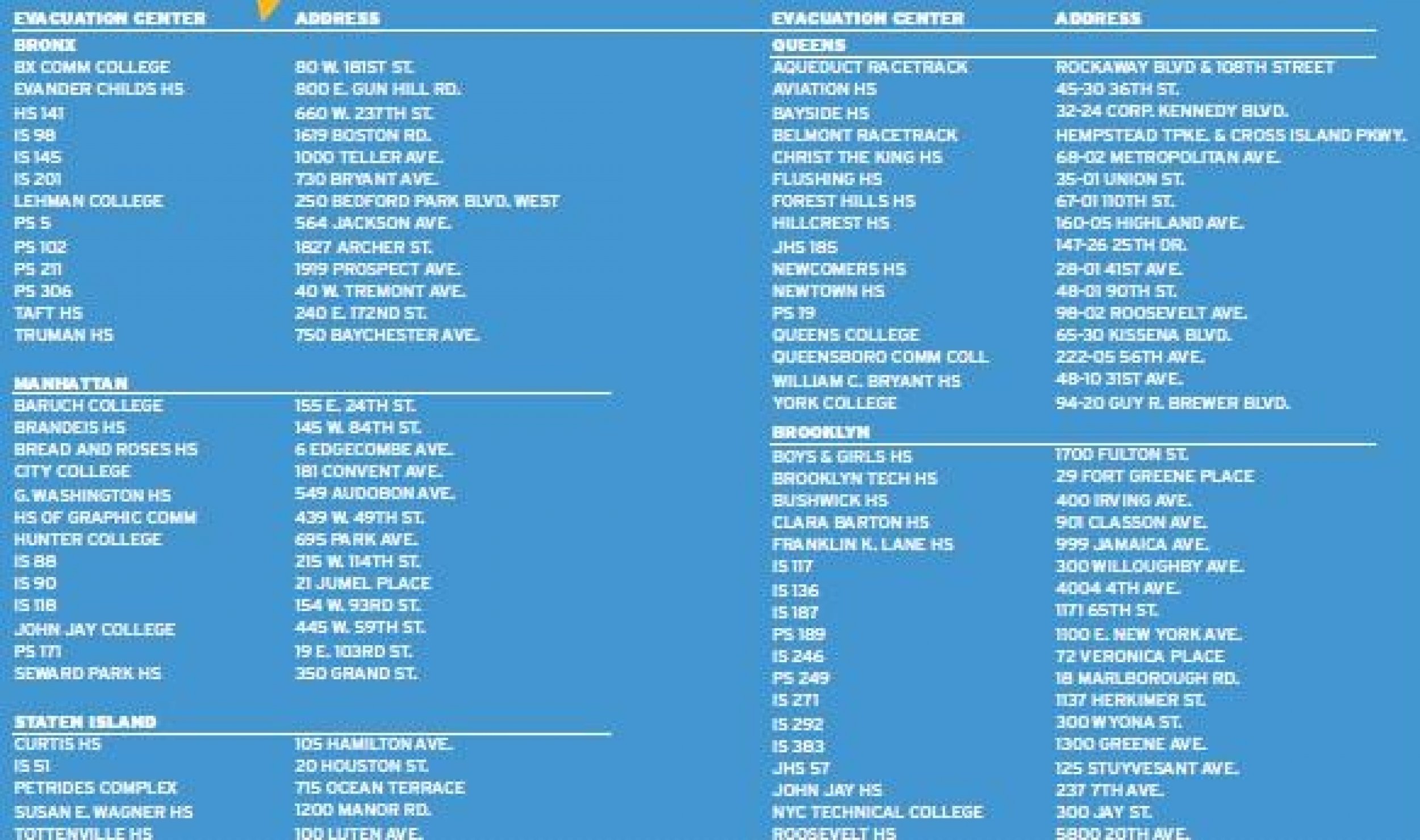 © Copyright IBTimes 2023. All rights reserved.