Trump Asked Rep. Brooks To 'Rescind' Elections, 'Remove' Biden, 'Immediately' Reinstate Him As President
KEY POINTS
Brooks said Trump asked him to hold a new special election for the presidency
Brooks refused to entertain Trump's request as it was illegal under the U.S. law
Brooks' revelation comes after Trump rescinded his endorsement for the Alabama Senate hopeful
Rep. Mo Brooks, R-Ala., on Wednesday revealed that Donald Trump urged him to illegally remove current President Joe Biden from the White House and reinstate him back in the office.
Brooks, who played a key role in challenging electoral votes for Biden on Jan. 6, said Trump had repeatedly pressed him to "rescind" the election, "remove" Biden from the presidency and hold a new special election for the position following his loss in November. Brooks, however, refused to do Trump's bidding, citing that it was illegal under U.S. laws.
"President Trump asked me to rescind the 2020 elections, immediately remove Joe Biden from the White House, immediately put President Trump back in the White House, and hold a new special election for the presidency," Brooks said in a statement.
"As a lawyer, I've repeatedly advised President Trump that Jan. 6 was the final election contest verdict and neither the U.S. Constitution nor the U.S. Code permit what President Trump asks. Period."
If what Brooks said was true, it would fit a pattern of Trump urging numerous officials to overturn the result of the 2020 election and declare him the winner.
Brooks' comment comes after Trump pulled his endorsement of the Alabama Senate hopeful ahead of the primary race. In a statement released Wednesday, Trump said his decision was brought about by Brook's disloyalty to him.
"Mo Brooks of Alabama made a horrible mistake recently when he went 'woke' and stated, referring to the 2020 Presidential Election Scam, 'Put that behind you, put that behind you,' despite the fact that the Election was rife with fraud and irregularities," Trump said in a statement. "Very sad but, since he decided to go in another direction, so have I, and I am hereby withdrawing my Endorsement of Mo Brooks for the Senate."
Brooks was involved in the plans to challenge the certification of Biden's win on Jan. 6, 2021. He was also one of over 140 Congress members who voted against accepting the results of the election in several states where Biden won.
Asked Wednesday if he plans to cooperate with the House Select Committee investigating the events that led to the Capitol riot on Jan. 6, Brooks said he has yet to think about it, noting that the committee has yet to ask him for an interview.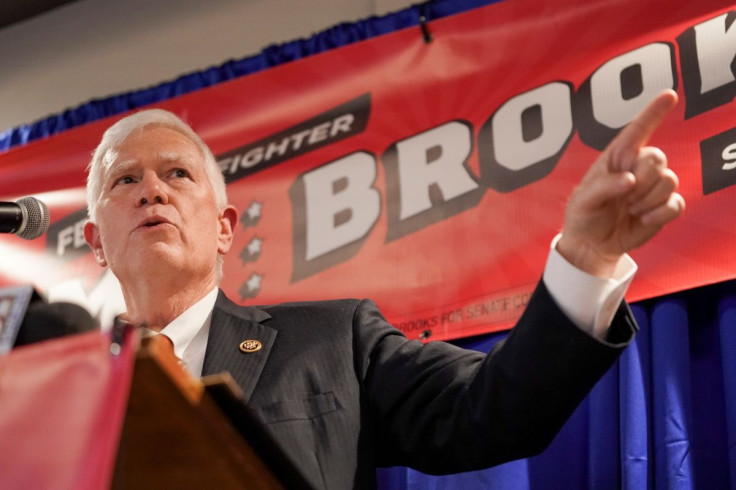 © Copyright IBTimes 2023. All rights reserved.