Trump Campaign Violence: Spokesman Denies Allegations Staffer Assaulted Breitbart Journalist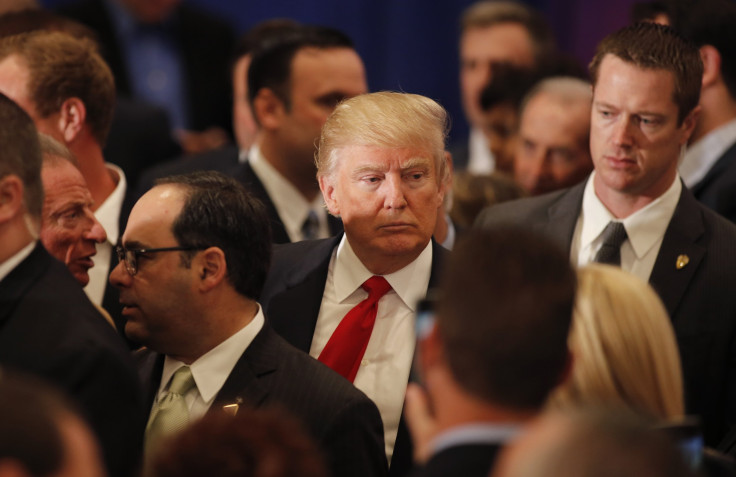 Republican front-runner Donald Trump's campaign denied accusations that Michelle Fields, a Breitbart News reporter, was assaulted by campaign manager Corey Lewandowski while at a Wednesday press conference. The campaign said Thursday there was no evidence to suggest that Lewandowski harmed Fields.
Fields was trying to ask Trump a question about affirmative action as he left a press conference in Jupiter, Florida, when Lewandowski reportedly forcibly grabbed her arm, according to Politico. She had not seen who grabbed her, but Washington Post reporter Ben Terris identified the person as Lewandowski.
"The individual has never met Corey, nor had the only reporter that supposedly identified him," said Trump spokesperson Hope Hicks in a statement to ABC News. "There are often large crowds aggressively seeking access to Mr. Trump, and our staff would never do anything to harm another individual, while at the same time understanding that Mr. Trump and his personal space should never be invaded."
Fields responded on Twitter to the campaign's statement with a photo of her bruised arm. "I guess these just magically appeared on me... So weird," she wrote.
Hicks, who was present at the event, said neither she, nor anyone else on the campaign's staff witnessed the alleged incident. She suggested that the allegations were part of a history of "exaggerating" incidents and referenced a 2011 story where Fields and another reported claimed they were attacked by the New York Police Department while covering Occupy Wall Street protests.
"We leave to others whether this [is] part of a larger pattern of exaggerating incidents, but on multiple occasions, she has become part of the news story as opposed to reporting it," she said. "Recall she also claimed to have been beaten by a New York City Police officer with a baton."
Fields was a Daily Caller reporter at the time of the 2011 incident. She told Think Progress that she fell to the ground while at the Occupy Wall Street protests.
"Direna had a camera in her hand, and I had a microphone. And we were being hit," she said. "When I fell to the ground, I said at one point, 'I'm just covering this! I'm covering this!' And the officer just said, 'Come on, get up, get up,' before pulling me up by my jacket.'"
After the Trump press conference, in response to media attention after the Trump press conference, Fields published an op-ed on Breitbart News about how she remembered the alleged incident unfolding.
"Campaign managers aren't supposed to try to forcefully throw reporters to the ground, no matter the circumstance," Fields wrote. "But what made this especially jarring is that there was no hint Trump was done taking questions. No one was pushing him to get away. He seemed to have been happily answering queries from my fellow reporters just a moment before. Many people have been asking me on Twitter and in emails what exactly happened Tuesday night. I hope this article answers those questions, and I can get back to reporting the news, not being a part of it."
© Copyright IBTimes 2023. All rights reserved.
FOLLOW MORE IBT NEWS ON THE BELOW CHANNELS