Trump Defends Social Media Use Calling It 'Modern Day Presidential,' Slams Media In Series Of Tweets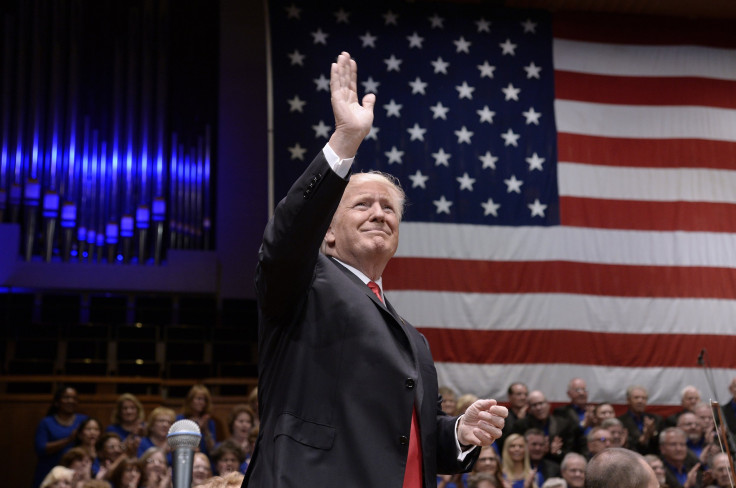 President Donald Trump defended his use of social media in a series of tweets Saturday and said his usage is "not presidential" but "modern day presidential," following his tweets accusing the media of trying to convince lawmakers that he should stop using Twitter.
"My use of social media is not Presidential - it's MODERN DAY PRESIDENTIAL. Make America Great Again," he tweeted after multiple other posts attacking the "fake and fraudulent news media."
Trump's tweets came Saturday after he had been criticized by both Republican and Democratic lawmakers over his controversial and demeaning comments on MSNBC's "Morning Joe" co-hosts Mika Brzezinski and Joe Scarborough on Thursday.
Read: Twitter Reacts After Joe Scarborough Accuses Trump Of Blackmailing Him
Some Republicans had expressed concerns with Trump's Twitter habits after the incident. Nebraska Sen. Ben Sasse said those tweets were "beneath the dignity" of the presidential office. Alaska Sen. Lisa Murkowski said: "Do you want to be remembered for your tweets or your accomplishments?" according to Politico.
On Saturday, Trump attacked the media on Twitter saying: "The FAKE & FRAUDULENT NEWS MEDIA is working hard to convince Republicans and others I should not use social media."
He also separately stepped up his attack on CNN on Saturday after the network had retracted an article last week, which alleged that one of the president's aides was being investigated by Congress. He wrote in one of his tweets that the network has been "finally exposed as #FakeNews."
The CNN story that caused turmoil last week resulted in the resignations of three journalists from the network after an internal investigation was conducted by the network. Thomas Frank, investigative unit editor and Pulitzer Prize winner Eric Lictblau and Lex Harris, who oversaw the investigations unit, resigned on June 26 and the story was taken down.
Read: Trump Insults Mika Brzezinski Over Facelift, 6 Other Times When He Was Sexist On Twitter
Trump also faced backlash on social media for his tweet on Brzezinski. Social media users and lawmakers said that the president crossed the line with his tweets on the host.
Corey Lewandowski, Trump's former campaign manager, called the president the "Hemingway of Twitter," after his tweets about the "Morning Joe" host.
"He's taken down his opponents on Twitter many times. You can ask 'Little Marco' or 'Lyin' Ted' or 'Crooked Hillary.' We all know the names or 'Low Energy Jeb,'" he continued referencing Trump's branding of his 2016 presidential opponents.
"But when you oppose Donald Trump, beware of his hundred million social media followers," he said on Fox News.
Trump's usage of social media, especially Twitter for communicating has caused a number of controversies in the past, including alleging his predecessor Barack Obama of wiretapping Trump Tower and his attacks on the London Mayor Sadiq Khan after the terror attacks in London in June.
The president also claimed several times that Twitter serves as a platform and an important way to communicate directly with the Americans because he feels that mainstream media is biased against his administration and thus reports "fake news."
Trump also attacked the press during his speech at the "Celebrate Freedom Rally" on Saturday at the Kennedy Center. "I'm President and they're not," the 45th President stated. "We won and they lost. The fact is, the press has destroyed themselves because they went too far, instead of being subtle and smart," according to New York Daily News.
© Copyright IBTimes 2022. All rights reserved.
FOLLOW MORE IBT NEWS ON THE BELOW CHANNELS