Trump Details Plan On Mexico-US Border If Reelected President In 2024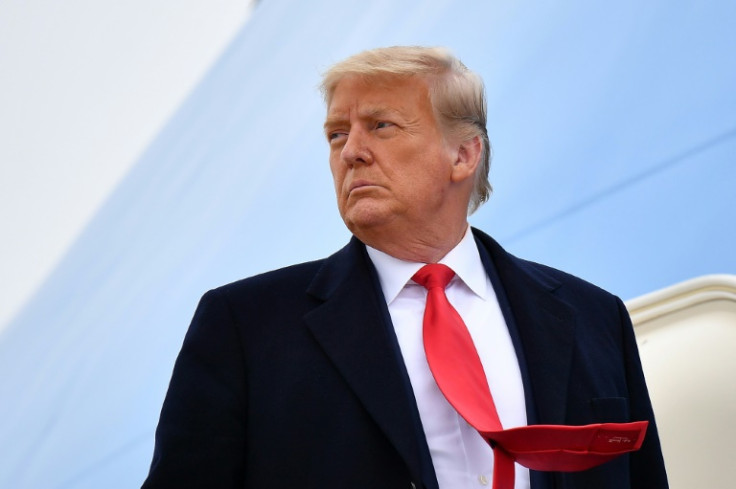 KEY POINTS
The former president said he will designate major cartels as foreign terrorist organizations
Trump said he would ask Congress to pass legislation that ensures drug smugglers receive death penalty
Biden has unveiled a blanket policy that would turn away migrants crossing the border illegally
Former President Donald Trump on Thursday said he will deploy U.S. special forces to the Mexico-U.S. border if he is reelected as the president in the upcoming 2024 election.
In a video published Thursday and shared across social media, Trump said he will order the Department of Defense to launch "cyber warfare" and deploy the special forces to "inflict maximum damage" on cartels he claimed are crossing the border.
"When I am president, it will be the policy of the United States to take down the cartels, just as we took down ISIS and the ISIS caliphate – and just as, unlike the situation we are in today, we had a very, very strong border," Trump said in the video.
"[I will] order the Department of Defense to make appropriate use of special forces, cyber warfare, and other overt and covert actions to inflict maximum damage on cartel leadership, infrastructure and operations," he added.
Apart from deploying U.S. military resources, Trump said he would also designate major cartels as foreign terrorist organizations, effectively severing their access to global financial systems. Additionally, he would ask Congress to pass legislation that would give drug smugglers and human traffickers the death penalty.
"When I am back in the White House, the drug kingpins and vicious traffickers will never sleep soundly again," Trump said.
Trump's remarks come after President Joe Biden on Thursday revealed a blanket policy that would turn away Cubans, Haitians and Nicaraguans who cross the border illegally to seek asylum. The migrants will now be turned back and disqualified from the country's humanitarian parole program.
That being said, the policy would also be expanded. The humanitarian program can now accept up to 30,000 migrants per month from Cuba, Haiti, Nicaragua and Venezuela.
"This new process is orderly, it's safe and it's humane," Biden said in a speech. "These actions alone are not going to fix our entire immigration system, [but they could] help a good deal."
Biden is set to visit the southern border Sunday. It will be his first stop at the border since being elected as president.
© Copyright IBTimes 2023. All rights reserved.