Is Trump Preparing For North Korea War? Military Options To Stop Kim Jong Un Considered By White House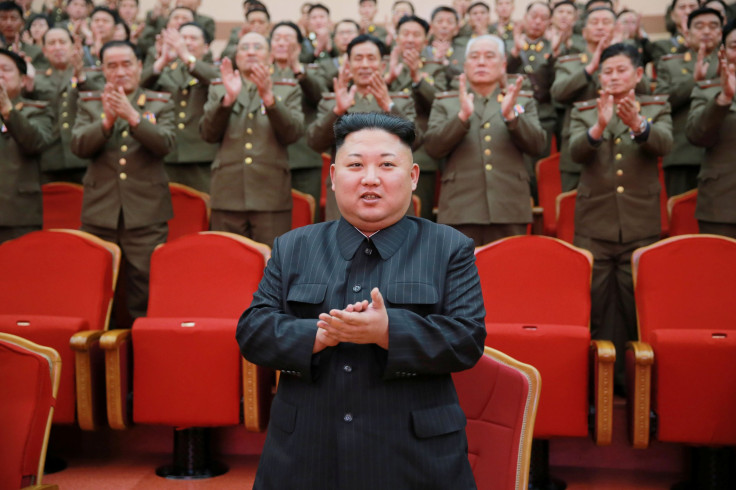 The White House is considering military options to counter aggression from Kim Jong Un, the dictatorial leader of North Korea, the Wall Street Journal reported this week. North Korea has focused intently on improving its nuclear capabilities and stockpiling an arsenal. The options to snuff out that threat reportedly presented to President Donald Trump include both military intervention and sparking a regime change.
The options were reportedly presented in an internal White House review of strategy, which was disclosed to the Journal by "people familiar with the process." Those sources also reportedly told the newspaper that U.S. officials "have underscored the possible military dimensions" in talks with allies about strategies to deal with North Korea.
Amid repeated tests from North Korea, Trump has promised that Kim wouldn't be allowed to develop a ballistic missile capable of carrying a nuclear warhead to the United States. Under the direction of Kim, the country last month test-fired a missile capable of traveling some 3,400 miles into the Sea of Japan.
Trump was meeting with Japanese Prime Minister Shinzo Abe at the time, and the two leaders help an impromptu news conference in Florida.
"I just want everybody to understand and fully know that the United States of America stands behind Japan, its great ally, 100 percent," Trump said.
The U.S. and ally South Korea began large-scale training exercises this week that are scheduled to last into April. Aircraft carriers, bombers and military vehicles are expected to be a part of the drills that have been received as a provocation by Pyongyang.
"Now that the U.S. imperialists and the South Korean puppet forces again kicked off the dangerous nuclear war drills against the DPRK at its doorstep, our army will counter them with the toughest counteractions as it had already declared," a spokesman for the Korean People's Army said in a statement released by the Korean Central News Agency (KCNA). "Should the U.S. imperialists and the South Korean puppet forces fire even a single shell into the waters where the sovereignty of our Republic is exercised, the KPA will immediately launch its merciless military counter-actions. They should not forget that our revolutionary armed forces have everything in place and are always on alert."
© Copyright IBTimes 2023. All rights reserved.