Trump Raised $6.6 Million Days After Second Indictment; $2.1M At Post-Arraignment Dinner, Campaign Says
KEY POINTS
Donors reportedly paid at least $1,000 per person to attend Trump's New Jersey fundraiser
The campaign did not describe how much Trump was able to raise each day around the special counsel's indictment
The dwindling response rate to grassroots donor appeals could be a sign that Trump's legal troubles are starting to demoralize supporters
Former President Donald Trump's 2024 campaign has announced that it raised a total of $6.6 million in the days after his second indictment.
The campaign said Wednesday that the haul included the $2.1 million Trump raised at a fundraiser in his Bedminster, New Jersey, golf club Tuesday evening, the New York Times reported. The event was held mere hours after the former president's arraignment in a federal court in Southern Florida, where he pleaded not guilty to all 37 federal charges relating to his alleged mishandling of classified documents.
The numbers the campaign reported cannot be verified until after it files its federal disclosures next month. But the new figure is lower than the amount Trump's team reportedly received from donors after his first indictment in March.
"Since deranged [special counsel] Jack Smith took the unprecedented step of weaponizing the justice system to attack his political opponent, [the campaign] has raised more than $6.6 million in just a few short days," the Trump campaign said in a press release.
His campaign added that the more than $4.5 million raised from digital fundraising and $2.1 million raised at the Bedminster event were "a clear sign of the steadfast support ... Trump enjoys from grassroots Patriots across the nation."
Donors reportedly paid at least $1,000 each per person to attend Trump's Bedminster fundraiser, where he spoke against his perceived enemies for lobbying legal attacks against him.
His campaign, however, did not describe how much Trump was able to raise each day around the special counsel's indictment.
Trump's campaign has sought to repeatedly tap his most loyal supporters for monetary donations following major developments in his legal troubles.
"The Democrats truly believe this witch hunt will finally be the end. Well, it is the end, just not for our America First Movement. Today marks the beginning of the end of Crooked Joe's corrupt presidency," the Trump campaign said in one of the fundraising emails it sent out following his second indictment, NBC News reported.
"Please make a contribution of ANY amount – truly, even just $1 – to peacefully DEFEND our movement from the never-ending witch hunts," the email continued.
Trump's campaign said it raised $12 million in total in the six days following the news in late March that he had been indicted in New York City, according to NBC News.
Trump was able to raise about $4 million within 24 hours after Manhattan District Attorney Alvin Bragg filed charges against him, with an additional $2 million raised in the 24-hour period around his surrender in New York City in his business records case, the New York Post reported.
Trump pleaded not guilty to all 34 felony counts of falsifying business records relating to hush-money payments during the 2016 campaign.
The dwindling response rate to grassroots donor appeals could be a sign that Trump's legal troubles are beginning to demoralize his fervent supporters. Georgia prosecutors are also investigating the ex-president's efforts to overturn the 2020 election.
However, the real estate mogul's legal woes have yet to put a dent in his poll numbers, with recent polls suggesting that he remains the frontrunner for the Republican presidential nomination for the 2024 elections.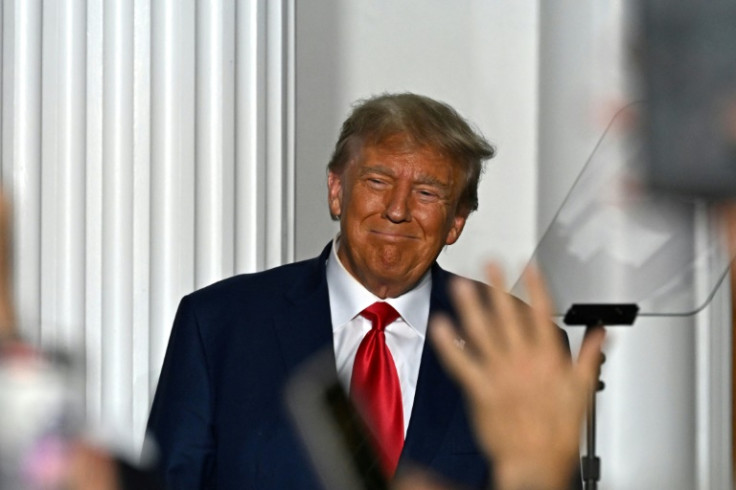 © Copyright IBTimes 2023. All rights reserved.