Trump Rallies: Then-Candidate Likely Incited Violence In Kentucky, Judge Says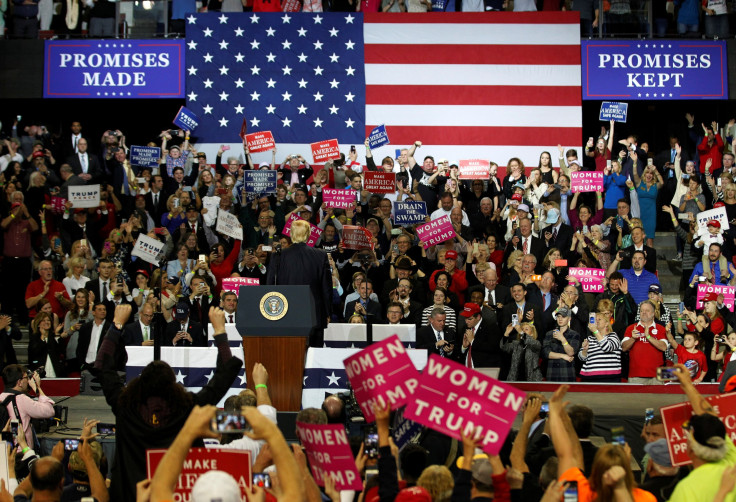 A federal judge in Kentucky refused to dismiss a lawsuit claiming Donald Trump was responsible for inciting the beating of three protesters at a campaign rally last year, rejecting a free speech defense.
U.S. District Judge David Hale ruled Friday in Louisville that Trump's order to remove an African-American woman was "particularly reckless," the Louisville Courier-Journal reported.
Read: Police On Alert Following Violence In New Mexico
Three protesters — Henry Brousseau, Kashiya Nwanguma and Molly Shah — filed a complaint after a March 1, 2016, campaign rally against Trump and three supporters, alleging Trump's order to "get 'em out of here" led to violence. The complainants are seeking unspecified monetary damaging. They say they were attacked by Trump supporters who had been riled up by the candidate.
"It is plausible that Trump's direction to 'get 'em out of here' advocated the use of force. Unlike the statements at issue in the cases cited by the Trump defendants, 'get 'em out of here' is stated in the imperative; it was an order, an instruction, a command," Hale wrote.
In addition to Trump, the complaint named white supremacist Matthew Heimback of Paoli, Indiana, and Ohio Korean War veteran Alvin Bamberger. A third individual was cited by not named. Video indicated the defendants shoved Nwanguma in trying to remove her from the Kentucky International Convention Center at Trump's prompting.
Read: Protesters, Police Clash Outside Trump Rally In New Mexico
Trump attorney R. Kent Westberry argued the allegations in the suit would put a chill on free speech and he also claimed those responsible for the alleged violence were acting on their own.
Hale noted, however, the violence erupted right after Trump gave the order and declined to dismiss parts of the complaint referring to Heimbach saying he expected Trump to "further the interest" of his white nationalist group.
The judge did dismiss a part of the complaint alleging Trump was liable for the actions of Heimbach and Bamberger since they were not in the candidate's employ.
Trump last year blamed violence at his rallies on "bad dudes."
"They have done bad things, and they are really dangerous and get in there and start hitting people, and we had a couple big, strong, powerful guys doing damage to people," Trump said.
"It's usually the police, the municipal government, because I don't have guards all over these stadiums. I mean, we fill up stadiums."
© Copyright IBTimes 2023. All rights reserved.