Trump's Immigration Ban: All You Need To Know About President's Executive Order Facing Massive Worldwide Protests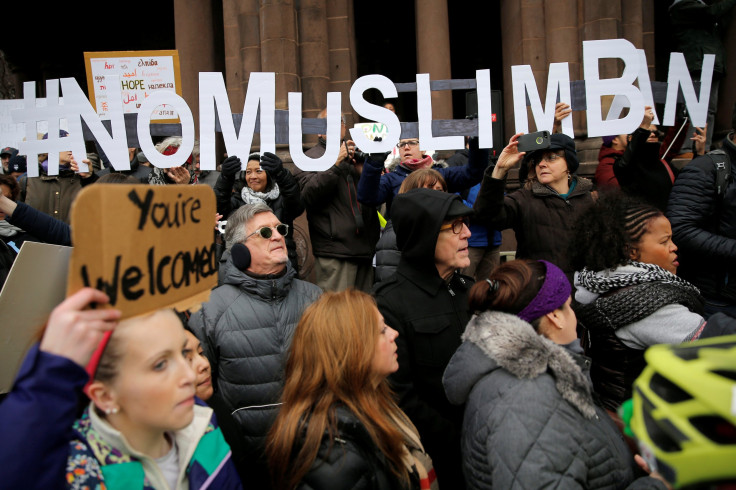 President Donald Trump's executive order aimed at keeping refugees from entering the United States for 120 days has been facing worldwide condemnation. The order also suspends immigration from seven countries for a period of three months and calls for suspending the Syrian refugee program indefinitely.
Here is all you need to know about the "immigration ban."
Who is affected by this order?
Immigrants from seven predominantly Muslim nations — Iran, Iraq, Syria, Sudan, Libya, Yemen and Somalia — are directly affected by the decision. As the order was implemented, green card holders and people with valid visas were also affected by the immigration ban. While some were detained at airports, others were sent back to locations they were flying in from.
Is it legal?
The constitutionality of the executive order has been the subject of considerable debate.
On Saturday, Federal Judge Ann Donnelly became the first to issue a ruling in Brooklyn, New York, blocking a part of the order by stating that the refugees and others from the affected countries detained at airports across the U.S. should not be sent back.
The order was in response to the class action lawsuit Saturday filed by the American Civil Liberties Union (ACLU) and other activist groups on behalf of two Iraqis — with ties to U.S. security forces — who were temporarily detained at JFK Airport in New York because of the president's decision.
Her order read: "There is imminent danger that, absent the stay of removal, there will be substantial and irreparable injury to refugees, visa-holders, and other individuals from nations subject to the January 27, 2017 Executive Order."
A joint statement was issued by attorneys general from New York, California, Pennsylvania, Washington, Massachusetts, Hawaii, Virginia, Oregon, the District of Columbia, Connecticut, Vermont, Illinois, New Mexico, Iowa, Maine and Maryland Sunday condemning the ban propagated by the order as "unconstitutional, un-American and unlawful."
How has the public reacted?
Massive protests are taking place across the U.S. to call Trump out on his decision and in solidarity with millions of refugees. Airports were flooded with protestors asking authorities to release all those detained. Crowds also gathered outside the White House to voice their opposition to Trump's "Muslim Ban."
While the Republican party was relatively silent on the executive order, Senators John McCain and Lindsey Graham condemned the move by saying the ban would only help ISIS and other militant groups with their recruitment. Ohio GOP Sen. Rob Portman questioned whether the president's "extreme vetting" order was "properly vetted."
Trump retaliated by calling McCain and Graham "sadly weak" on the issue.
What do world leaders have to say?
Many world leaders have also joined the protesters in slamming Trump's executive order.
French President Francois Hollande called for a "firm" response to Trump's decision while German Chancellor Angela Merkel called him to emphasize the United States' obligations to refugees under the Geneva Conventions.
The United Kingdom's Prime Minister Theresa May, who recently met with Trump, took a relatively softer position as she said each country is allowed to decide its immigration policies, "but we do not agree with this kind of approach, and it is not one we will be taking." A petition to stop Trump's state visit to the country has so far received over 1 million signatures but the government has rejected calls to cancel the visit.
The British Foreign Secretary Boris Johnson said it was wrong to call people out on the basis of their nationality, while London Mayor Sadiq Khan called the ban "shameful and cruel."
Canadian Prime Minister Justin Trudeau, meanwhile, said that his country will welcome refugees.
Iran, in response, said it will take "reciprocal measures in order to safeguard the rights of its citizens" but Iranian Foreign Minister Javad Zarif added on Twitter that anyone with an existing valid visa would still be welcomed in the country.
How have businesses reacted?
Apple CEO Tim Cook said the company "would not exist" without immigration and denounced the move, promising to help employees affected by it. Facebook CEO Mark Zuckerberg said the U.S. should focus on "people who actually pose a threat."
"Like many of you, I'm concerned about the impact of the recent executive orders signed by President Trump," Zuckerberg wrote in a statement. "We should also keep our doors open to refugees and those who need help. That's who we are."
Starbucks CEO Howard Schultz announced Sunday that the company will hire 10,000 refugees over the next five years. In a letter to its employees, Schultz said that the hiring would extend to stores across the world, starting with the U.S. In the country, the focus would be on hiring immigrants "who have served with U.S. troops as interpreters and support personnel."
After a "#DeleteUber" campaign started trending on social media for the company's exploitation of the taxi strike during protests against the immigration ban, Uber said it would "urge the government to reinstate the right of U.S. residents to travel — whatever their country of origin — immediately."
It also pledged a $3 million legal defense fund for its drivers who were affected by the order.
Tesla and SpaceX CEO Elon Musk, who is also a member of Trump's economic advisory council, has announced that he is seeking recommendations for "specific amendments" that should be made to the executive order. Musk said he will attempt to build consensus on changes to the order.
What can be done?
While White House Chief of Staff Reince Priebus said more countries may be added to Trump's order, the immigration ban currently excludes Saudi Arabia, Egypt, the United Arab Emirates and Lebanon. Critics have called out the administration's terrorism argument by showing that countries where the 9/11 hijackers came from have been left off the list.
As Trump moves forward with his plans, ACLU has reportedly received almost $24 million and more than 150,000 new members since it took action against the executive order Saturday. The numbers mark a massive increase over the organization's per year average of $3 million to $4 million.
© Copyright IBTimes 2023. All rights reserved.