Two Charged with Starting Largest Ever Arizona Wildfire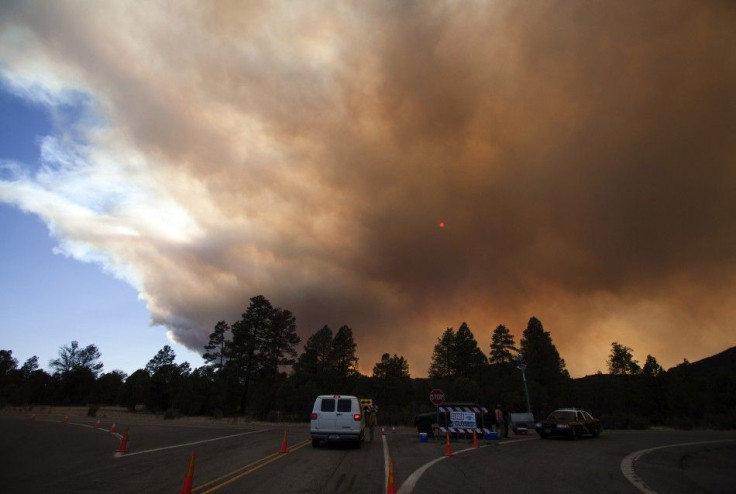 Two cousins who allegedly left a campfire unattended have been charged with starting Arizona's largest ever wildfire that torched more than 800 square miles of wilderness before it was contained. prosecutors said on Wednesday.
Caleb Joshua Malboeuf, 26, and David Wayne Malboeuf, 24, were charged with starting the so-called Wallow Fire on May 29, in the Apache Sitgreaves National Forest in eastern Arizona, the U.S. Attorney's office said in a news release.
The blaze raged for more than a month, scorching three dozen homes and businesses and displacing up to 10,000 people at its peak, while roaring through 840 square miles of ponderosa pine forests in eastern Arizona and into New Mexico.
The fire zone lies in the heart of the White Mountains, a picturesque area dotted with vacation cabins and popular as a retreat for Arizonans seeking to escape the summer heat. Fighting it cost over $79 million.
Our national forests are among our most precious resources and we all have a responsibility to care for them when we visit, Dennis K. Burke, U.S. Attorney of the District of Arizona said in a statement.
This devastating fire destroyed pristine national forest, scenic wilderness, and numerous nearby homes and cabins. Its cost for future generations goes well beyond the resources used to fight it, he added.
The Malboeuf cousins, both from southern Arizona, were charged on five counts including causing timber to burn, leaving a fire unattended and unextinguished and building a campfire without removing all surrounding flammable material.
An investigation found that the blaze started after the cousins left an unattended campfire in the Bear Wallow area. The fire smoldered out of a containment ring and quickly spread in high winds after they had gone on a hike.
Noticing smoke, the cousins tried to return to their campsite where they had left their gear. But as they got closer, the smoke and flames became too intense, and they were forced to retreat, the office said.
During June as several wildfires raged in the Mexico border state, Arizona Senator John McCain sparked controversy when he said there was substantial evidence that some of these fires have been caused by people who have crossed our border illegally.
The Arizona Republican and former Republican presidential candidate made the comment at a news conference after paying a visit to the site of the Wallow Fire. Critics accused him of trying to single out undocumented immigrants as scapegoats before the cause of the fires had been officially determined.
The Malboeuf cousins are scheduled to make an initial appearance in federal court in Flagstaff, Ariz. on September 19.
A conviction for each of the offenses charged in the complaint carries a maximum penalty of six months in prison, a $5,000 fine or both.
© Copyright Thomson Reuters 2023. All rights reserved.