Typhoon Nesat: Storm Pounds Hong Kong, China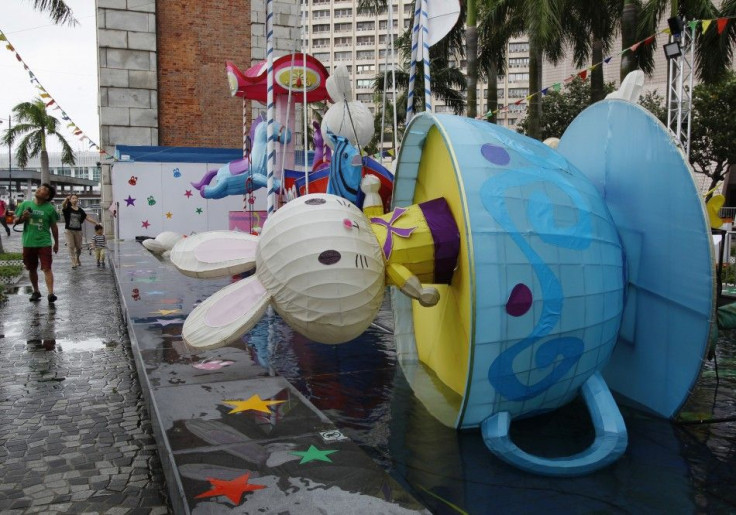 Typhoon Nesat hit Hong Kong and China on Thursday.
The powerful storm, which caused severe damage and flooding in the Philippines just a day ago, is passing over Hong Kong en route to southern China. Hong Kong authorities closed schools, businesses and markets. Two people were reportedly hospitalized after being hit by falling debris.
Additionally, a number of river-side apartment buildings had to be evacuated when the storm pulled a large barge from its moorings, sending it crashing into a sea wall.
The typhoon is aiming for Wenchang in Hainan Province, and made landfall on mainland China in the area between Dianbai County in Guangdong Province and the city of Qionghai in Hainan Province earlier Thursday, according to Chinese state news agency Xinhua.
The storm is the strongest cyclone to hit China this season. The coastal provinces of Guangdong, Hainan and Guangxi will experience heavy rain for at least the next 24 hours, with the Leizhou Peninsula in Guangdong especially susceptible to a torrential downpour.
Nesat caused nearly one billion pesos ($23 million) in damages in the Philippines, a huge portion of which came from agricultural losses.
At least 35 people were killed during the storm, many due to the massive flooding in metropolitan Manila. An additional 45 people are still unaccounted for, while more than 110 have so far been rescued.
The Philippines Department of Health warned residents not to walk through floodwaters, the potential breeding ground for harmful bacteria such as leptospirosis. Also known as Weil's disease and Rat Catcher's Yellows, leptospirosis is a rare bacterial infection spread through water contaminated with animal urine. It causes severe fever and shaking chills, and can lead to bone and lung problems and sometimes death.
Health assistant secretary Eric Tayag also insisted that Filipinos either boil drinking water for at least three minutes or treat it with chlorine to kill all harmful bacteria.
With a second tropical storm currently barreling toward the country, the National Disaster Risk Reduction and Management Council of the Philippines has decided not to lower its red alert status. Tropical Storm Nalgae, known locally as Quiel, is expected to enter the Philippine Area of Responsibility by Saturday morning.
Our preparation for Pedring is just but enough in time for Quiel, said NDRRMC Executive Director Benito Ramos. "Replenish whatever is exhausted. We still have time while we still have better weather so we won't be taken by surprise.
© Copyright IBTimes 2023. All rights reserved.