U.S. Air Force Buys 18,000 Apple iPads to Replace Flight Bags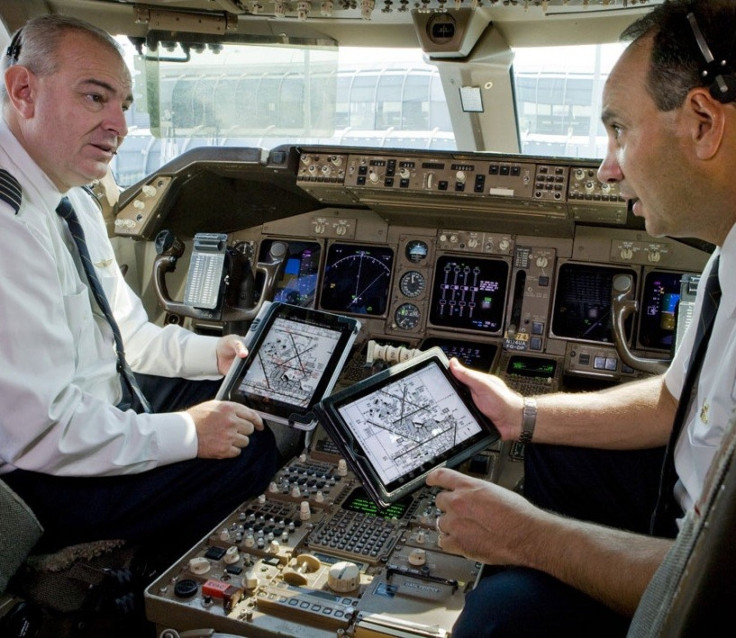 Following the precedent set by commercial airliners in December 2011, the U.S. Air Force plans to buy up to 18,000 iPads for its Air Mobility Command, replacing heavy flight bags with light and efficient Apple iPad 2s for the crews that fly cargo aircraft. The devices will reportedly be used by the crews on the C-5 Galaxy and C-17 Globemaster.
Moving from a paper-based to an electronically based flight publication system will not only enhance operational effectiveness, it can also save the Department of Defense time and money, said Maj. Gen. Rick Martin, the director of operations for the Air Mobility Command. Electronic flight bags are becoming an industry standard due to their operational, environmental and cost savings benefits.
The deal to buy Apple tablets was first reported by NextGov, which noticed a memo on the Federal Business Opportunities Web site saying the AMC wants to purchase a minimum of 63 and a maximum of 18,000, iPad 2, Brand Name or Equal devices. AMC's public affairs director, Lt. Col. Glen Roberts, clarified the report, stating the commend is looking for a tablet device, not necessarily an iPad.
There are no guarantees that the AMC will settle on a deal with Apple, but odds are good that the bestselling tablet will end up in the hands of the Air Force. In January, the Air Force Special Operations Command similarly announced its plans to buy 2,861 iPad 2s as flight bag replacements for its crews.
There are several benefits to using electronic flight bags instead of physical versions. For one, the iPad can instantly update charts electronically, while the AMC would require flying charts to be reprinted every 28 days to stay up to date.
This equates to approximately 70 pounds of paper per aircraft each month that must be meticulously sorted, accounted for, and updated, said Maj. Pete Birchenough, who head's the AMC's electronic flight bag initiative. Accomplishing this one publication at a time requires considerable manpower and detracts from higher-priority tasks.
Flight bags typically contain flight manuals, technical orders, regulations, and various other flight-related materials that add weight to the flight, which burns more of the aircraft's fuel.
The White House issued an executive order on Nov. 9 that U.S. agencies curb their spending by limit[ing] the publication and printing of hard copy documents and to provide that information in an electronic form, whenever practicable. By cutting publication printing and distribution costs, and exchanging 70 pounds of paper for a 1.3-pound iPad, the Air Force can save some serious cash -- more than $1.2 million worth of fuel per year.
With limited space in the cockpit and the amount of paper that each crew has to manage, it can quickly become controlled chaos, said Birchenough. An electronic flight bag could solve this issue by putting all information in one place to be recalled and updated almost immediately.
Birchenough was put in charge of analyzing the implementation of electronic flight bags on multiple airframes, and whether or not tablets and electronic systems would boost operational and cost effectiveness. If he found that they did, the AMC would then find the proper device for their mission requirements.
This is not a new initiative, said Martin. (Air Mobility Command) has been looking at tablet and mobile devices for several years as possible tools for increasing mission productivity, decreasing office automation costs and achieving other potential benefits such as portability and flexibility. As the evaluation process wraps up during the coming months, we're going to scrutinize all information on the table to make the best decision for our operators and our future force.
Military officials like Birchenough hope to get Apple technology into the hands of their crew members soon, but Apple's iOS operating system has not yet received security certification from the National Institutes of Standards and Technology. Experts estimate that it would take anywhere from nine months to a year before it was certified. They believe iOS will be approved as early as August.
The iPad, which is currently the most dominant tablet on the market, is so successful because of its flexibility to excel in both work and play settings. People use iPads for business, education and productivity purposes, but they're also great for playing games and watching movies. At the iPhone 4S unveiling, Apple CEO Tim Cook told the audience that commercial airliners were already adopting iPads in the same way the Air Force hopes to.
In the cockpit, pilots are using [iPads], Cook said. They're replacing 40-pound flight bags full of paper manuals and log books and navigation charts and checklists, making the pilot more efficient and making the plane more fuel efficient. [iPads] are also showing up in hospitals, where medical professionals are using them to access patient records, review medical images, to administer bedside care.
In December 2011, the FAA granted approval after a six-month test period for American Airlines to use iPads in all phases of flight, becoming the first airline in the world to do so. American Airlines has continually delayed the full start to the program, but many pilots are looking forward to lifting the physical flight bag burden.
Pilots will use iPads as electronic chart and digital flight manual readers, the FAA said. The airline will begin iPad operations on B-777 aircraft, and then implement across all other fleets. By using electronic charts and manuals, the safety and efficiency on the flight deck is significantly enhanced. Both the iPad I and the iPad II have been approved for use.
Update (2/8/12 - 8:19PM): An American Airlines pilot based out of Los Angeles International Airport tells me that despite FAA approval, American Airlines has yet to actually implement the program and delays are mounting.
Other airliners, including United, UPS and Alaska are also looking into the iPad for use in flight operations.
© Copyright IBTimes 2023. All rights reserved.
FOLLOW MORE IBT NEWS ON THE BELOW CHANNELS