Victim of Chimpanzee Attack Has A New Face, But Lost Her Hands: Full Text of Charla Nash Statement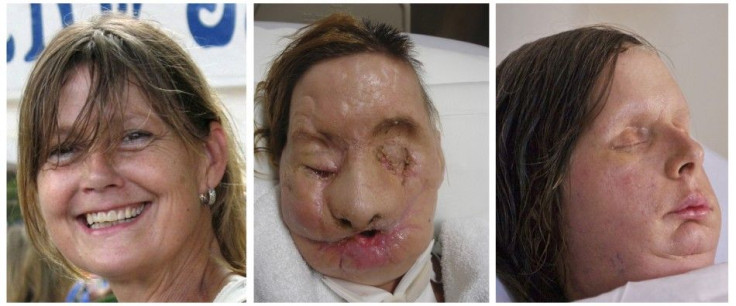 A 57-year old woman who received a full face transplant is recovering in a Boston hospital and has allowed photos to be released of her new face.
In 2009, Charla Nash was mauled by a 200-pound chimpanzee while visiting a friend -- who kept the chimp as a pet -- in Stanford, Conn. She lost her hands, lips, and nose in the attack, and was left blind after her eyes were removed due to infection. The animal was eventually shot and killed by police.
Nash has previously released photos of herself with her face in various states of disfigurement, but typically kept her face hidden under a veil.
Nash underwent the 20-hour face transplant surgery at Brigham and Women's Hospital in Boston, Mass., where two previous face transplant surgeries have been performed.
"I will now be able to do things I once took for granted," Nash said in a statement.
"I will be able to smell. I will be able to eat normally. I will no longer be disfigured. I will have lips and will speak clearly once again. I will be able to kiss and hug loved ones."
As Nash was injured on many other parts of her body besides her face, an anonymous donor provided not only a face but hands and other tissue for the surgery.
While the hand replacement surgery was initially successful, complications from pneumonia prevented them from thriving and they both had to be removed.
If a suitable donor is available, the hand transplant can be re-attempted, Reuters reported.
Below is the full text of Charla Nash's statement issued by Brigham and Women's Hospital, as published by USA Today:
"Since February 16, 2009, I have been blessed to be in the care of many incredible doctors, nurses, and caregivers. These professionals first saved my life, then healed my wounds and strengthened me to face an uncertain future. They helped me adapt to a near impossible situation where I was unable to see, smell, and move with confidence without the use of hands.
Finally, I was given the chance to restore most of what I lost by coming to Brigham and Women's Hospital. Here I received a new face and two hands that will allow me to be independent once again and able to be part of society. Losing the new hands is just a bump in the road of my recovery. I believe that one day I'll have two hands to help me live as a blind person with confidence.
I thank everyone who has helped me for these last two and a half years.
My journey to recovery continued at Brigham and Women's Hospital. I arrived in June, 2010. Here the medical team, led by Dr. Bohdan Pomahac, prepared me for a face transplant and a double hand transplant. My surgery was successfully completed a few months ago. Unfortunately, the hands did not thrive and had to be removed because of complications developing from my having pneumonia. I thank this wonderful staff for their efforts and I am grateful for all the care I have received here."
© Copyright IBTimes 2023. All rights reserved.