Victoria's Secret Model, Elsa Hosk, Was a Former Professional Basketball Player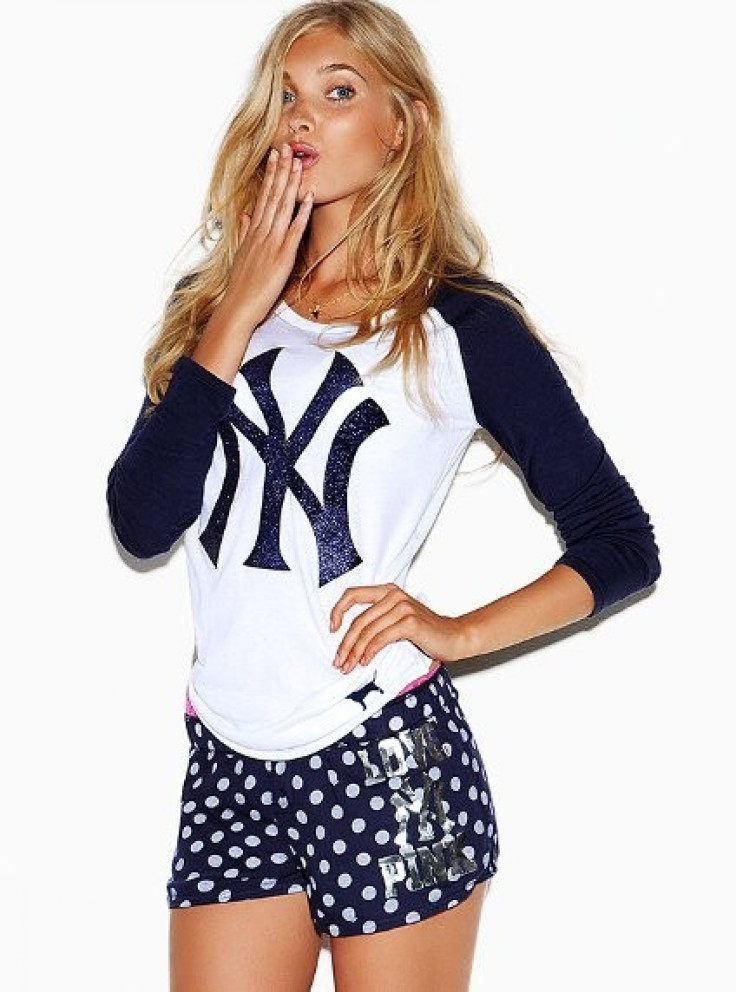 Normally, one does not associate Victoria's Secret with professional sports. But Elsa Hosk is the flesh and blood contradiction to this trite misconception.
Meet Hosk - the 23 year old, 5-foot 9-inch Swedish stunner who rocked the runway at the 2011 Victoria's Secret Fashion Show dressed in VS PINK garb.
She looked like the picture of Victoria's Secret perfection with long flowing blonde hair and a coy smile.
It is no wonder that VS chose Hosk to model for its PINK line, a collection dedicated to comfy, athletic-inspired wear. Hosk stands out from the rest of the Angels because of her particularly unique background.
The blonde beauty, a newbie on the glittery runway, is actually an ex-professional basketball player.
The Swedish supermodel decided to put her modeling career on the back burner until she finished school. But once she graduated, she chose to pursue an entirely different vocation - basketball.
I took a 2 year break [from modeling] because I was a professional basketball player in Sweden, the 23-year-old told Fashionista during an interview at a PINK photo-shoot in Miami.
It's not anything like the WNBA, I mean basketball is not that big in Sweden, Hosk said
But it was still very tough. We worked out probably like eight times a week, and then it was games on the weekend. It took up a lot of time, it got really serious and [I realized] I wanted to explore the world and meet people and not be tied down.
Although she may have been a star on the courts, Hosk chose to trade in her sneakers for stilettos. And she claims her basketball past has helped prepare her for her modeling future - including a hectic traveling schedule and stringent physical criterions.
At periods of time [the modeling industry] can be really crazy but you just kind of learn, you get into it, she told Fashionista. It's harder when you get to relax for a little bit, like a week in New York, which is my home, and then I have to go back to traveling. You [start] to rebuild relationships, you do your dry cleaning, and start getting into the normal rhythm again [and then you have to leave].
Keeping her body toned and lean comes naturally for the athletic beauty.
I think for us, we have to be in shape pretty much all the time since we're working with lingerie, she said. So [when the Victoria's Secret Fashion Show comes around] it's not like 'oh you need to lose a million pounds', you just like need tighten up. We're pretty much ready year round [for it].
For the big show, which aired Tuesday night on CBS, Hosk got into shape with one thing: Butt lifts and butt lifts and millions of butt lifts.
The VS newbie, who runs with the ever-so-glamorous crowd of VS veterans - including Adriana Lima, Miranda Kerr and Alessandra Ambrosio, still has her insecurities.
Of course I do! she said. I think my biggest thing is my butt. I have to constantly train my ass. That's the main thing I work on.
For the VS fashion show, Hosk had to flaunt it all in barely-there ensembles. How did you handle millions of people seeing her in her skivvies?
That's a good question, she said. I don't know [really].
Still, Hosk insisted that being a VS model is exhilarating and exciting.
The funny thing is I thought I was going to be so nervous, but when I arrived there, it's so fun backstage and everyone is screaming and dancing and I got really great advice from everybody. she said. Chanel [Iman] told me to just have fun out there. It was awesome. You get so high from the energy.
It was amazing. Like a really mind blowing experience.
© Copyright IBTimes 2023. All rights reserved.