VIDEO: Andrew Wiggins The Next LeBron? Kansas Star A Frontrunner To Be Number 1 Pick in 2014 NBA Draft [Scouting Report]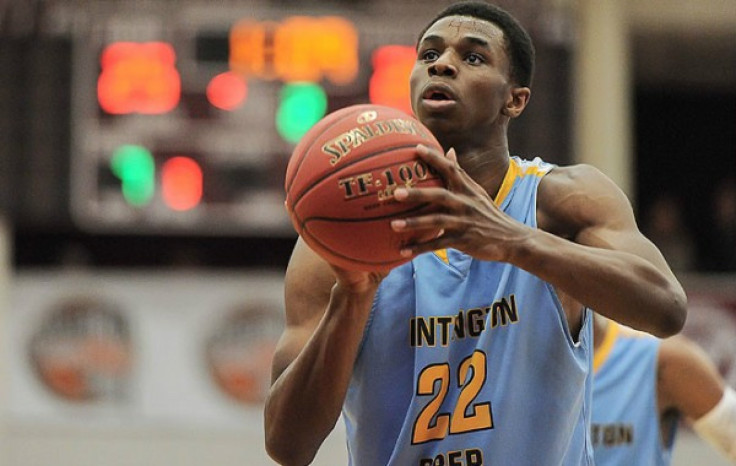 A national media frenzy accompanied by questions about all the hype and unreasonable expectations placed on an 18-year-old are all things fans have become accustomed to in the one-and-done era of college basketball and the NBA.
Fans are also numb to surface level, and even irresponsible, comparisons. In this case, Huntington Prep (W. Va.) superstar small forward Andrew Wiggins has already drawn comparisons to four-time NBA MVP LeBron James.
And while Wiggins would be the No. 1 pick in this year's NBA Draft, like James was, and is already the favorite for next year's, to juxtapose him to a player as transcendental as James is far too premature.
A native of Canada, Wiggins chose to sign with Kansas Tuesday over other powerhouses Kentucky and North Carolina, and Florida State, where his parents attended. His decision ended months of speculation, and paints a clearer picture of college basketball next season.
Averaging 23.6 points, 11.7 rebounds and 4.3 assists in his senior season, and winning the Naismith High School Player of the Year award, Wiggins unquestionably has the talent to play in the NBA right now, and immediately makes the Jayhawks a national championship contender.
At 6-foot-7 and 215-pounds, not to mention the lineage of a former NBA player and an Olympic champion mother, Wiggins already has the size, speed, and athletic ability to play in the pros. Some in the media have even suggested Wiggins should have played in the NBA's Development League for a year rather than a season in Lawrence.
Based on the videos below, and his performance in each of the high school all-star games, Wiggins acceleration in the open floor, power in the air, and overall athleticism are head and shoulders above everyone else at his age-level, much like James before he jumped straight to the NBA in 2003.
James's court vision and passing back then give him the nod over Wiggins at this point in the young player's career, but even his high school coach thinks the comparisons are unfair.
"He has off the charts ability. It's unfair to compare anyone to (Michael) Jordan or LeBron (James). I hope people don't do that and set him up," Huntington Prep head coach Rob Fulford said to the Lawrence Journal-World. "He has unbelievable potential. His future is very bright. If he stays healthy, he will have a great NBA career. But comparisons are unfair at this point.
"He showed up at Huntington Prep as an elite athlete; he's leaving an elite basketball player. He's gotten so much better in the couple years he's been here. He has room to improve certain things. It will be fun to sit back and watch how he develops at Kansas and into the future," Fulford said.
Fulford's point about Wiggins growth over the last two years was the most telling. Wiggins clearly wants to improve, and he has the talent and drive to reach the upper echelon in the league as long as he wants it.
Wiggins can also gain an advantage on James by not only playing in college, but also at the international level this summer. It is possible Wiggins will play in the U-19 Worlds, and possibly the FIBA World Cup, with Kansas head coach Bill Self fully on board. That kind of exposure to the world's best young players will add to the breadth of Wiggins's experience.
It's important to remember James faced similar comparisons to Michael Jordan when he first came into the league. And many felt he didn't live up to those expectations until he won his first title with the Miami Heat last season.
© Copyright IBTimes 2023. All rights reserved.