VIDEO Torii Hunter Ejected: Minnesota Twins Player Strips Off Uniform In Loss To KC Royals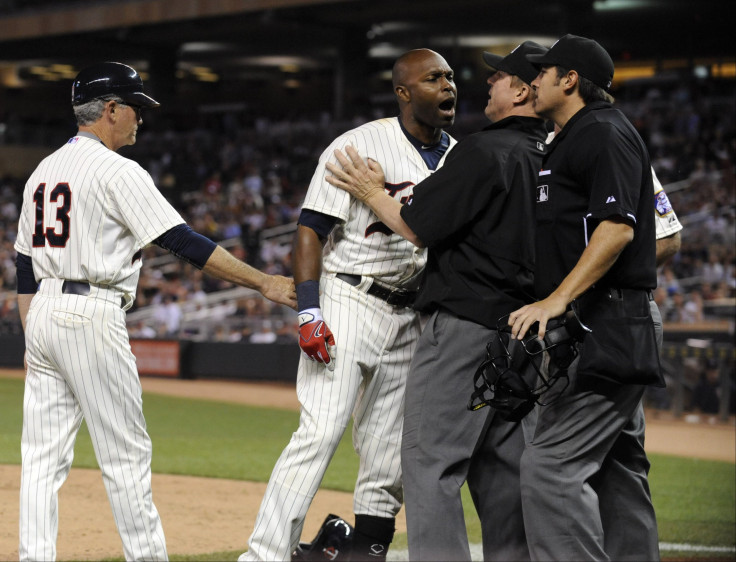 Minnesota Twins outfielder Torii Hunter provided one of the more memorable tantrums in recent MLB history after he was ejected late in the Twins loss to the Kansas City Royals Wednesday night.
With Minnesota down 7-2, Hunter argued a called third strike by home plate umpire Mark Ripperger in the bottom of the eighth inning and was promptly tossed from the game. From there the 39-year-old stripped off his elbow pad, shin guard, and batting gloves and threw them towards the batter's box.
At one point he had to be restrained briefly, and nearly made contact with Ripperger. Hunter also threw his jersey at the first-base line.
Before the tirade began, Twins manager Paul Molitor came out and tried to defend his veteran player but was quickly ejected as well.
Afterwards Hunter didn't seem to regret his actions.
"We have bad days, all of us, as hitters, pitchers," Hunter said to reporters. "Even umpires have bad days, and he had one."
Royals manager Ned Yost thought Hunter's actions had more to do with getting a rise out of his teammates.
"You know what he's trying to do," Kansas City manager Ned Yost said. "He's trying to fire everybody up and get 'em going."
The Twins are two games back of the Royals in second place in the American League Central, and the eventual 7-2 loss clinched a sweep by the defending AL champions.
Hunter is actually in the midst of a solid season with eight home runs and 36 RBI with a .268 batting average.
A suspension could be forthcoming, but since Hunter didn't make contact with Ripperger it's unlikely to be more than one game.
© Copyright IBTimes 2023. All rights reserved.