Want To Prevent The Next Generation Of Student Debt? Look Toward Employers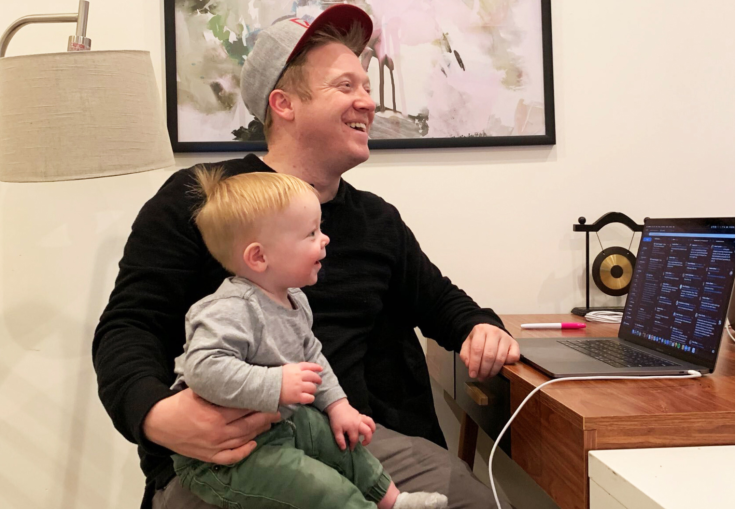 We'll soon find out how the Biden administration plans to tackle the United States' student debt crisis — all $1.7 trillion of it. Student loan forgiveness may offer a temporary and needed reprieve, but it doesn't solve the root of the problem: higher education is unaffordable, and will continue to be so for years to come.
How did we get here? According to a recent Bloomberg Businessweek article, borrowing costs and costs of education have steadily risen year after year. Today, more than 1 in 4 American adults have student loan debt. Student borrowing has increased by 26% since 2009, according to a 2019 survey by U.S. News + World Report. The 2008 crash accelerated the rise in debt as state governments continued to cut funding for higher education and public colleges, leading the institutions to pass more costs to incoming students.
In short: An admirable effort to increase accessibility of a college education meant the U.S. government stepped in and guaranteed loans to any student at any accredited school. Doing so meant neither the school nor the lender had to keep tabs on whether or not a student would be able to pay a loan back, and allowed schools to increase their tuitions rapidly. In short, tuitions go up, and the only party affected is the student.
As long as tuition has been paid, the institutions' vested interest in graduates begins to wane. In order to have a lasting impact on the future of student debt , we need to align incentives between the school and the students.
How Do We Solve Future Student Loan Debt?
Because employers benefit directly from a student's education and the skills they've learned, they should share the risk and reduce the financial burden of future employees' education. At Lambda School, we share the risk with our students by offering an Income Share Agreement (ISA) (or in California, a similar agreement called a Retail Installment Contract). Our ISA means that a student receives education funding in exchange for a portion of their post-Lambda salary. Students who sign an ISA at Lambda pay a maximum total of $30k, and only start paying back a percentage of their salary once they are making the monthly equivalent of $50k in salary or more.
This type of offering isn't exclusive to educators. There are many ways for employers to follow suit and reduce the risk of potential future employees' education. 1) Employers can utilize a job signing bonus or first year bonus to help cover costs of a student's debt or ISA. 2) Employers can offer tuition reimbursement over time, thus incentivizing retention. For example, if an employee stays at the company for five years, the employer could promise to cover a certain percentage of their debt.
Why Haven't We Figured This Out Yet?
Hiring is hard. Employers can't know for sure if someone is the right hire until they've actually hired them. Despite improvements in hiring tech, processes, and approaches, a 2019 report by Morning Consult for Cengage found that 73 percent of the employers said finding qualified candidates was "somewhat or very difficult."
In order to help both the prospects and employers connect with each other, someone needs to be watching out for the student. That's where educators can step in to share the risk with both the student and the employer.
One example of how we've tried to build models like this is through our Fellows Program. With Fellows, employers can temporarily bring on Lambda School graduates we've identified as good fits for their company as prospective employees. Lambda School pays the grad for their work with the employer, essentially removing the financial risk for both prospect and employer. At the end of the fellowship, the employer can then decide to hire the fellow or not.
Additionally, in order to get employers on board to help student's pay for their education, universities and colleges need to be open to change and transformation. To make changes at the higher education level, the lending model would need to be transformed.
For instance, if a student doesn't get a job, the university doesn't get to keep 100% of the tuition.
We as a society can't continue to reward schools and lenders with payments when their job to help educate students and set them up for success in their future careers is only 50% completed. We need to enable risk-sharing with colleges and universities as a prerequisite for students to get to the next level.
How does Paying for Student Loan Debt Benefit Employers?
Loyalty is key. Graduates with student debt understandably jump ship over and over again to employers who will pay a higher salary. If they feel they are being compensated exceptionally and are able to pay down student debt -- it will make employees want to stay longer at the company and work harder.
Recruiting less will save more money. Recruiting and training costs can add up quickly -- on average, it costs employers $4,129 and 42 days to fill an open position. Turnover generally costs companies six to nine months of the departing employee's salary. If the departing employee makes $60k, it could cost the company $30k-$45k. Reducing recruiting and onboarding costs means happier employees and a positive impact on the bottom line.
Tax write-offs will reward the employers investment. Depending on the type of education employees received, some employers can be eligible for tax write-offs under the CARES Act.The tax write off of $5,250 allows for employers to help pay for their employee's tuition. The employer gets that money back and improves their relationship with that employee -- a pretty elegant plus, if you ask me.
How Can Solving this Problem Change the Trajectory for Future Students?
Since the pandemic started, there's been a large increase in interest and investment in education and upskilling. According to a Chief Learning Officer survey, 88% of learning and development leaders surveyed in May 2020 expected their organization's spending on education to increase in the next 12 to 18 months.
With the increase of investment of education and upskilling, along with government help, I believe we can eliminate future student loan debt in 5-10 years. We need solid government incentives and tax write-offs to do it, but it is possible. If we can pull this off through private-public partnerships, it will have a ripple effect on the entire economy. Today, a graduate from a private institution can owe hundreds if not thousands a month, even just in interest. If every recent graduate had that money in their pockets, it could be life-changing. Younger adults and families could feel more comfortable with their finances, setting them up for a stronger financial future for decades.
The huge added bonus: education would be more accessible. There would be more opportunities for people to go to school or go back to school without the added risk of debt. If we don't make education more accessible, we will continue to see education enrollment decline year after year. In fact, The National Student Clearinghouse Research Center found that in fall 2020 postsecondary enrollments declined 2.5 percent, nearly twice the rate of enrollment decline reported in fall 2019. Undergraduate enrollment was the primary driver for this decline, decreasing 3.6 percent or over 560,200 students from 2019. When education is more accessible and possible for students, it leads to stronger workforces and more diverse talent pipelines for employers.
Future student debt can be eliminated, but we need students, educators and employers to all enable such change. Forgiving student loan debt is a great first step and will provide a lot of needed relief, but let's not stop there. The private and public sphere must collaborate, rethink old models, and innovate to ensure that education is equitable, accessible, and affordable for future generations to come.
(Austen Allred is the co-founder and CEO of Lambda School.)
© Copyright IBTimes 2022. All rights reserved.
FOLLOW MORE IBT NEWS ON THE BELOW CHANNELS