WATCH: Aespa, Bella Poarch Unexpectedly Collaborate In New TikTok Video
KEY POINTS
K-Pop girl group aespa released its second English single, "Better Things," on Aug. 18
The group performed "Better Things" on "Good Morning America" on Tuesday
Bella Poarch posted about aespa on her personal Instagram, X and TikTok accounts
While in the United States for the ongoing North America leg of its "SYNK: HYPER LINE" world tour and its second performance on "Good Morning America," fourth-generation K-Pop girl group aespa met with Filipino American singer and social media influencer Bella Poarch.
On Friday, Bella Poarch took to Instagram to share a series of photos she captioned, "Photo dump 💕📷." The second photo from the set was a group shot with aespa. She also posted it on X, formerly known as Twitter, tagged the group's account and captioned it, "We're too spicy. Hehe."
Simultaneously, the Filipino American singer uploaded a TikTok video featuring her and the aespa members, Karina, Winter, Giselle and NingNing, while lip-syncing aespa's second English single, "Better Things."
Bella captioned her TikTok post with "Better things to do with MY time," to which aespa replied, "Things are better with you."
Just eight hours after the TikTok video was posted, it already gained over 597,200 views on the platform, with netizens surprised by the unexpected collaboration.
"Excuse me, Bella and aespa?" commented one netizen, while another stated, "[This is] the best collaboration of all time."
"Hello, ma'am. You're a K-Pop stan, one of the MYs, too?" asked one user. A fourth user commented, "This is a collaboration nobody expected!"
"[This is] the most random collaboration I've ever come across," added another.
Meanwhile, other netizens wondered if there's more to Bella Poarch and aespa's TikTok video collaboration.
"Woah! Will there be a music collaboration?" one user asked. "Are you all [going to] make a song [together?" added another fan.
"Wait! Will 'Crush' feature aespa?" commented a different fan, wondering if the K-Pop girl group will be featured in Bella Poarch's unreleased song "Crush."
Aespa also shared Bella's TikTok video post on its official X account with the caption "Better Things to do with MY time," a wordplay between its newest single, "Better Things," and MY, its official fandom name.
The group's song "Better Things," released on Aug. 18, is aespa's second English single after "Life's Too Short (English Version)," per NME. It features the sound of percussion instruments that give off a summer mood.
With this English track, SM Entertainment aims for aespa to achieve longevity in the English-speaking charts, with the U.S. as a priority, per Music Mundial.
"Better Things" was released with an accompanying music video. Since its premiere on Aug. 18, it has gained over 54 million views on YouTube.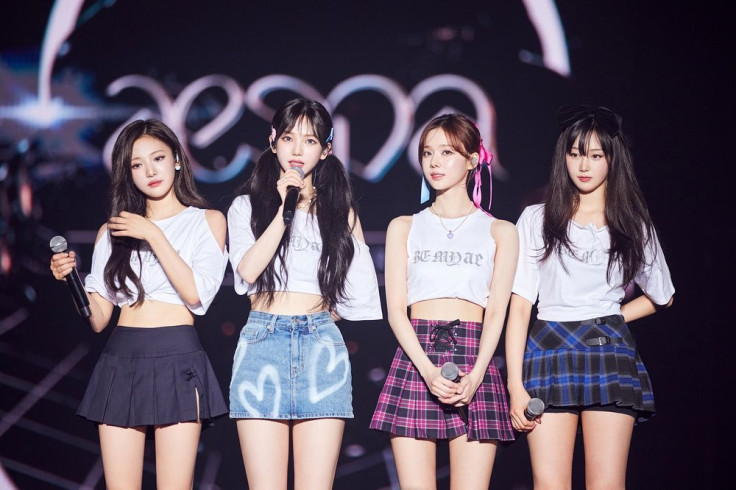 © Copyright IBTimes 2023. All rights reserved.