Watch COVID Vaccine Funder Dolly Parton Sing 'Jolene' Remake Before Getting First Shot
KEY POINTS
Dolly Parton, 75, received her first dose of the COVID-19 vaccine Tuesday
She recorded the whole process and shared it with fans on Instagram
She sang a new version of her 1970s hit "Jolene" before getting her shot
Dolly Parton remade one of her most iconic songs for her first COVID-19 vaccine shot Tuesday.
The country singer, 75, documented her first dose of Moderna's coronavirus vaccine, which she had helped fund with her $1 million donation last year. Parton's longtime friend, Dr. Naji Abumrad of Vanderbilt University in Nashville, administered the shot, Cnet reported.
Aside from sharing a photo of her vaccination, Parton also posted a video of the moment on Instagram and Twitter. In the clip, she explained that she chose to get vaccinated because, "I'm old enough to get it, and I'm smart enough to get it."
Parton also sang a new version of her 1973 hit "Jolene" with lyrics that "fit the occasion."
"Vaccine, vaccine, vaccine, vaccine / I'm begging of you, please don't hesitate / Vaccine, vaccine, vaccine, vaccine / 'Cause once you're dead, that's a bit too late," Parton sings, before saying, "I know I'm trying to be funny now but I'm dead serious about the vaccine."
Parton can then be seen receiving her first dose from Abumrad. As it took some time, the legend quipped: "It didn't take this long to film 9 to 5."
Parton also encouraged fans to follow her lead, saying, "I just want to say to all of your cowards out there, don't be such a chickensquat, get out there and get your shot."
Within six hours, the video has been viewed over 2.3 million times across all platforms.
On the work front, Parton will reunite with Lily Tomlin and Jane Fonda on screen. The singer said that she will be making an appearance on "Grace and Frankie" with her former "9 to 5" co-stars.
"I've been trying to do 'Grace and Frankie' for years," Parton said during an appearance on the show "Lorraine." "We worked so well together on '9 to 5,' it's a crazy wonderful show."
Talking about the Netflix series, she said: "We've been trying to write me in somehow. So when it's safe for us to actually do a production when they're back, I'll probably get around to doing that."
Parton will also launch her own fragrance. "I am so excited to launch my new scent, Dolly - Scent from Above, in July," she shared in a recent Instagram video. "I've been mixing my own scents for years and I am so excited to finally have my own to share!"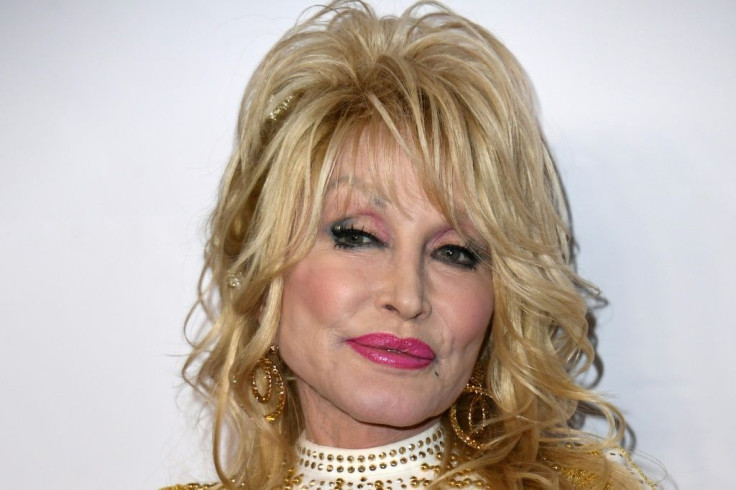 © Copyright IBTimes 2023. All rights reserved.
FOLLOW MORE IBT NEWS ON THE BELOW CHANNELS